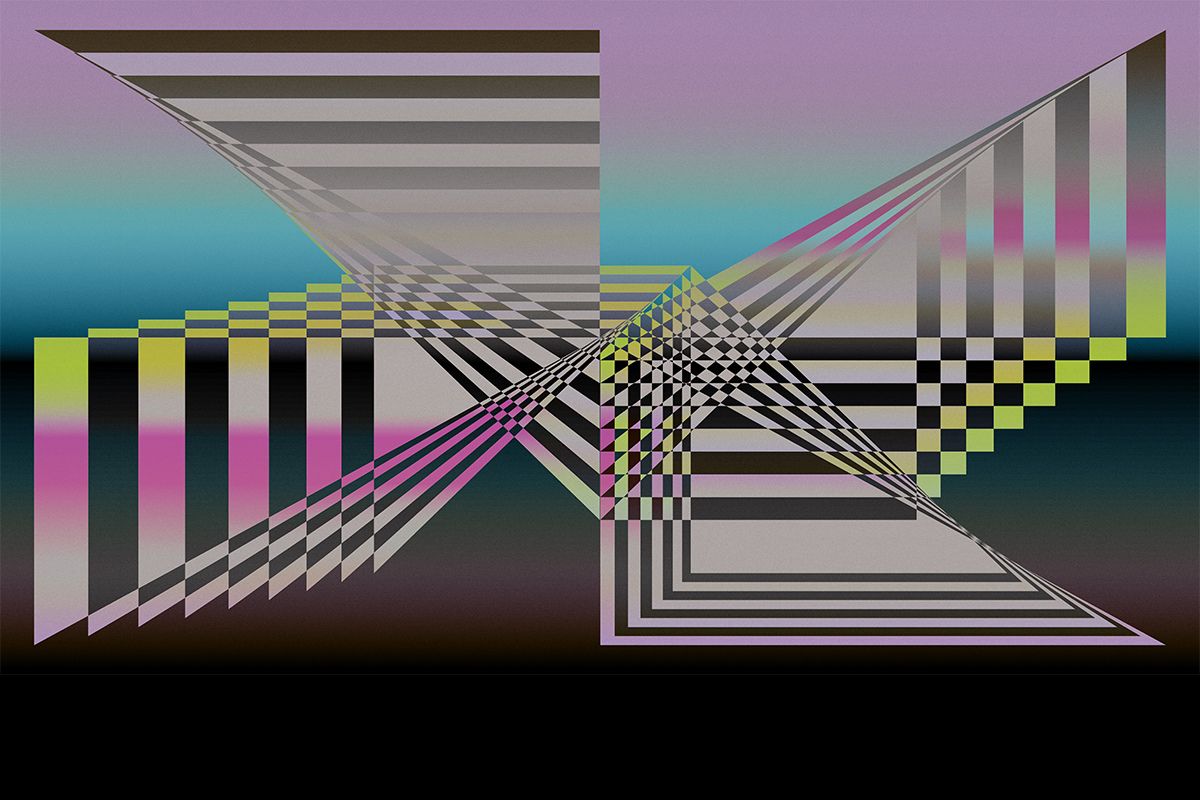 Typeroom Spotlight: Sophie Douala 
In its third edition of the graphic design series Post/No/Bills the Stedelijk Museum Amsterdam welcomes the Berlin-based, France-raised, and Cameroon-born designer and visual artist Sophie Douala with her first solo exhibition "Follow The Black Rabbit."
"As with many young creatives, these past years have affected Sophie and her practice greatly. She is going through a self-proclaimed transition, evolution, a break in time, a pause. She is in-between" reads Stedelijk's introduction to the exhibition. "This tendency can be signaled among many of her peers. There is a whole generation that is lost and searching. Social media has recently been full of themes such as rest, pause, healing, care, looking for inspiration, self-rediscovery, and questions of origins. It's often not about dualities such as positive or negative, rather an introspection on the precarity and instability itself."
"2020 was certainly a special year in my journey. The murder of George Floyd following the lockdown led me to introspection, disbelief, and realization. It was tough, and also eye-opening. Bringing to the surface shut down memories and feelings. I had to learn to use my sadness and anger to reconstruct myself and grow stronger" explains Douala who uses visual and textual experiments as reflections of these thoughts.
In the exhibition "Follow The Black Rabbit" Douala is inviting us to enter a "dream world. Triggered by social shakedowns of the past two years — the struggle for civil rights and racial equity, financial and social insecurities, a health pandemic and the resulting debilitating lockdowns — Sophie inverts the Alice in Wonderland myth giving it a political twist to reflect the real world. It is celebratory and melancholy at the same time."
The presentation comprises immersive wall prints of her work, filling the arches of the corridor in the heart of the museum — the patterns finding a place literally in between the structures of the museum. Douala also showcases videos containing words evoking the mindfulness slogans currently popular on social media.
"The Stedelijk has a long tradition of graphic design, with an important international collection in the discipline" comments Thomas Castro, curator of graphic design. "The graphic design series Post/No/Bills takes a central position in the museum, around the historic staircase. There I aim to show the most recent graphic design projects that respond to what is currently happening in the field and in society" he explains. The Stedelijk's permanent-collection display contains about 500 art and design objects dating from 1870 to the present, shown in three categories whereas the full permanent collection includes around 100,000 items.
A design practitioner who "seeks to explore the interplay between a formal visual language and its cognitive and emotional affect, Sophie's aesthetics are both very personal and immediately inviting to the audience, mixing the painful with the colorful, and politics with beauty" reads the introduction to her inspiring lecture during this year's Post Design Festival.
"Stood against a backdrop of mesmerizing visuals, Sophie Douala invites us to get to know her a little better. Having cultivated a practice rooted deeply in personal storytelling, her talk at the Tangle is no different. Douala examines her practice as a philosophical approach to the self and describes that she sees her 'self' as a guide, a mentor, and a best friend, while also being an agent that can breed doubt, fear, and insecurity. These dichotomies of the individual create an environment where her practice becomes a playground for exploring herself."
"We are introduced to little Sophie, smiling at 6 years old and a self-described 'Big Dreamer', a quality Douala now recognizes as her most vital. Years later when confronted with the reality of adulthood- a time of side hustles and canceled jobs- Douala directly addresses the importance of manifesting and cultivating confidence in her practice, wisely noting how confidence is not an absence of doubt, but an acceptance of vulnerability."
In her talk Douala speaks of "being a patient gardener to her practice, on gently cultivating a curiosity of the self, planting seeds of ideas, watching and waiting for new growth. As is often said of horticulture, her practice is used as a tool for healing both for herself and for her community, highlighted by specific moments of enlightenment (such as the murder of George Floyd in 2020) that reinforced Douala's commitment to using her work as a mouthpiece for equality, diversity, heritage, and love. Utilizing collaboration at every opportunity, she becomes a designer-as-storyteller, particularly embodied in her readings from her book In Memory of the Present, which tested boundaries not only in emotional aesthetics but also in risograph printing capabilities. Making a habit of championing marginalized voices within institutions through her practice, Douala guides us through a series of recent works, her visual process of translating text and language into abstractions of shape and color, and the exciting developments of large-scale installations where she deftly evolves from graphic artist to curator and set designer."
Watch her talk, discover her soon sold out risograph book "In Memory of The Present" published by Look Back and Laugh, a small publishing house based in Ljubljana, Slovenia, run by two graphic designers Zoran Pungerčar and Jure Šajn where she "invited a group of inspiring friends and relatives to share their personal stories and memories of the past, which she then reinterpreted in a collection of visual essays" on 56 pages, heavily filled with risograph inks and discover Douala's portfolio which could be easily translated into a visual invitation to "travel, dream and reflect." We can't think of a better way to enjoy graphic design.
"Follow The Black Rabbit" by Sophie Douala is on through December 2022. More info here.
Tags/ typography, graphic design, illustration, exhibition, book, museum, text art, risograph, visual artist, stedelijk museum, sophie douala