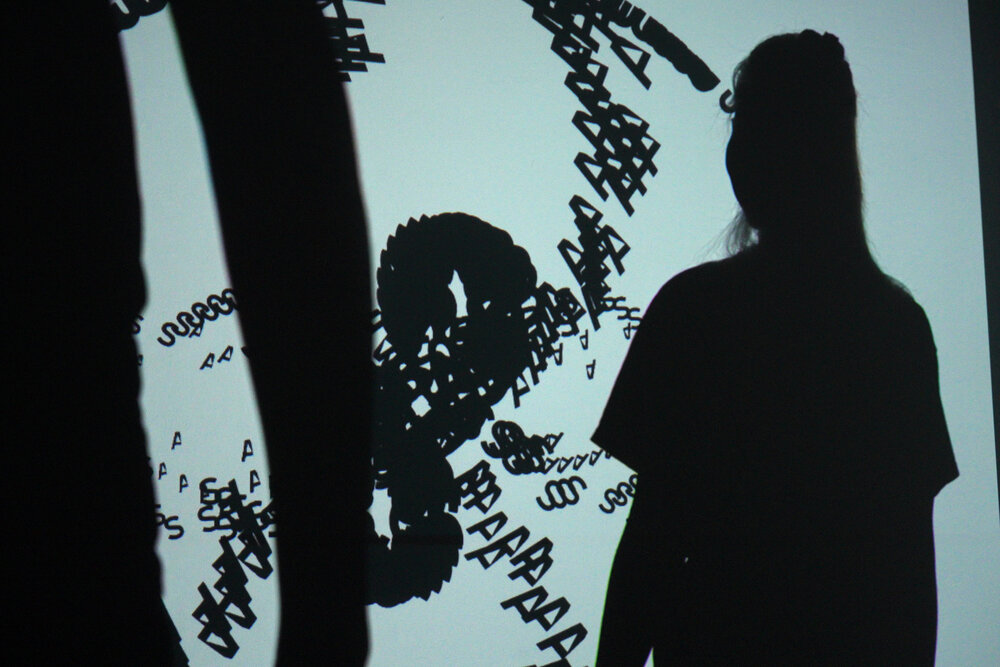 JUNO X Arctic Paper: Munken Creator is generative typography's playground to explore
Generative typography plus creative coding plus AR equals creativity unleashed, enter the latest installment in JUNO X Arctic Paper's ongoing collaboration, Munken Creator.
The Web-based application welcomes all users to create font animations typeset in the bespoke Munken Sans font — created back in 2020 as part of Munken's massive rebranding —and enter the infinite animated type realm. On the occasion of its premiere online, Raising Questions aka a large format magazine featuring artworks created with the Munken Creator will be published.
With MC, the Swedish paper manufacturer Arctic Paper invites creators to develop and experiment with typographic design playfully and aims to "inspire people to think beyond the boundaries of how we communicate. Questions lead to the answers of our time. When appropriate questions are asked, they open our senses to new challenges. Good questions are messages which lead to change. Use the Munken Creator to explore your own important questions and share them with us using the hashtag #munkencreator and tagging @munkenpaper on Instagram" notes the team of this typographic experiment that is typeset in the brand's bespoke typeface Munken Sans — released as part of the Munken CoLab initiative and the rebranding back in 2020.
Munken Sans – designed in the spirit of collaboration with Laurenz Brunner, Jonas Williamsson and Cornel Windlin from the Swiss type foundry, Lineto — is the brand's custom modern sans serif typeface that honors a well-traveled, legible past.
"I've had a fascination with road signage for as long as I can remember. The former Swiss traffic type by the 'Schweizerische Normen-Vereinigung' was an early inspiration as a student learning to draw fonts. I remain intrigued by these characters in their ability to balance raw formal details from the mechanics of their creation while needing to be legible at high speeds" said Brunner.

"Britain's Transport by Margaret Calvert, Poland's Drogowskaz by Marek Sigmund, and Sweden's Tratex by Kåge Gustafson are personal favorites of the genre" added the type designer. "Conceptualizing and creating a contemporary version of Tratex has been an exciting challenge to both honor the original and update it for use both on and off the road."
Created by Swedish designer, Kåge Gustafson, in the 1960s, to be used as a national traffic font Tratex was an inspiration for the Swiss typographers who further developed its characteristic design with Munken Sans, a font that unlike its original inspiration which consists of only one weight, was released in three weights: regular, medium and bold.
To accompany the bespoke type design premiere, JUNO conceived and designed Munken Handbook, a massive 448-page publication printed on paper from the Munken Design Range, that displays Munken Sans in a varied and playful way.
Two years later the multi-awarded design-driven branding agency JUNO continues to merge analog with digital, with Munken Creator, a free online tool powered by typography that aims to "inspire people to think beyond the boundaries of how we communicate" with the help of Patrik Hübner.
A "creative director with the capabilities of a creative technologist" who masters generative design and creative coding — two elements that have utterly altered the very core of how design works as they allow to create "narratives, designs and brand experiences that are flexible, reactive, alive and breathing" — Hübner was approached by agency JUNO to "ideate and develop a novel playground for this font which would allow creatives to explore its application in surprising new ways."
"They specifically asked for a solution that would fuse the unexpectedness of Creative Coding and Generative design-based visual exploration with precise control over the font's properties. The result of our dialogue is The Munken Creator: a playground of unimagined possibilities, enabling designers to create visually animated and unique messages. It is an invitation to inspire cooperation among creatives. And a challenge of how we preserve the heritage of design while simultaneously reinventing its tools for a hybrid future" notes Hübner.
"Diversity, collaboration and conversations are the roots of creativity. It is their characteristics and our encounters with their peculiar forms that inspire us to see the world from new perspectives. By encoding typographic opportunities into an algorithm, creatives are confronted with a new mindset of how to approach form, space and storytelling. The Munken Creator is specifically designed to inspire novel encounters with typography. It is a playful and reactive space to explore shape, form and space using Generative Design– and Creative Coding-based systems."
"We open our senses to new opportunities when we ask appropriate questions – a process that should be open to everyone. Thus, the Munken Creator can be accessed on any device by simply visiting a website, no need for downloads or licenses" he adds about Munken Creator which "allows for endless creative possibilities as images and backgrounds can be combined with font editing capabilities and the power of Creative Coding-based algorithmic animation in a real-time, reactive environment. Create animations, brand graphics, kinetic animations – there are no limits."
To start the conversation, Munken launched the Raising Questions publication. "The magazine bridges the physical and digital worlds by incorporating an augmented reality (AR) experience for each artwork. The magazine is aimed at inspiring people to think beyond the boundaries of how we communicate. By fusing augmented reality technology with Generative Design and Creative Coding, the digital creative platform enables a new dimension of perception" adds Hübner who conceived the Munken Generator, a tool that "bridges the gap between physical and digital, between concise human control and letting the computer take over. It creates fleeting, ever-changing fragments of design and captures special moments to be preserved forever on Arctic paper."
"In that regard, it is a playground of possibilities and an outlook on the creative potential of Generative Design, which fuses storytelling and communication design with creative algorithms, data, human interaction and programming in a melting pot of new opportunities" he concludes.
Enter this impetuous typographic realm and let your creativity unleashed here.
Tags/ typography, typeface, custom, experimental typography, sans, bespoke, online, creative coding, lineto, juno, arctic paper, generative typography, patrik hubner