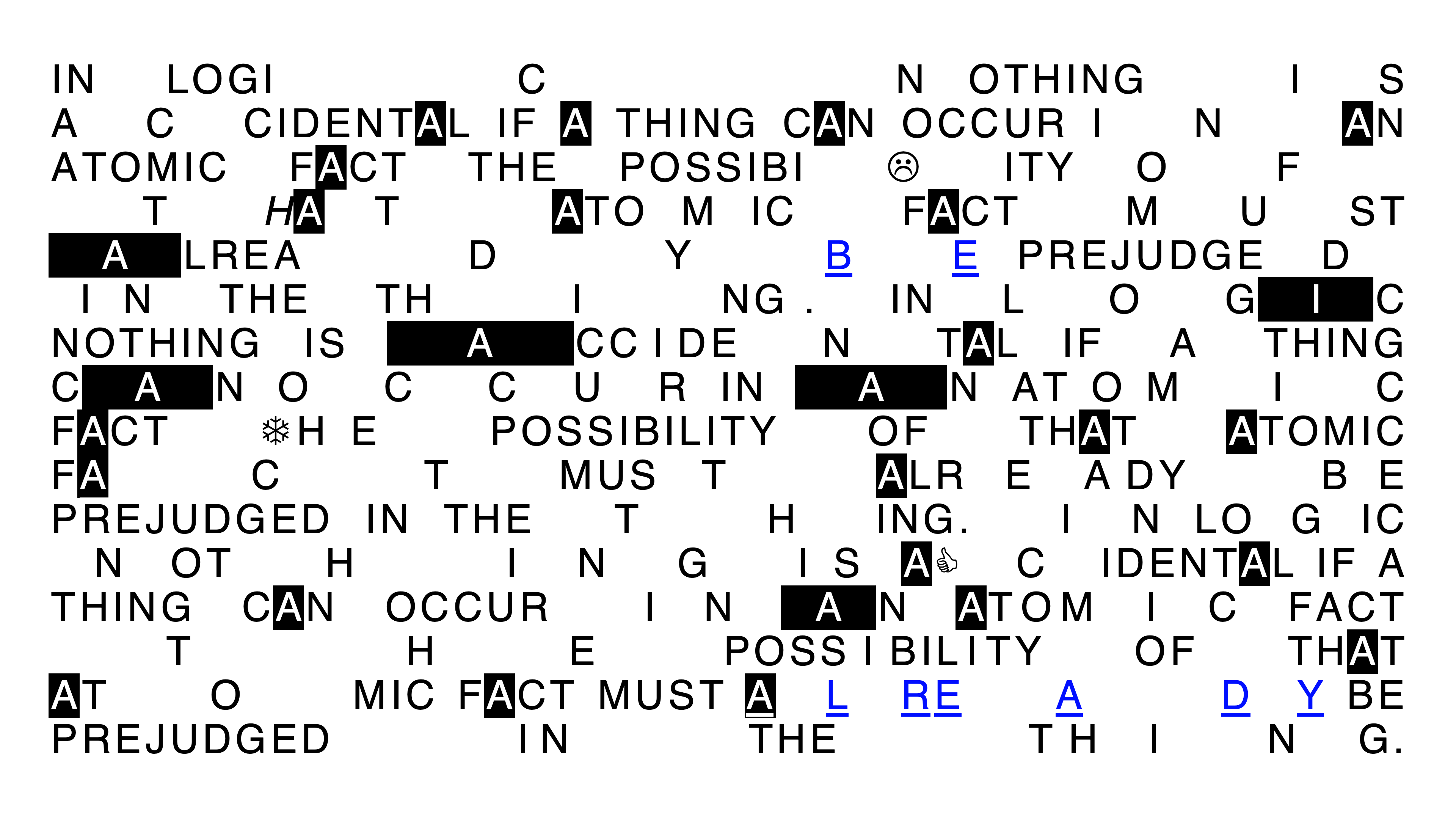 Look for challenges: Ksawery Kirklewski on generative type, NFTs and that Max Cooper typographic video to watch
Born in 1988, Ksawery Kirklewski is a motion designer and creative coder whose typographic work in his recent collaboration with acclaimed musician and artist Max Cooper has gone viral for good reasons. A graduate of the Graphic Department of the Academy of Fine Arts in Gdańsk, PL, Kirklewski's diploma "Exhibition of Banners" (2015) received the Minister of Culture Award on "Best Diplomas of Polish Academies of Fine Arts" in 2015.
The author of interactive installations, generative animations, music videos, phygital sculptures, and realizations in public space Kirklewski uses new technologies, programming, advertising media and tv equipment, focusing mostly on the generative and net art field bending the visual culture in digits.
The co-founder of Fundacja(x), a foundation which deals with the broadly understood art of new media and its dissemination, since 2019, Kirklewski's most recent projects include the interactive light installation "ENTER" commissioned by Nxt Museum (Amsterdam, NED), a generative music website "Symphony in Acid" in collaboration with Max Cooper (UK), and a series of phygital sculptures "CTRL_DAT" for Kate Vass Galerie (Zurich, CH).
On the occasion of his heavy in type music video for "Symphony in Acid" ("Unspoken Words") by Max Cooper, built as a generative+interactive website symphonyinacid.net and recorded afterwards, we caught up with the artist who explores the limits of language via code -maybe a node to the text featured in the video aka "Tractatus Logico-Philosophicus" (1921) by Ludwig Wittgenstein, that deals with the limits of language itself.
TYPEROOM: How did you get interested in generative type?
Ksawery Kirklewski: My interest in generative approach in general started just a few years ago. I studied IT for a while, but then moved to the Academy of Fine Arts. It took me some time to find a proper way to combine both programming and graphic design together. Since then I try different possibilities that creative coding gives me. Typography is also one of the fields that I found attractive to mess with code. My recent project 'Symphony in Acid' was all about language, words and characters, so naturally I had to incorporate fonts. However in this case it's not the typeface that is generative, I rather play with responsive layouts, combinations of styles, and organizing text.
TR: How central is typography to your works?
KK: The recent project is my first try in typography animation, although of course it's impossible to work visually without using fonts from time to time. I used to work more with processing images and videos, but I would love to work more with typography. It's just a powerful medium to express both form and content.
TR: Focusing on Symphony In Acid can you guide us through the creative process?
KK: The idea for the video was set at the very beginning. The track is a part of the 'Unspoken Words' album. Max suggested using discourses by German philosopher Ludwig Wittgenstein for the 'Symphony in Acid' video right from the start. Wittgenstein's subjects and conclusions serve as excellent extenders to the fundamentals of the 'Unspoken Words' album" notes Kirklewski. "Especially in 'Tractatus Logico-Philosophicus' (1921), he explores in depth the concept of limits of language. Wittgenstein investigates various aspects of language, from the atomic point of view (form) to the wide picture (content). The thinker famously stated: 'The limits of my language mean the limits of my world.' With this video, I tried to challenge that notion in the field of visual art.
I build most of my works with code. In this case, I had to choose a coding environment suitable for rendering typography – an element central to this project. Running code as a website, through a modern internet browser, turned out to be the perfect solution. Personally, I find the gap between hypertext and 100-year-old paper both significant and inspiring. With my former experience in commercial web development, it was fun and refreshing to use my tools from back then for this new approach.
The dense soundtrack, composed by Max, triggered my code in powerful ways. As I listen to it now, I can almost hear atoms interacting, gravitating towards each other to form an object, and then – a whole scenery. Such a wide perspective fuels the imagination and matches the logical-philosophical soul within Wittgenstein's papers. The ever-evolving atmosphere also helps to create new systems, new scenes. The video starts with just a few letters, that build a word, then a sentence, and finally – whole blocks of text. Having said that, the meaning remains between the lines. The letters can't exist solely for their form. Eventually, they have to carry information.
As with my earlier works, this one is also generative. I always hope for my projects to stay alive as long as possible, and more engaging with each play. In this case, with every visit on the website, the track follows a specific plot, the outcome however stays different, each time with a new acidic taste.
We released the project's dedicated website simultaneously with the video, as an integral part of the project. The final video shows a single recording of the website being browsed. For the nerds out there, interested in the programming aspect, you can easily access the source code. For a more immersive and playful experience, I added a few interactive options – you can pause the track at any moment, and play with visuals with your mouse and keyboard.
TR: What is the typeface in use? Why did you choose the specific font?
KK: I picked a basic system font, Helvetica, for a few reasons. First of all, I wanted to focus on construction and deconstruction of the sentences, using characters as atoms, and words as objects. I didn't want the typeface to express anything on top of it, any unnecessary character, and the system font seemed to me like the one missing the identity, like a notepad text. Helvetica is so overused nowadays, especially because it's still the fundament of everyday internet flow, so I perceive it as not very decorative. The other reason for a system font was that I aimed for a light project, easily accessible, so any additional fonts to load was just against it.
TR: What tools do you use?
KK: It depends on the specific need, but I mostly use Processing or JavaScript for visual coding. Recently I'm more focused on the second one, because I notice that there is a huge effort from the community to improve this programming language. It's evolving and it results with new features and opportunities. Also, releasing a project as a website, accessible on different devices anywhere, it's very exciting.
TR: You mention that you find the gap between hypertext and 100-year-old paper both significant and inspiring. In what ways?
KK: For the changes this Age of hypertext brings. I wonder how the Tractatus would look like written nowadays.
TR: With blockchain and NFTs the generative art scene is exploding. Which artists would you consider the leading figures in this brand new platform of expression?
KK: It's hard for me to say who is leading… I'm relatively new to the whole NFT world, but indeed you can hear about it everywhere. Most of my fellow motion designers now focus mainly on it, and it is quite understandable, because it really seems to be a perfect and easy tool for sharing digital artworks. And then of course, that's why there are tons of works that you have to dig through to find something valuable. I'm also interested in discovering new platforms, like fxhash, that can give another perspective at the generative approach.
TR: What are you working on now?
KK: After a few dense projects in a row, I now would love to sit and think about my next steps. It's summer ahead, it's a good opportunity to sum up recent events, and make plans. I really enjoy building physical, programmed objects, instead of looking at a screen. Maybe I will take some time without much commercial work, and spend it discovering new generative areas. I will see.
TR: What is the one and only piece of advice you would like to share with aspiring artists in the digital realm?
KK: Look for challenges. They can really satisfy like nothing else. Quick solutions - and I don't mean simple - don't last for long.
Check more of his work here.
If you would like to collaborate to create digital art with your own unspoken words you can submit those at www.unspokenwords.net.
Tags/ typography, helvetica, motion design, nfts, blockchain, ksawery kirklewski, generative type, max cooper