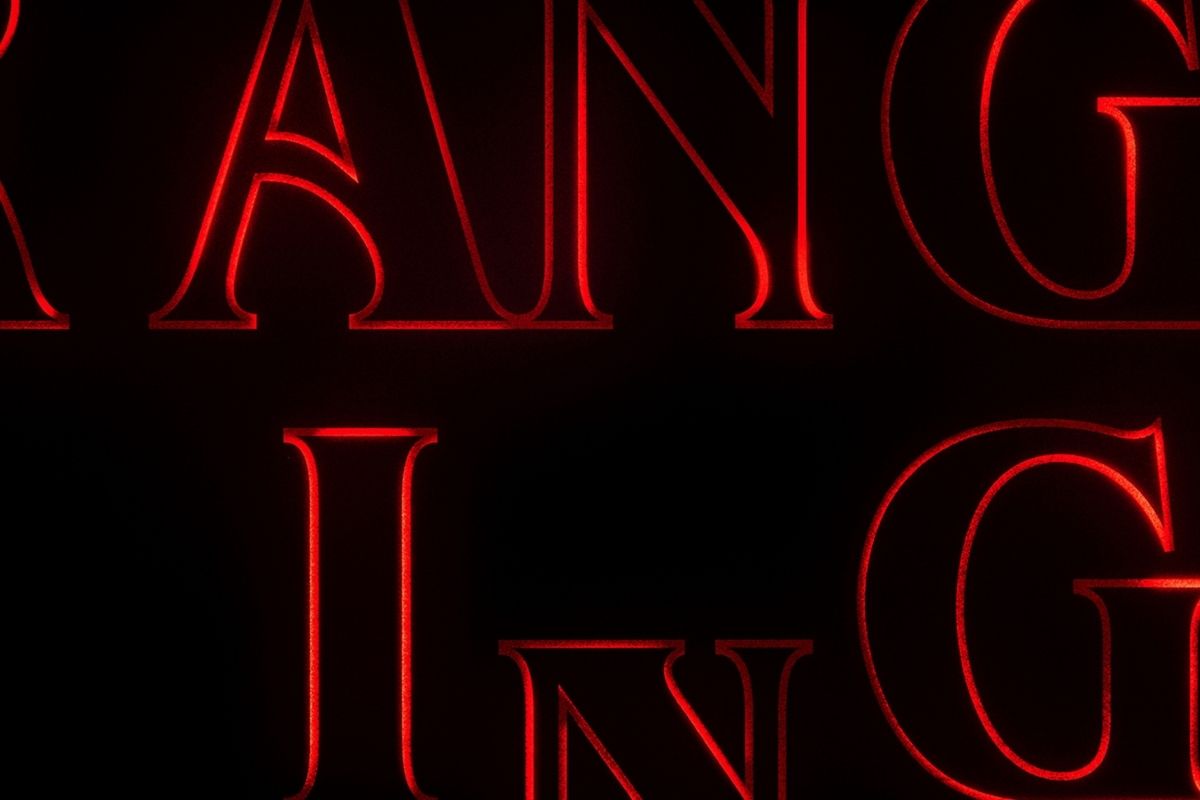 Stranger Things: the inspiration, the alternatives, and the final homage to design's iconic legends in a single logo
Back in the summer of 2016, a hit series premiered on Netflix luring many into an Upside Down territory, enter Stranger Things. Instrumental in bringing this retro feeling of nostalgia and horror combined was the now-iconic title sequence created by Imaginary Forces.
The final version of the hypnotic art is set in ITC Benguiat, a font created by legendary typographer Ed Benguiat and is revealed in all its red glowing glory through animation.
"We could concentrate on the type -the counter of the A and the serifs. We had to find the most beautiful combinations" Michelle Dougherty, the Imaginary Forces' creative director who oversaw the project explained.
The tone was set by the show's creators Ross and Matt Duffer who were absolutely certain of what the visual language of their product should feel and look like, after all the series is a throwback to an era when type on book covers was the bigger than life -especially in branding the horrors in Stephen King's mind- and Richard Greenberg's heavy-in-type title sequences graced the screens, from Altered States to The Dead Zone and beyond.
"There was a two-fold inspiration. One was, in terms of the font [ITC Benguiat] and the title design, going back to those old vintage Stephen King books. We sent 12 different old covers to Imaginary Forces, who were designing the titles — we wanted it to be in the style of these novels. There's something about when we were kids, when you would open up one of these big fat Stephen King novels that we loved. We wanted the show to have that sort of feeling every time you got to a new chapter. So that was for the font" the Duffers acknoweldged.
"Then for the actual design, we're pretty obsessed with this designer Richard Greenberg who did so many great title sequences back in the day, whether it was Alien or The Untouchables or The Goonies or Superman. Altered States. What he specialized in was using just graphics: title graphics, titles over titles. That's something we really wanted to do. Part of it was, it felt it represented the show well."
"Title sequences are so great nowadays, but it's almost like they're getting more and more elaborate and trying to top each other. As opposed to trying to top these amazing title sequences, what if we just go back to the simplicity of these great titles we loved growing up? There's something to us that feels epic about those titles. Something like The Untouchables which is just basically just a font. It's so epic and memorable, so we wanted to go back to that simplicity."
Imaginary Forces, a studio known for its work on shows and films like Castle Rock, Jessica Jones, and Spider-Man: No Way Home, worked on their vision into luring the audience back to the Reagan era, in Hawkins, Indiana, circa November 1983, toyed with options that didn't make the final cut and delivered a title sequence that is praised as "the best thing on tv," as the Stranger Things' sequence has received acclaim from fans and critics alike.
"Before Stranger Things came out, we were tasked to develop a motion key art for the show" explained designer Jacob Boghosian.
"Dozens of ideas were generated and we were asked to create a logo to help bring those ideas to life under one visual identity. We started off by referencing many of Stephen King's book covers along with movie posters from the 80's. Over 20 logos options were created but the logo using the ITC Benguiat font, stood out as the favorite by far. We modified the font by adjusting the contours of the typeface to give it a unique and harmonized lock up."
The awarded project also introduced to a younger generation of viewers the iconic type designs of ITC type foundry in the 1970s by pairing the decorative serif Benguiat and the geometric Avant Garde Gothic, both fonts created by two masters in design.

ITC Benguiat was designed by Ed Benguiat and released by the International Typeface Corporation (ITC) in 1977. The face is loosely based upon typefaces of the Art Nouveau period but is not considered an academic revival. The face follows ITC's design formulary of an extremely high x-height, combined with multiple widths and weights.
ITC Avant Garde Gothic is a geometric sans serif font family based on the logo font used in the Avant Garde magazine. Herb Lubalin devised the logo concept and its companion headline typeface, and then he and Tom Carnase, a partner in Lubalin's design firm, worked together to transform the idea into a full-fledged typeface. The condensed fonts were drawn by Ed Benguiat in 1974, and the obliques were designed by André Gürtler, Erich Gschwind and Christian Mengelt in 1977.
Highly effective and quite simple -in contrast to other viral title sequences eg. True Detective or GOT-, the Stranger Things typographic title sequence won Dougherty and her team a 2017 Creative Arts Emmy.
"It merges, it moves in and out, it's very good. It's rather pleasing and comfortable too. And yet exciting at the same time" legendary Ed Benguiat told The Telegraph when asked about the show's title sequence. "It's rather appropriate if I might say. It lends itself to the feeling of the titles, it has a look. It's like food – it's hard to describe what something tastes like, or identify a good smell."
Tags/ typeface, type design, logo, herb lubalin, avant garde, ed benguiat, stranger things, netflix, richard greenberg, itc, title sequence, imaginary forces, jason boghosian