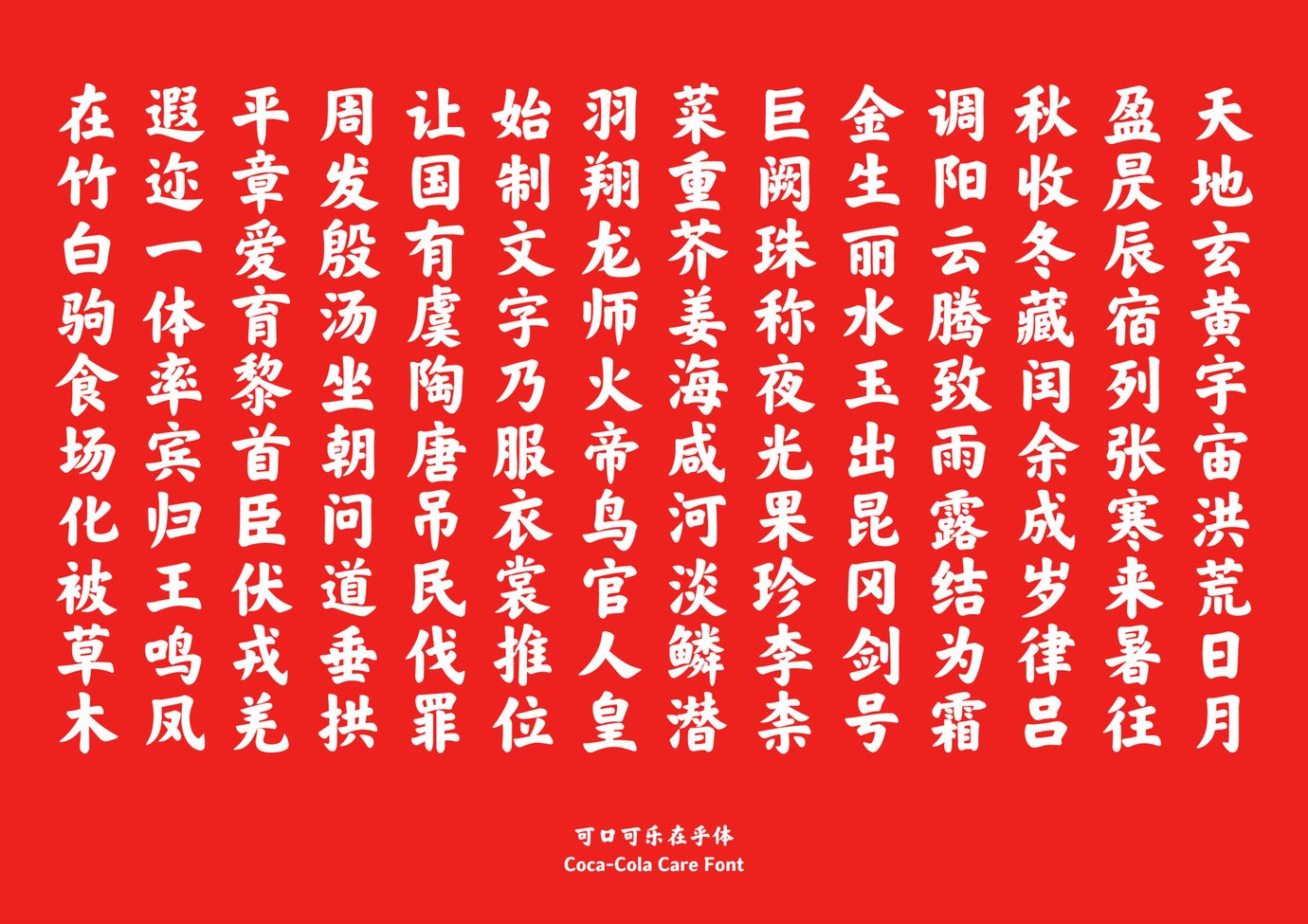 Coca Cola Care Font: a typeface that fits right in a post-pandemic world
"As the post-pandemic world moves towards more comfortable styles, this typeface fits right in" Parachute's head of creative and acclaimed type designer, Panos Vassiliou of the recently D&AD awarded Coca Cola Care font.
"It embraces the spirit of our times with a relaxed, unpretentious, humanist attitude. Its clean, well-structured strokes look as if they were done by hand but at the same time they are typographically refined to evoke a pleasing personality. Informal but not completely so, it comes with a lot of character I have not seen in a Chinese font for a while. Overall, it is a smooth, warm and friendly typeface that deserves our attention."
Coca-Cola has been operating in the Chinese market for 41 years, and has drawn inspiration from Chinese cultural and spiritual traditions.
Its corporate values resonate well with the gentle, unassuming "we care" attitude advocated in the Chinese culture. To pay tribute to this resonance, two Chinese character promotion agencies were invited to design a custom font for Coca-Cola China.
"Looking at this year's award-winning works in this context, I'd like to first consider Coca-Cola Care Font from Coca-Cola China, CoolCharacter and FounderType" writes Madoka Nishi, editor-in-chief of IDEA, a quarterly magazine published in Tokyo, Japan that focuses on graphic design and typography.
"The font was created by the brand for the Chinese market and won a Wood Pencil. It was custom-made to pay tribute to the resonance between the corporation's values and the gentle, unassuming 'we care' attitude advocated in Chinese culture. A symbolic example of the localisation of Latin typography, it is meaningful that a global company like Coca-Cola has now developed a new typeface specifically for the Asian market. More than that, it reminds us that letters are not just symbols for communicating information but are deeply rooted in the traditional culture of a country or region. It was also a good example of the designers' respect for the Chinese character culture and their attitude toward the coexistence of Latin-speaking and non-Latin-speaking cultures" she adds.
Explore more D&AD projects here.
Tags/ typeface, parachute, panos vassiliou, fonts, type foundry, bespoke, china, madoka nishi, coca cola