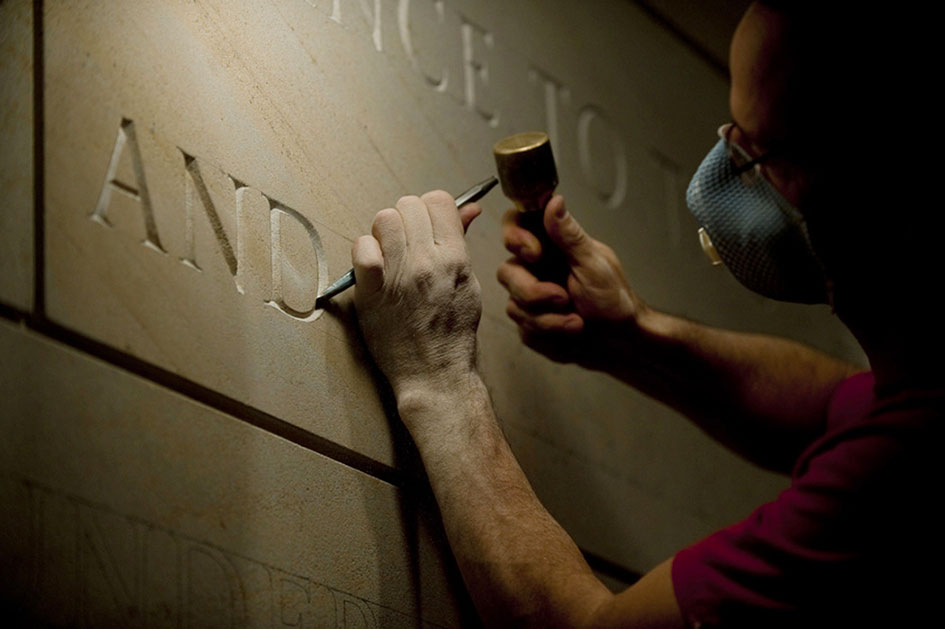 Nicholas Benson's 17 things you should know about stone carving
A third-generation stone carver, calligrapher and designer whose meticulously executed inscriptional works are noted for their uncompromising craftsmanship and beauty in form and line, Nicholas Benson is literally a man made of stone.
While almost all cut-stone lettering in the United States is done by machines today, Nicholas Benson is a master of hand letter carving, using brush strokes to outline the individual letterforms before inscribing them in situ by hand.
Bensons' inscriptions and decorative reliefs can be seen on family memorials and buildings throughout the United States, including the National Gallery of Art, the Yale University Art Gallery and the National World War II Memorial.
Considering both the large-scale effect of the overall text as well as the most minute details of each figure, weighing at the same time changing light conditions and the long-term impact of weathering on the work's future appearance, Nicholas Benson is best known for his distinctive architectural lettering.
The owner and creative director of the John Stevens Shop in Newport, Rhode Island, which was established in 1705 and acquired by his family in the 1920s comes from a family that literally saved this ancient craftsmanship from oblivion.
As he expands the traditional art of stone carving through his designs, Nicholas Benson is committed to teaching young artisans, who will create their own works and ensure that the legacy of this centuries-old artistic practice endures, therefore he was more than happy to share his wisdom with us.
Here, Benson -whose work is been featured in The New Yorker, The Daily Beast & more- contributes 17 things one should know about stone carving.
1. Carving letters in stone is not an act of brute force but of tremendous delicacy. Ann Hawkins has been carving letters in stone for nearly 40 years. She weighs 105 pounds and is 77 years old. You can still run into her adding names to the Patrons tablets at the National Gallery of Art.
2. An inscription in stone is a thing in and of itself. A calligraphic body of text carved into stone produces an artifact entirely its own and is not merely a way to permanently record the written form.
3. You cannot carve letters unless you understand letters. As Eric Gill said, "Letters are things, not pictures of things." The more you make these things the more you will understand them and carve them well.
4. Bad carving cannot ruin a great design, but the best carving in the world cannot save a bad one. John Howard Benson carved an inscription for a gravestone in Portsmouth, Rhode Island that looks as though he used a hammer and a screw driver, and it is one of the most beautiful pieces of inscriptional carving I have ever seen.
5. Old inscriptions are not dead inscriptions. As Gustav Mahler once said, "Tradition is not the worship of ashes but the preservation of fire." I have seen inscriptions that are 3000 years old and they hold as much inspiration for me as any "new" work can muster.
6. The work is hard. Do the work. There are no short cuts, nor tricks to achieve greatness in the craft of letter carving. You just have to do it… for a very long time.
7. Writers in stone learn brevity. Get to the point, because most people won't stand around and read two hundred words on a wall... unless they are Lincoln's words.
8. Perfection is relative. In any carvers aspiration for perfection is the inevitable imperfection of the hand made, and this is where we can find the perfectly beautiful.
9. Don't overthink it. The epitaph to the children of Pompeii Sextus Justice, along the Appian Way in Rome, was carved nearly 2000 years ago by carvers of such skill that I can almost hear them through time singing while they make quick and sublime letters that literally brings tears to my eyes.
10. You are never a master. I've been drawing and carving letters for 36 years. I've just begun to draw and carve letters I have never seen or cut before. Every day I am a student, and isn't that fun!
11. Principles of good typography on paper do translate on headstones. Of course, that depends on who you are. I think I would have a lot more in common, aesthetically, with Rudolf Koch than Wolfgang Weingart. But on the whole, yes good typography does translates on headstones.
12. Adapting a typeface for use in these materials is optional. Carving letterforms is all about understanding the final product in stone. If you do not have the benefit of experience in designing and carving inscriptions you will have a tough time designing successful faces. Again, opinions abound on the subject.
13. Pay attention to the limitations. You cannot carve half inch Bodoni (lettering in stone is measured in inches and centimeters, not points) into Deer Isle granite and expect success.
14. Typefaces have their place. Type has its use in the world of print and the digital realm. Lettering in stone, particularly v-cut lettering, is three dimensional and must be designed accordingly.
15. R is beautiful. I'm a big fan of the letter R. It incorporates all of the strokes in the alphabet and it is a gorgeous form, but the Trajan School B is enough to stop my heart.
16. There are four important factors in this craft. Material, lighting, architectural scale and architectural style/environment.
17. Masterpieces are out there to inspire. My favorite piece of work is the tablet to the children of Pompeii Sextus Justice. It is done by the same folks who gave us the Trajan, but it is more appealing to me. What distinguishes it as such a masterpiece? Look at it and you will see. It may sound arrogant, but it can take a lifetime of making these things to gain enough perspective to see some of what makes the Roman work so sublime. That being said, I do see new things all the time. I suppose it comes down to a matter of obsession. God knows I'm obsessed.
Nicholas Benson, at the age of 15, began an apprenticeship at The John Stevens Shop with his father, John Benson.
The shop in Newport, RI, founded in 1705, specializes in the design and execution of one-of-a-kind inscriptions in stone.
Benson studied art at State University of New York, Purchase, followed by a year of calligraphy, type design and typography at the Kunstgewerbeschule in Basel, Switzerland.
At the helm of the business since 1993, Benson expands the traditional arts of hand lettering and stone carving through his designs. He has produced typefaces for large civic projects, including the National World War II Memorial and Maya Lin's The Meeting Room, in Newport and has received many awards including the MacArthur Fellowship in 2012.
Tags/ calligraphy, nicholas benson, stone carving, craftsmanship, eric gill