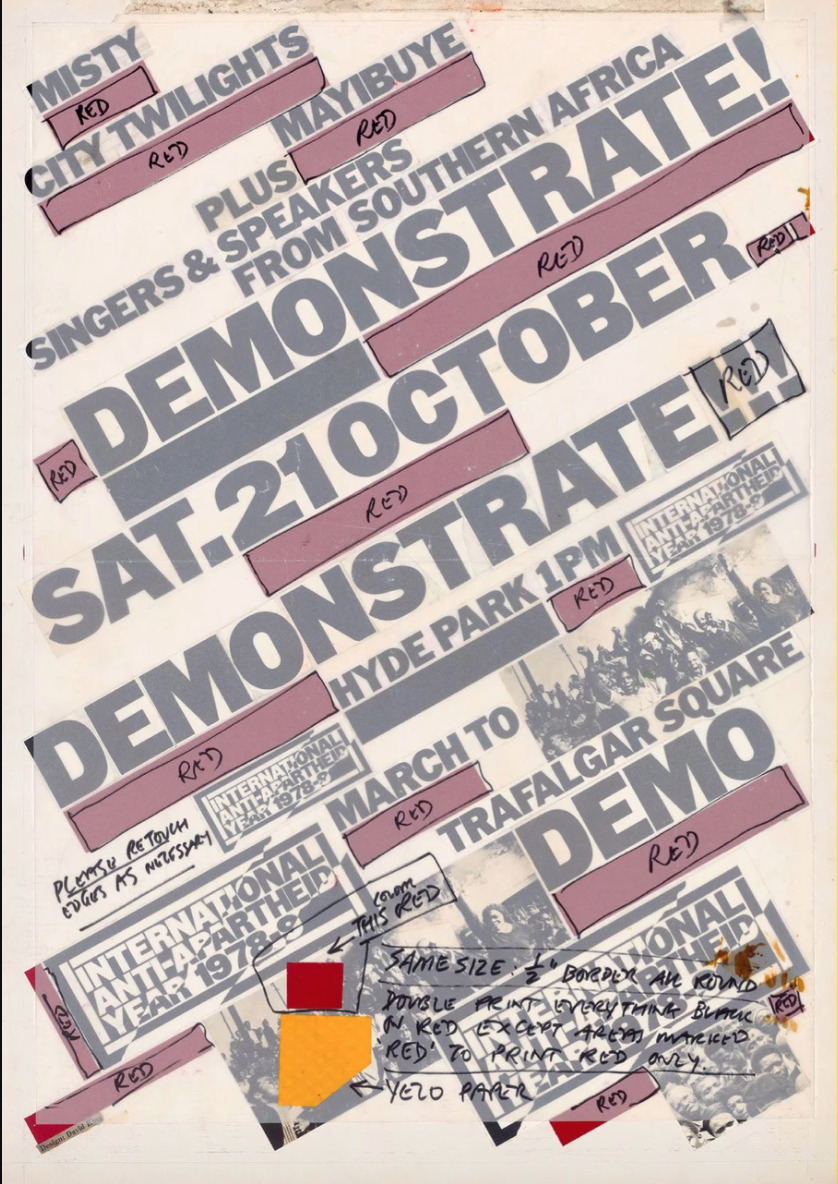 David King: two camera-ready copy posters to know
A true artivist David John King was a designer, activist and visual historian and an unjustly overlooked figure in 20th-century British visual culture.

King (1943–2016), whose fascinating career bridged journalism, graphic design, photography, and collecting, launched his career at Britain's Sunday Times Magazine in the 1960s, starting as a designer and later branching out into image-led journalism.
Throughout his life, King blended political activism with his graphic design work, creating anti-Apartheid and anti-Nazi posters, covers for books on Communist history, album artwork for The Who and Jimi Hendrix, catalogues on Russian art and society for the Museum of Modern Art in Oxford, and typographic covers for the left-wing magazine City Limits.
The collector and author King -a unique figure with a body of work that spanned graphic design, journalism, photography and visual history- studied graphic design at the London School of Printing and Graphic Arts (now London College of Communication).
As noted by British writer, lecturer and curator Rick Poynor -whose exceptional monograph on David King is enthralling-, King was also a hoarder.
"He kept old paper artworks used in the making of publications and posters for decades in great piles stored in his basement. After he died, his estate gave many of these artworks to Tate, now home of his huge Russian collection. We held back a few examples for possible inclusion in David King: Designer, Activist, Visual Historian.
…
In the UK, these layouts were termed 'camera-ready copy' (CRC); in the US, they were called 'mechanicals'. The layouts were the same size as the final printed piece. They were largely monochrome, and the repro service or printer would photograph them and put them into colour by following the designer's instructions written on the artwork. The designer needed to be a good visualiser of the final effect, and particularly of the way the colours would work together when printed.
...
King constructed these designs using only a ruler, set square and scalpel. Judy Groves, his regular collaborator, describes him standing at a plan chest in his basement when working on the artworks. She doesn't recall him using a parallel rule, which would have been easier, even though his large lightbox had one built in. Instead he relied on his eye. This was exacting enough to produce a seamless final image, although close examination can reveal tiny inaccuracies – for instance, in the placement of parallel elements – that wouldn't occur in the era of 100 per cent accurate digital design. King used wax to fix the pieces in place and it was easy to lift and move them about if needed. He positioned carefully cut out halftones in exactly the same manner as blocks of type, slab rules, and devices like his trademark star shapes."
Explore more here.
Tags/ politics, poster, david king, anti