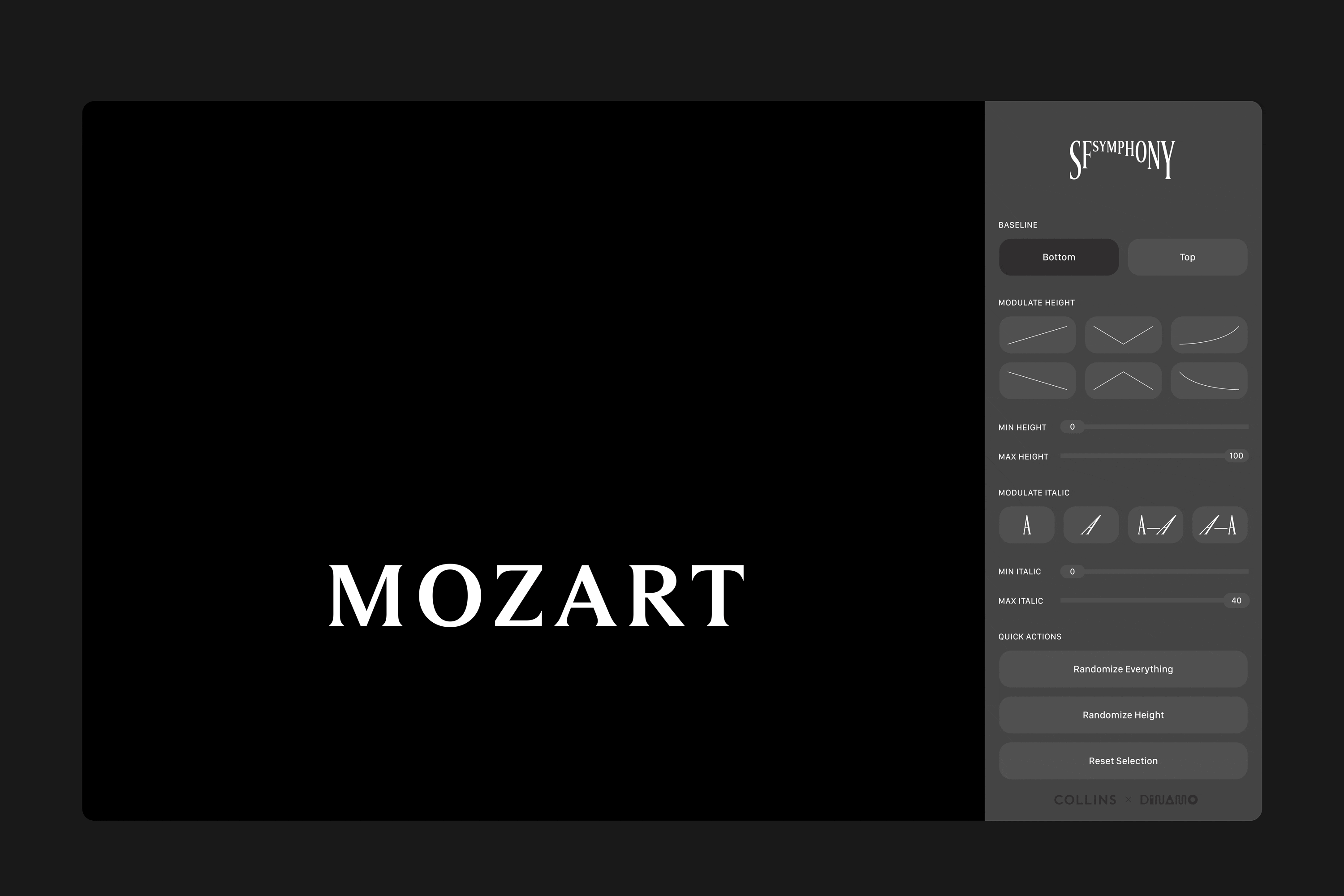 A symphony of type: COLLINS reimagines a variable San Francisco Symphony experience 
The beauty of variable fonts in the service of classical music needs to be experienced via a project that aims to bring a symphony of multimedia arts on and off the grid.
COLLINS aka the independent strategy, design and communications company stays true to its core philosophy -mixing creativity and technology to build brands- in its latest partnership with the internationally acclaimed San Francisco Symphony. The outcome affirms that classical music is "a relevant and evolving art form – completely reimagining the organization's brand and mission as a model for the future."
The new vision for the 108-year-old San Francisco Symphony aims to redefine classical music for modern audiences as the org transitions from the old Music Director, Michael Tilson Thomas to Esa–Pekka Salonen, a very progressive and modern successor.

"Classical music has always been hurt by perceptions of elitism and irrelevance -especially during the pandemic, which has devastated the arts" notes COLLINS of its effort that hopes to challenge that.
The identity work is experimental, animated and kinetic, using responsive type to represent the movement of classical music.
Part of the effort is also an online platform called the Symphonsizer -- an audio responsive digital platform that allows users to immerse themselves in the themes of the rebrand and also re-engage with their love of music in a uniquely digital way.
"Music is one of humanity's most powerful creations — it meets us at our emotional center. Like all great art, it both inspires and reflects the times we live in. However, 'classical' music also suffers from an ongoing and ruthless PR problem: it is too often perceived as an unchanging, dusty, old-world music for elite audiences only" reads the press release of this impressive project.
"Facing this challenge was The San Francisco Symphony, a 108-year old cultural legend with international acclaim and a deep legacy of rewriting the rules to advance the relevance of the orchestral arts.
At a crucial moment to reimagine its future and broaden its reach to diverse audiences, the organization subverted the hierarchical nature of both itself and the industry through a DEI-focused organizational overhaul. In addition, the symphony's famed maverick Music Director, Michael Tilson Thomas, closed out his extraordinary 25-year tenure and passed the baton to visionary conductor and composer Esa–Pekka Salonen in the midst of the global pandemic.
COLLINS was invited to help clarify, define, and express this new vision for the Symphony, and help them re-assert classical music as a crucial, global contemporary art form — all while staying rooted in our community and strengthening the bonds that have made them so successful for over a century.
Beginning by collaborating with the Symphony musicians, audiences, staff, executive leadership, and board members, COLLINS defined a new, shared vision for the future which became a foundation for creative and design experimentation.
This inspired an ever-responsive, evolving visual system that brings to life the dynamic qualities of classical music itself.
Starting with traditional typography that speaks to the art form's heritage — they used responsive and variable font technology to add an unexpected contemporary behavior — giving each typographic character the ability to immediately change form in reaction to sound and music.
COLLINS also crafted a more expressive voice that juxtaposes the timeless formality of black and white with a contemporary palette inspired by the unique colors and landscape of the Bay Area."
As previously mentioned, central to this new take in visualising music at its best is the Symphosizer.
With concert halls around the world remaining closed indefinitely, the online platform uses responsive and variable font technology to give users the experience of enjoying a classical concert from the comfort of their homes with an added interactive, visual dimension.
"At its heart, classical music is an interactive experience," explains COLLINS Creative Director Louis Mikolay.
"Because there are no lyrics, every listener is open to interpret the music in their own way. The Symphosizer enhances this idea by inviting you to explore a completely personal emotional journey during a performance. The motion of the letterforms symbolizes the emotional expressions of the piece itself, uplifting layers and details in the music which may have previously gone unnoticed. This brings a new depth to that personal journey."
"It's true that the origins of classical music are hundreds of years old, if not more," Mikolay continues, "but the general population doesn't tend to realize that it has been in a constant state of flux since its inception. It has been defining and redefining itself with each generation – even woven into movie scores, video games, and beyond. Classical music has an incredible amount to offer all of us, especially in such a stressful time. We have been honored to work with the multi-talented teams at The San Francisco Symphony to help broaden its relevance in the modern world."
Listen to this symphony of variable typography and more here.
Tags/ typography, typeface, music, branding, san francisco, variable fonts, variable, classical, collins, san francisco symphony