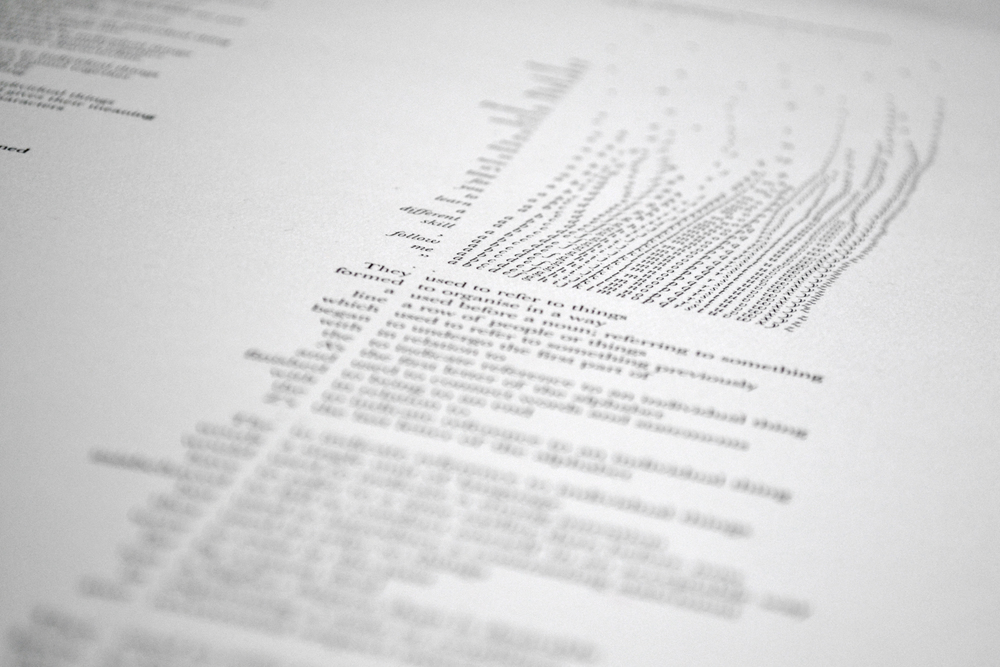 Dictionary Story: Sam Winston's letterpress classic typographic tale just got upgraded
Typeroom is a dedicated fan to Sam Winston's superb practice and typographic art.
"Concerned with language not only as a carrier of messages but also as a visual form in and of itself" Winston is initially known for his typography and artist's books he employs a variety of different approaches including drawing, performance and poetry.
Always operating at the intersections of where visual culture and literature meet Winston has exhibited his work in museums and galleries around the world (Tate Britain, the British Library, the Library of Congress in Washington, D.C and MoMA NYC, among others, hold his artist's books in their permanent collections) and his projects involving drawings, and installations have taken place at institutes such as The Victoria and Albert Museum, The Courtauld Institute of Art, and The Whitechapel Gallery.
Now Winston is relaunching a letterpress typographic tale after twenty years since it was first introduced to the word through a Kickstarter campaign that you can support here. Typeroom caught up with the artist and visual poet on his impressive love letter to language.
working letters move wordshttps://t.co/OOpx9aeYgB pic.twitter.com/RT1FKHzJzz

— Sam Winston (@samwinston_) November 23, 2020
Typeroom: What is Dictionary Story all about?
Sam Winston: Dictionary Story is a playful way of exploring some of our presumptions around the printed word. Or you could say that it looks towards a tool we are given at a very young age - the Dictionary - and invites us to actually think about how that works. Here's a device that is designed to explain a words meaning by offering further words in its place - to me that is remarkable. This is a type of knowledge that can only explain itself through referencing itself. As a visual person the image that comes to mind is a giant, never ending, Möbius strip of language twisting back on itself.
TR: The first edition was launched almost twenty years ago. What inspired you to create it in the first place?
SW: I have always been more interested in discovering things about the tools that I have inherited - dictionaries, pencils, language, literature - rather than what I can say with them. When making works, it's an archaeological dig - what's here and what can be dug up from the cultural soil? Or what can be but cut out from existing narratives. It's the stories that we were given at a young age that interest me, the ones we get fed when we're not old enough to know what's going on.
TR: Why relaunching it now?
SW: 2020 has been a year where "Fantasy has been mistaken as Fact, Jokes have been reported as News and Literature itself has sometimes slipped into Trivia" [a sample line from the new story]. And I think language has become even more fluid since the original was written.
Screen culture has really hidden the roots of the written word and I think when things become so disembodied, it's easy to lose sight of meaning. We're at a point where information has reached the simple level of 'noise' and that's not good. Now felt like a good time to celebrate the stories and things that help us embody knowledge.
TR: How being dyslexic affect your approach to language and words?
SW: Feeling alien to the writing system has been helpful in seeing language from the outside. I suspect that I write by using the part of my brain I use in speech - the tone and syntax I use in writing is very similar to my spoken tone, I don't think that's the case for a lot of writers. It's similar to using your foot instead of your hand to do something - you get there but the instrument is somewhat blunt. To extend that metaphor, in the same way the foot doesn't give the best handshake, when it comes to walking.. it's more than suitable. Many dyslexics aren't good with language but they do seem to be disproportionately skilled in design, visual narratives and image perception.
TR: Are there any changes or updates in this new edition of DS?
SW: The new Dictionary Story is completely rewritten and redrawn with new characters and definitions. Re-doing over 230 definitions was a particular challenge since I struggle with so many meanings. From a functional perspective I am fine with using language but when the word 'be' can mean 'auxiliary verb - used with a present participle to form continuous tenses' or it can simply mean 'exist' - then it does all seem rather arcane.
TR: What have you learned in these past two decades in terms of type and creativity?
SW: Being able to listen is far more useful than being armed with facts. It creates trust. As creatives, we are all adding our voices to something and it's important, now more than ever, to understand ones practise in our wider cultural currents.
TR: What would you consider as the highlight of your career till now?
SW: Creative expression is such a privilege, to be in a culture and society where that even is an option is a gift. That and being able to have enough time and resources to share and celebrate that seems valuable.
TR: Which is your all time favourite and least favourite English word?
SW: Favourite; word, least favourite; favourite.
TR: Dictionary Story has been hailed as "a fairy tale, a typographical romance, filled with wit and tenderness." Is this a book for children of any age?
SW: The mind of a child is infinitely malleable and that of an adult tends to operate a lot in executive function - which is good for efficiency and tasks. Dictionary Story is a celebration of both worlds - going from order to play and back again.
TR: What is the state of visual poetry in 2020?
SW: My friends Victoria Bean and Chris McCabe did a lovely survey book called The New Concrete: Visual Poetry in the 21st Century and also a long overlooked area is covered by a great book published by Primary Information called Women in Concrete Poetry: 1959-1979.
TR: Who is your favourite visual poet that inspired you to operate at the intersections of where visual culture and literature meet?
SW: Italo Calvino, Mirtha Dermisache, and Tantra Song: Tantric Painting from Rajasthan. I apologise in advance for taking a very loose definition of "favourite visual poet"
TR: What are your next creative plans if any?
SW: I have a new picture book in the works, an exhibition about sight and visual after images (called A Delicate Sight) and a project about breath ... (and breath)…
Kickstart the brand new edition of Winston's classic typographic tale, Dictionary Story, here.
Tags/ typography, art, book, campaign, letterpress, kickstarter, sam winston, visual poetry, dictionary, english language