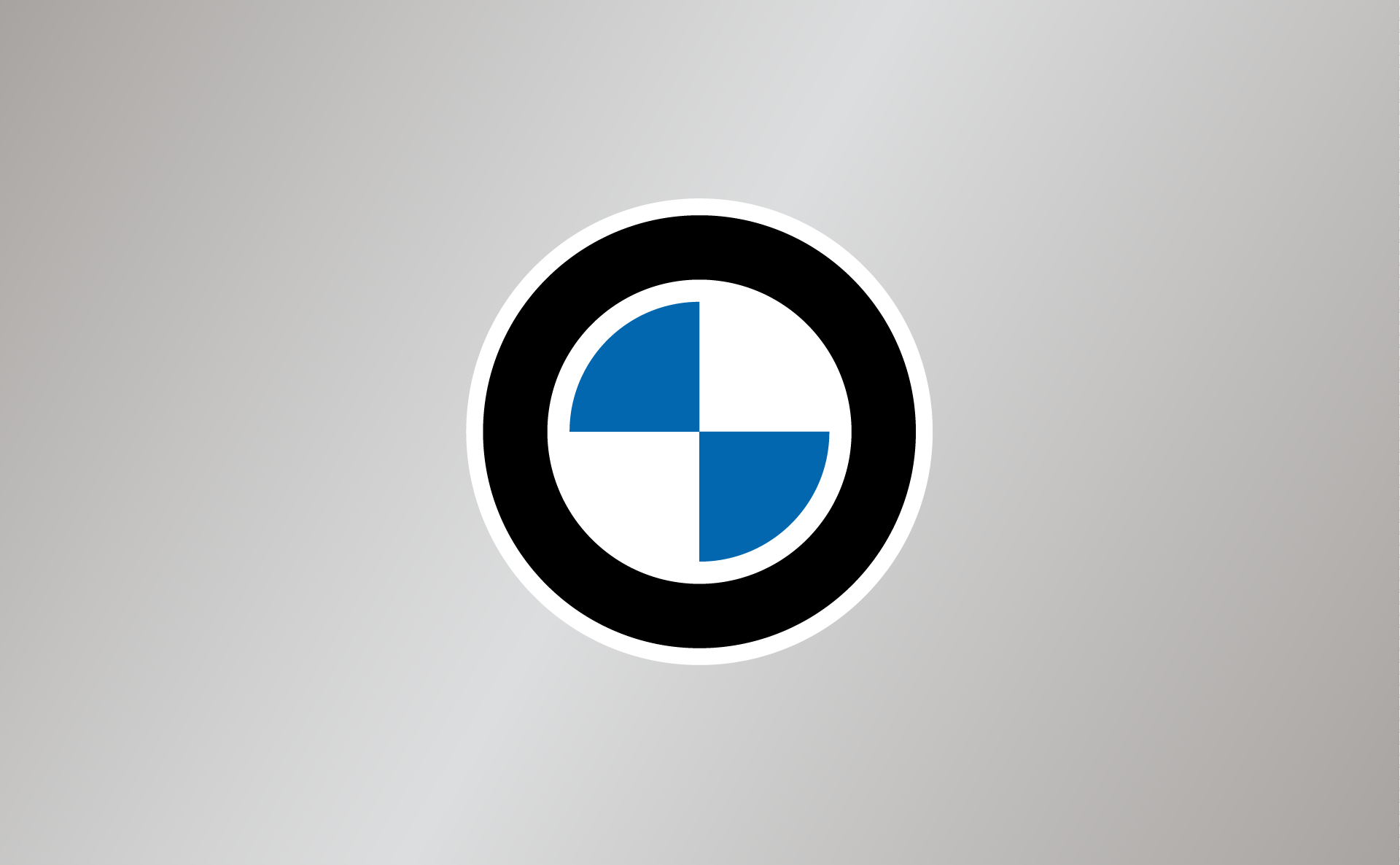 BMW reconstructed: Dim Newman on his improvement proposal and the flat design trend that conquers all
"I think it is interesting that, following Audi, Toyota also dropped the text from their communications logo with their latest redesign. They have presented a flat version of the logo back in 2019" says Dim Newman of the recent Toyota Europe rebranding that went viral earlier this month.
"The new clean typeface suits them well and has a few distinctive features. As far as I remember, Toyota removed the text from the car emblem back in 1970s. Even though some may find them boring, in my opinion their visual identity is really competitive with the other market leaders" notes the creative and art director.
Typeroom caught up with Newman in the event of his recent unofficial rebranding proposal for BMW -the company has officially revealed a flat, transparent logo just in time with the launch of Concept i4 aka BMW's first pure-electric gran coupe earlier this year- to discuss the visual language of an industry that speeds up to the flat design lanes like never before.
Typeroom: Why did you decide to propose a rebranding for BMW?
Dim Newman: I am a car freak and BMW i8 is on my wish list, but I have always felt that their logo is missing the balance and simplicity of Mercedes and Audi. I had started a rebranding project with another car manufacturer before BMW unveiled their new logo in March 2020. By that time I had expanded my insights into the automotive industry enough to announce my bingo solution. I was able to give a go-ahead for further development of this impulsive decision mostly because of the Corona lock down which released additional time and resources otherwise used for extensive travel and commute.
TR: Why do you consider the latest BMW rebranding controversial?
DN: It fuelled a lot of disagreements and discussions because of the superficial nature of the update that is using design as styling rather than strategy. Certain inconsistencies of this approach became obvious not only to branding professionals but also to general public.
TR: What was the core idea behind your proposal?
DN: I wanted to remind to BMW that graphic design was just as important in their branding as product design, architecture or sound. They design remarkable cars themselves and we have seen astonishing results from collaborations with architect Zaha Hadid and composer Hans Zimmer. I wonder why didn't they invite one of the grand masters of type design, for example, Erik Spiekermann, who, by the way, has expressed a positive view of my project.
TR: Which were the inspirations in terms of design for your proposal?
DN: I really like an excellent rebranding that Audi implemented in 2017 by dropping the name from their communication logo.
TR: How long have you been working on it?
DN: Almost instantly I had the vision of what had to be done, but it took me a few months to develop it further and write an article about it. I am constantly updating it, so it is an ongoing project. Readers' comments help me to look at it from different angles, too.
TR: Your proposal is devoid of any type? Why is that? Don't you consider typography a vital element to branding?
DN: Even though my suggestion is to remove the bended text from the inside of the roundel and use the abbreviation besides only on certain occasions, I am convinced that identification with typography is essential for almost every brand, and BMW is not an exception here. If I had an official order for rebranding from them, I would definitely strike a collaboration with one of the best type designers out there. I see a typographer and a type designer as two different professions. For the same reason why an F1 engineer will not take the pilot's seat, I prefer to make the victory in the pits when it comes to design of a new typeface. I have never had a patience to finish drawing every single character of a typeset, but I deeply understand and admire a work of highly skilled type designer.The recent rebranding of Formula 1 with a new type can be a good example, in contrast with the latest update in BMW typography, which I see as generic and disconnected with the brand.
TR: Which other car logos could benefit from a redesign?
DN: I see each brand as a living organism that is constantly evolving through interaction with the surroundings. So each and every car logo can benefit from a thoughtful redesign, whether it is an incremental update or a dramatic rebranding. No redesign often leads to stagnation.
TR: Many claim that these "improvement projects" are arrogant and disrespectful to the design teams who actually work on a rebranding project for months. What's your opinion?
DN: I would like to disagree with this statement. It is not the status of the design team or length of time they spent that counts here. Carolyn Davidson was a graphic design student when she made Nike swoosh logo for 35 dollars. Andrew Kim redesigned the visual identity of Microsoft for free. I think that I am lucky that there are more people who like my BMW redesign than those who dislike it. There will always be a group of conservative fans who will resist any kind of update no matter how progressive it is. I think it is the companies who could be less arrogant about it and instead try to be more open about embracing every valuable input, no matter who it comes from.
Our knowledge is only a tip of an iceberg of all the information out there, and it is hard to predict where the dots are going to be connected. I think that I would not be able to come up with that radiator grill design if I did not have my experience with designing of wall tiles, which is quite far from the automotive industry. I do not see a problem in sharing my findings in public. I would like to invite the companies to harness the collective intelligence that is emergent with the rise of the communication technology and social media. I have recently made a branding project for a global collective intelligence conference, and here I cannot agree more with the contemporary philosopher Pierre Levy: "No one knows everything, everyone knows something, all knowledge resides in humanity…"
TR: What's your take on the much hyped Microsoft proposal rebranding by Andrew Kim circa 2012?
DN: I think that it is a brilliant example that came as an eye-opener for many, but mostly for Microsoft-giant itself. They have acknowledged Andrew's work and have managed to change their long term strategy by setting design as a higher priority than before. This project also inspired other designers to demonstrate their art on the brands that people know and care about. For example Crocs by Stephen Kelleher, VW by Christoph Andrejcic, NASA by Damian Kidd.
TR: Which car logo would you consider the best ever and most significantly the worst ever made? Why?
DN: Imagine that brand is a car. What matters here is not only how good your car is, but also where and how you drive it. We have seen the rise of KIA brand with an unremarkable logo due to a longer car warranty strategy and some better car logos like FaradayFuture that have never seen the production, because of the issues unrelated with design.
Fortunately any car production presumes a high entry threshold, so you will not see a really terrible logo on a passing by car. So the worst examples are limited to blunt copies from another car manufactures. The main purpose of any logo is to identify, and copy-cat logos not only fail to do so they are also often misleading. Remarkably a Chinese manufacturer called BYD have changed from BMW-looking logo to a KIA-looking logo. Hyundai logo enclosed in Toyota-like oval is just an italic version of Honda and its hidden handshake-meaning has became somehow prohibitive after the Covid-19 pandemics.
On the other side of the spectrum are Mercedes, Audi, Volkswagen, Citroen, Renault and Mitsubishi who claimed and enforced their own unique graphical symbols. But I think that surprisingly for many the best logo here is Mazda: their symbol has at least 3 meanings. Initial M is a mnemonic device helping to remember the name Mazda, then there is a head of an owl signifying wisdom, and lastly the wings which claim to stand for prestige. I am convinced that a more meaningful logo is always better than an abstract one.
TR: Who is the graphic designer you admire the most?
DN: I grew up on Karol Śliwka's designs. I love everything what Adrian Frutiger did, I am blown away by Paula Sher and Tibor Kalman. But in the end of the day it is not always the famous name that rolls out the greatest design. For example there are logos I love without the knowledge about who designed them, I really need to catch up on that.
TR: You are based in Copenhagen, Denmark. How would you describe the state of the graphic design and typographic scene of your country?
DN: Design is a huge part of Danish national identity. The small Scandinavian country that I call home is famous for the iconic product design of Arne Jacobsen and Verner Panton and more recently for the innovative architecture of Bjarke Ingels. The underlying principles are also shared with graphic design and typography. Maria Grønlund, Kontrapunkt and Playtype to name a few. Here, the principles of Danish Design Ladder and the economic benefits of good design seem to be obvious for everyone.
TR: What is your background?
DN: I am international by my origin and experience. I have been working with digital design and identities since 1999 and then I have specialised to become a magazine designer and art director. My background in print really helps me to create design that is truly adapted to different media, not just an omnipresent automatic conversion.
TR: Which job of yours would you consider the pinnacle of your career so far?
DN: I always wanted to run my own design company and my dream came true in 2007 when I opened a design studio called Brand Lane. However, I believe that the pinnacle of my career lies ahead of me, and I should continue working harder, learning more and being critical of my own work disregarding the current achievements.
TR: What are you working on now?
DN: Apart from branding assignments, I am designing new panel patterns for my project called Wallmark.dk It seems that there is a whole new world of unseen and universally beautiful tilings waiting to be discovered. I got fascinated by the idea that you can achieve many interesting patterns simply by rotation of a just single type of tile, which can be a very sustainable solution. The principle was first published in 1704 by mathematician Sébastien Truchet who also invented the typographic point measure and the first ever digital bitmap typeface back in 1692! Unfortunately, the tiles did not gain much awareness until the rise of computer graphics, and many variations remain unexplored. I believe that ultimately there is a chance to explain the model of some of the most mysterious patterns in nature like the giant puffer fish skin, and I am already on this journey.
Tags/ typeface, logo, bmw, flat design, car indystry, dim newman