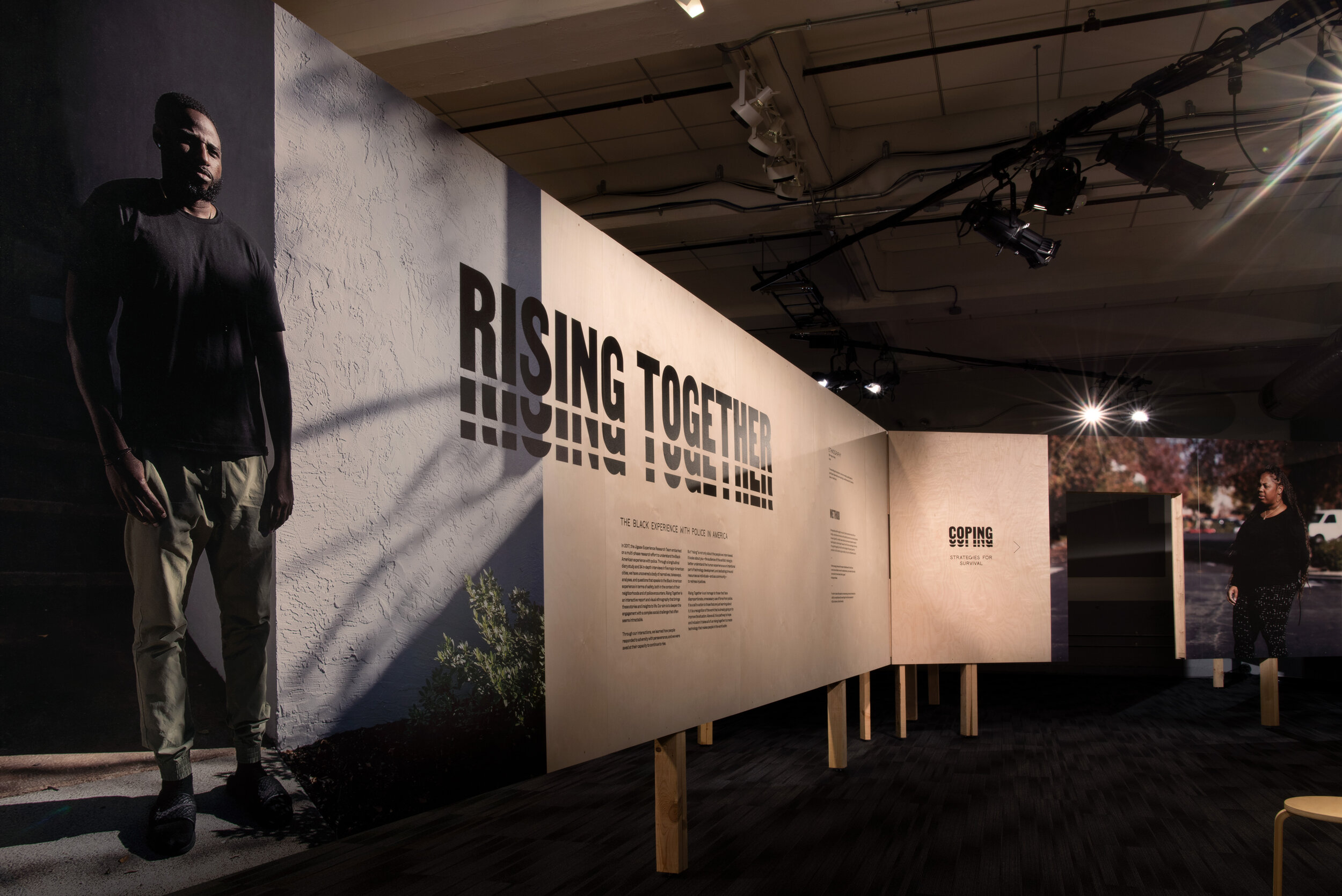 Isometric X Google: Rising Together against police brutality
Based in New York City, Isometric unites graphic design and architecture to create empowering visual identities and spatial experiences.
In one of their most heart-wrenching works, Isometric collaborated with Google on the design of an immersive exhibition that narrates the Black American experience with police through ethnographic vignettes, historical context, and carefully-curated data.
Part of Google's ongoing work to investigate the role of technology in creating safer communities, Rising Together, the exhibition, was an interactive report that summarized two years of research.
To situate the findings in the context of lived experiences, Isometric traveled across America to gather original photography and narratives, consulting with the Google team to develop a thoughtful and nuanced architectural framework that inspired critical reflection and discourse.
"To convey the intersection of the complex historical and contemporary factors that culminate in unnecessary profiling and excessive violence against Black Americans, we created a conceptual public square where interviewees' own narratives could be presented with care" nots the team.
"Images and text were direct-printed on Birch plywood panels, held together by wooden framing and stabilized by metal wire. A community table in the center encouraged people to process the knowledge together, to begin to find the vocabulary to address this painful issue in meaningful ways, and to become better allies and advocates."
In times when police brutality reigns from USA through Hong Kong, France, Iran, Philippines, Serbia, Jerusalem, Greece, Iran, Iraq, Sudan, or Latin America, the exhibition sheds more light on the ongoing battle against human rights.
As noted by Amnesty International "unlawful use of force by police can end in death, injury, and devastation from the streets of Minneapolis to the favelas of Rio de Janeiro."
In the USA alone George Floyd, Michael Brown, Breonna Taylor, Eric Garner and too many other Black people who have been killed by police were unarmed.
The Small Arms Survey says that in each year between 2007 and 2012, an estimated 19,000 people were killed during 'legal interventions' (encounters with police).
"All too often, officers who kill or injure people after using force unlawfully are not brought to justice. That's why it's so important to know what your rights are, and to know what police are, and aren't, allowed to do" reads Amnesty's International report. "We need to make sure that police stop using force against the law, and that those who kill unlawfully are brought to account – no more excuses."
Enter Isometric's all too relevant exhibition here.
Tags/ google, exhibition, poster, architecture, black lives matter, isometric, police brutality