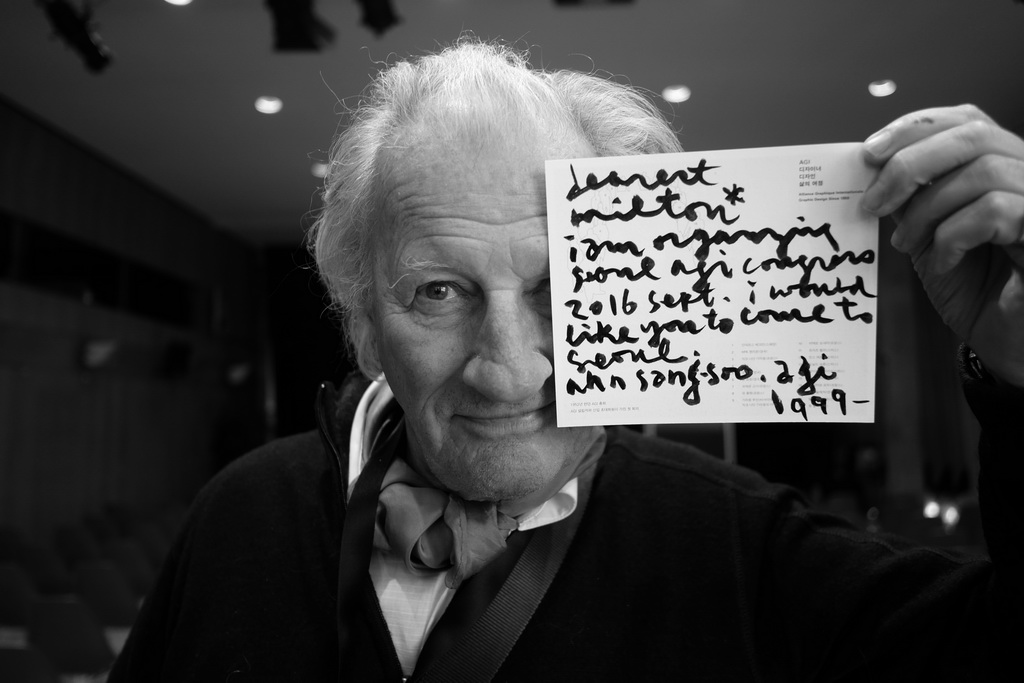 Keith Godard in his own words
"The good graphic designer of today is the one who invents, whatever the medium" once told Keith Godard.
A visual artist par excellence and an eccentric gentleman for those in the know, British graphic designer, artist and educator, Godard passed away on Monday, 4th of May, 2020.
Regarded one of the most "unusual personalities on the graphic design scene," Keith Godard was never out of fashion. He was never in fashion either. Far and beyond trends, his work speaks a language of its own.
Both a poster man and an exhibition designer and clearly an artist, Godard was born on 31 May, 1942, in London during World War II.
Goddard first studied at the London College of Printing and Graphic Arts earning a Bachelor's Degree in Typography and Art.
From 1965 to 1967, he continued his studies on a full scholarship from the London County Council for a MFA majoring in graphic design at Yale University, School of Art and Architecture.
"As a fairly lonely child, I drew a lot" he once said. "My father, a metal engraver, encouraged me on this path. He made me aware of character design and he also introduced me to the posters of Tom Eckersley during an exhibition in London as well as those of Savignac and other French graphic designers. I immediately liked this concept of graphic design, this art which is for everyone and not only for the privileged classes. This is what led me to integrate in 1954, at the age of sixteen, the London School of Printing and Graphic Art, directed precisely by Tom Eckemsley. I then obtained a scholarship to study in the United States in art and architecture at Yale University, from which I graduated in 1967."
After graduation Godard worked at Fortune Magazine for six months and by 1968 Godard, with Craig Hodgetts, Bob Mangurian and Lester Walker, formed Works design Group. Their first blockbuster project was with children's toy maker Creative Playthings.
From 1975 to 1985 he worked with new partners, Hans van Dijk and Stephanie Tevonianand in 1986 Godard established StudioWorks where he remained the principal designer, specializing in exhibition design, way finding and public art.
From 2000 until 2009 he designed a series of die-cut architecture lecture posters for the School of Architecture at the University of Virginia at Charlottesville and in 2015 Godard designed scannable graphics for apps in print and mural forms continuing his exploration of the multi-layered visual realm.
"I admire a certain number of people, for example, Philippe Apeloig for his energy, Anthon Beeke for the eccentricity of his posters, the Grapus group (Pierre Bernard, Gérard Paris-Clavel, François Miehe, Alex Jordan, Jean-Paul Bacholet), as much for their graphics as for their political, social and cultural commitment, their intention to change life" said Godard in his interview with Laëtitia Costes, published in the magazine Graphê, back in 2014. "I also admire the installations of the Austrian architect Hans Hollein, the visual universe and the staging of Robert Wilson and I love the Typographica magazine, of which I have the entire collection."
"Featuring layers of texture that express both the tangible and the intangible, his posters reveal Godard the maximalist, an orchestrator of type, image, and other components that stop the eye, impart meaning, and ensure surprise" reads the introduction of "This Way, That Way" published by Lars Müller Publishers in 2002.
"His visually complex exhibition designs actively involve the audience, creating spaces in which engaging experiences are had, visual and verbal wit are employed, and Godard's unique blend of intelligence and skill come to the fore." One of the many books he authored, the publication is a retrospective of his work from the 1960s until 2000, with stories about posters, graphic objects environmental design and exhibitions.
His work is featured in SVA Archives and Cooper Hewitt.
The award-winning industry trailblazer in graphic design for over four decades, Godard, was regarded a true Renaissance man in the fields of public art and exhibition design.
As the principal behind the esteemed design firm Studio Works, Godard created animation, exhibitions, and prints for such clients as University of Virginia, Fortune Magazine, Business Week, and much more, always integrating his imagination with a broad range of new media, print, animation, and website and environmental designs.
For Godard things can be seen like this and like that and surprising oneself and others is what makes an artist unique.
Keith Godard was 77 years old.
Tags/ graphic design, exhibition, poster, yale, anthon beeke, surrealism, keith godard, agi, grapus