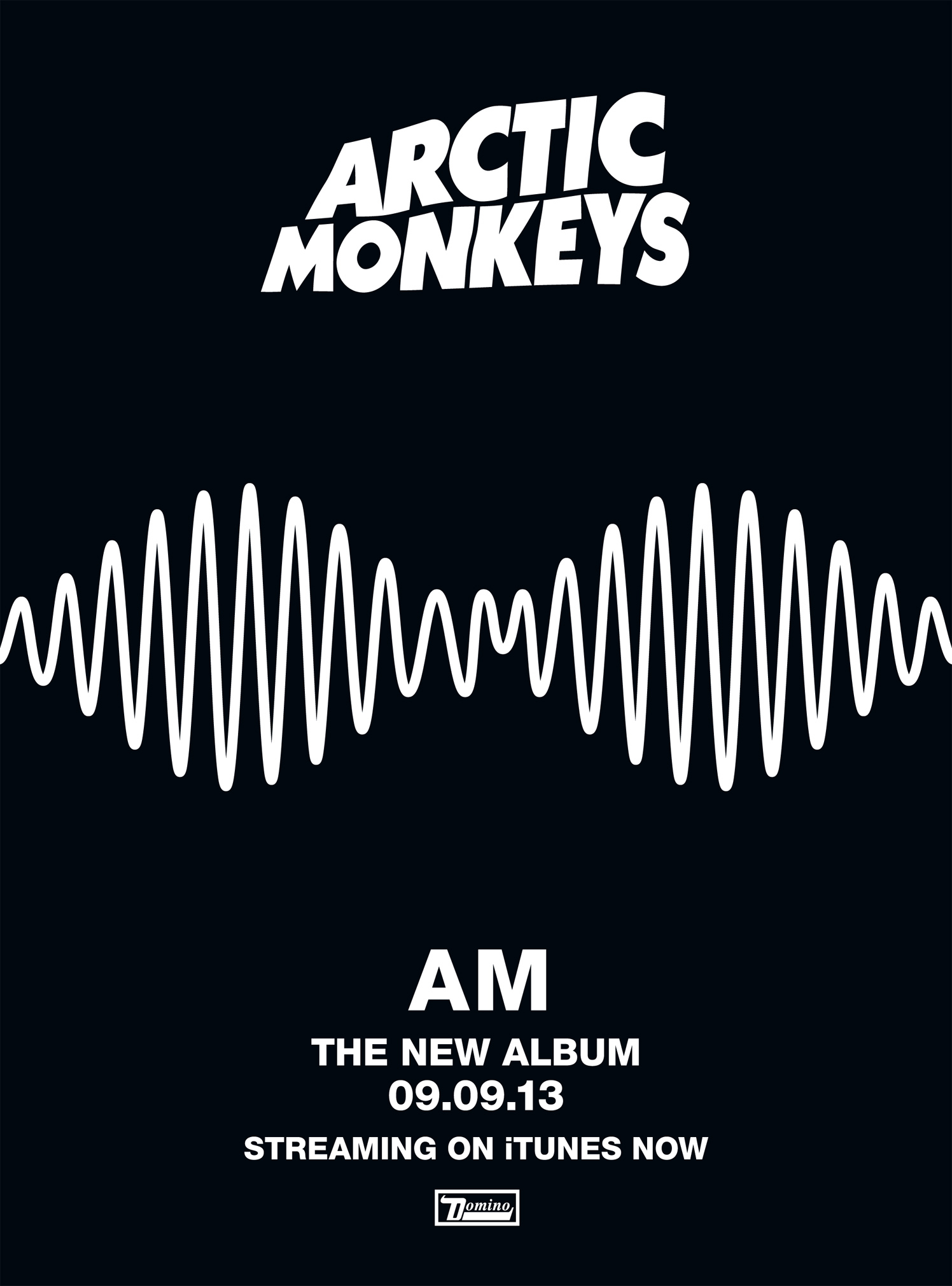 Matthew Cooper and the art of the cover of a decade
What a decade! Arctic Monkeys have won Album Of The Decade for 2013's 'AM' at the NME Awards 2020 and we have an excuse to revisit Matthew Cooper's art of the cover and more.
"It all started with those drums. We don't just mean the languid stomp of opener 'Do I Wanna Know?' or the showy solo at the start of 'R U Mine?'. No – we mean the way that as soon as you heard 'AM' erupt out of your speakers for the first time it was clear that from now on the Arctic Monkeys were moving to a different beat" notes NME of the album that has been crowned as the number one record of the 2010s.
For NME the Sheffield indie legends' fifth album from 2013 is "the soundtrack for countless nights out, hook-ups and comedowns in every town and city of this country" and for the graphic design community Arctic Monkeys' 'AM' was another fine example of Cooper's playful visual aesthetics.
'AM' went to Number One in the UK and 10 other countries, charted in the Top 10 in 15 more (including the US), and has sold almost three million copies worldwide.
The art of the album is designed by Cooper, a freelancer ever since he graduated as an illustrator from Harrow College of Higher Education.
"Matthew's illustrations utilise a variety of techniques and media; from collage and found imagery to painting and drawing, from photography to computer based work. He is particularly interested in the use of typographic and strong graphic elements within his work" reads his bio.
"Alongside his illustration work, Matthew works as a freelance graphic designer, primarily for the independent music sector. Projects range from sleeve design, through to the design of adverts and promotional material. He has worked with such luminaries as Franz Ferdinand, Arctic Monkeys, Four Tet, Caribou, Floating Points, These New Puritans, Noel Gallagher and Paul McCartney to name just a few."
As for where he nurtures his aesthetics, Cooper appreciates the portfolios of work by Herbert Matter, Cy Twombly, Robert Rauschenburg, Kurt Schwitters and the Constructivists and finds inspiration "in the piles of books, magazines, records, CDs and assorted junk, both ancient and modern, that threaten to over-run both his home and his Shoreditch studio space."
Cooper's impressive list of clients -Domino Recording Co. Ltd., Financial Times, British Telecom, Penguin Books, M&C Saatchi, London Transport, Oxford University Press, Deutsche Bank, New Scientist,Universal Music, The Royal Shakespeare Company, GQ Magazine, British Airways, McCann-Erickson, The British Council, RCA Records, Harper Collins, Bloomsbury Press, English National Opera, Decca Records to name a few- is the ideal platform of his to express a heavy in type visual interpretation of our world and yes, we do wanna know.

Read more here.
Tags/ illustration, music, awards, album cover, matthew cooper, arctic monkeys, art record