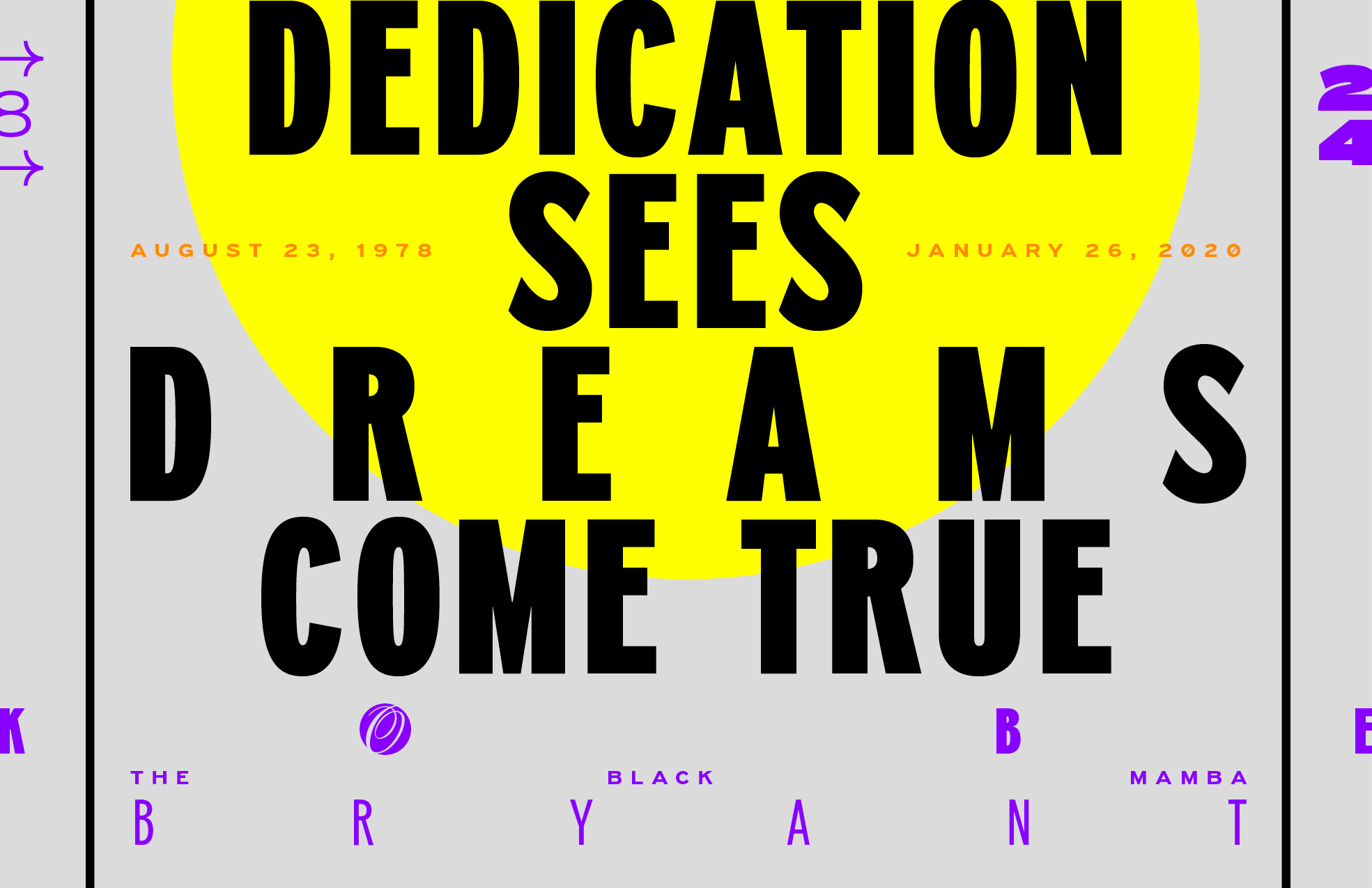 Kobe The Black Mamba Bryant: his legacy in seven quotes to inspire
To remember Kobe The Black Mamba Bryant, Typeroom X Parachute Typefoundry celebrate his life and legacy through his own words of wisdom.
Kobe The Black Mamba Bryant, a five-time world-champion and arguably one of the top five NBA players ever died in an helicopter crash last Sunday.
All nine passengers, including Bryant's daughter Gianna, 13, were killed in the horrific incident.
The NBA legend was 41.
An 18-time All-Star, Bryant was known for his remarkable scoring ability, his championship pedigree and he won the NBA league's Most Valuable Player award in 2008.
"Kobe was so much more than an athlete, he was a family man. That was what we had most in common," wrote Shaquille O'Neal on Twitter Sunday.
Bryant was born on August 23, 1978, in Philadelphia, Pennsylvania and he was named after Kobe beef, a type of steak his parents read in a restaurant menu.
Bryant witnessed racism in an early age he told CNN of his early years in Italy where he lived from the age of six to 13 while his father, Joe Bryant, played professional basketball.
Bryant went straight from high school to the NBA making him the youngest NBA player in history at age 17.
He soon became one of the most decorated players in NBA history and also won two Olympic gold medals for USA men's basketball, in 2008 and 2012.
Yet he could never fully leave the ugliest part of his past behind. Back in 2003 Bryant was charged with sexually assaulting a 19-year-old woman. "But as in the vast majority of cases involving accusations of sexual violence, there was no clear resolution. There was no verdict" writes Kevin Draper in New York Times.
"After the case was dropped, Bryant issued a lengthy statement, apologizing to the woman and acknowledging her perspective of their encounter, which is farther than most public apologies go."
The criminal sexual assault charge was dropped in 2004, and the accuser agreed to settle her civil lawsuit against Bryant in 2005. With the legal trouble behind him Bryant decided to create an alter ego aka The Black Mamba.
"The whole process for me was trying to figure out how to cope with this," Bryant told The Washington Post in 2018. "I wasn't going to be passive and let this thing just swallow me up."
"Later in his life, Bryant became a big supporter of women's athletics. He took his daughter Gianna to watch the Connecticut Huskies basketball team, recorded voice overs for the N.C.A.A. women's basketball tournament and talked constantly about the W.N.B.A." reports NYT.
Bryant finished his NBA career with 33,643 points. A day before he died, he was passed by another Laker and superstar, LeBron James, on the league's all-time scoring list.
Bryant married wife Vanessa in 2001. They had four daughters: Natalia (born in 2003), Gianna (2006), Bianka (2016) and Capri (2019).
In 2018, he won an Oscar for best animated short for 'Dear Basketball,' which was based on a poem he wrote in November 2015 for The Players' Tribune to announce his retirement from the NBA.
Kobe Bryant's Granity Studios has released his Oscar-winning short online in honor of the star athlete's passing.
"You gave a six-year-old boy his Laker dream/And I'll always love you for it/But I can't love you obsessively for much longer/This season is all I have left to give/My heart can take the pounding/My mind can handle the grind/But my body knows it's time to say goodbye," Bryant wrote.
Dear Basketball is directed and animated by Glen Keane and features a musical score from the legendary John Williams, along with a narration from Bryant himself.
Keane and Bryant won Best Animated Short Film at the 2018 Oscars, with Keane calling the project "a message for all of us." He said, "Whatever form your dream may take, it's through passion and perseverance that the impossible is possible."
A man of many talents Kobe Bean Bryant was also a businessman and venture capitalist who owned and grew brands in the sports industry.
As announced Kobe Bryant will be inducted in the Hall of Fame.
This typographic tribute to Bryant is set in Parachute Typefoundry's variable font PF Grand Gothik.
Tags/ quotes, basketball, pf grand gothik, kobe bryant