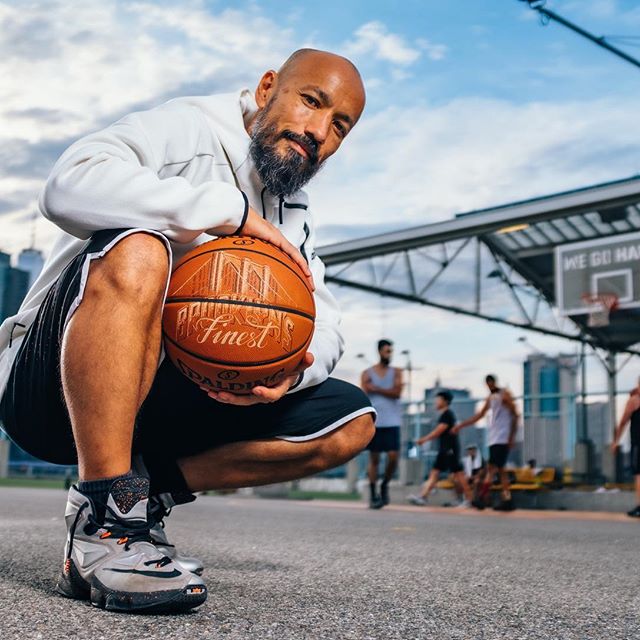 Hoop dreams: Swissipino on his one-of-a-kind type infused ode to the game aka B Ball Tats
This is a love story made of typography and skills few of us have. Mark Burger aka Swissipino or vice versa is a man of many talents.
Swissipino is a former college and pro basketball coach and a streetball lifer. He is also a photographer/ painter/ digital artist/ surfer/ writer/ graphic designer when not being the the inventor of B-Ball Tats, a tribute of his to a life centered around hoops and art.
"B•Ball Tats are custom designed, hand-tattooed basketballs. Every ball is one-of-a-kind and uniquely personalized through my etch, cut and burn technique" he writes. His Tribute to NYC Hoops is his ode to New York City and the players that made it the mecca of basketball.
Growing up, the artist Swissipino was inspired and motivated by the talent, skill and style of these legendary hoopers and he does so through type. This is a love story made of type. Please enter.
Typeroom: You've been experimenting with B-Ball tats since 2014. How did you decide to create this unique memorabilia?
Swissipino: Back in 2014 life was very different. I was still coaching and I had hardly time for personal, creative work. I remember that I was using a marker to write my initials and player number on a basketball. I was a little frustrated, because I had done a nice design, but because of the sweat and general wearing out, I had to re-do the drawing every few weeks. So I wondered about a more permanent way to do this. So I thought "why not cut and scratch?"
TR: How long does it take to create a tattooed basketball?
S: It varies quite a bit, depending on the intricacies and size. Interestingly, the size and placement have a larger impact than details, because the farther to the "edge" I get, the more distorted the lines get due to perspective. In general, a simpler layout will take about 30 hours from concept to completion. A more difficult design, like "The Bronx All Stars", will require close to 100 hours.
TR: What are your inspirations behind each design?
S: My approach is a mix of logo design and graphic design with a twist of graffiti. At the heart is the patron/client and their story is my inspiration. Through my interview process, I try to learn as much as possible about who they are and what external factors shaped them (people, places, events). Then I try to put it all together.
For my Tribute to NYC Hoops, I relied on my personal experiences living here. Playing basketball, or even just walking down the street in Brooklyn is very different than in Queens. The same goes for Manhattan and the Bronx. Certain playground courts have different rules and some are more physical than others. And also the players that I honor have very different styles. So I tried to give each design a different character, yet still feel connected - just like the boroughs and people of New York. Each ball is about the borough, the culture and the players.
TR: You mention that each basketball commemorates people's love for the game, their stories, and their accomplishments. Which is your favorite story of them all?
S: Before I tell you this story, I have to tell you, this is a true story, 100%. I know this, because I've heard the same story from different, unrelated people. So, this patron wanted to have the Chambers Park court mentioned. I play there myself sometimes and I know the court and the people there well. He told me a story about Black Jack Ryan, a very well-known streetball legend in New York and even worldwide. This happened probably about 20 years ago, at the height of the "And 1" streetball hype. Embarrassing your opponent with a creative move was just as important as winning the game. You also must know that when you play on a competitive court in NYC, there might be times that you have to wait 1-2 hours to play a game and if your team loses, you have to wait that long again.
The scene is very competitive and the game is tied. There are probably about 50-60 players watching and waiting to play. Black Jack Ryan has the ball and whoever scores the next basket wins. His defender is talking trash, so Ryan (who has fake teeth) took out his teeth and drops them on the floor. Everybody is stunned and confused. Does that mean he's about to start a fight? Then Ryan spins the ball and sets it on his teeth - the ball is spinning ON HIS FAKE TEETH on the ground. Everybody is dumbfounded and laughing. At that moment, the defender jumps forward to reach for the ball, but before he gets there, Ryan snatches it up, takes a dribble and shoots... and he makes the shot and wins the game. The place goes crazy. Then he cooly walks back, picks up his teeth and puts them back in his mouth. Then he says, "who's next?"
TR: You mention basketball is not just a game. It's more than a game. So what is basketball?
S: Basketball is a way for people from every race, nation or religion to get together and have fun. I believe all street games are amazing in that sense. Young people learn so much about teamwork, acceptance, sacrifice, humility and achievement through basketball. In New York, there are hundreds of basketball courts and if you show up with a ball, within minutes someone will walk over ask if they can play with you. It bridges gaps. As a player and as a coach, the game has allowed me to meet people from all walks of life, from all over the world. And now, through my B-Ball Tats, I get to know more people in a new way.
TR: Which is your favorite basketball logo of all and why?
S: That's a tough question, because these days the teams have so many different iterations and versions, just like they have four different uniforms. And even those change every year! It's too much. So I will be partial and choose my home team: the Brooklyn Nets. Since moving to Brooklyn in 2012, they have kept their industrial simplicity. Black and white. Well balanced. No gimmicks. It's almost Swiss! hahaha
TR: You sold your first logo at age 17. How did it happen?
S: The basketball club I played for was having a logo competition and I won the bid. I was so passionate about the game itself, I don't think I even realised how big a deal it was.
TR: You have also designed media guides, posters, flyers, T-shirts, banners and even uniforms for some of the teams you coached. Do you have any favorite?
S: This is a sentimental choice, not a design choice. It was my very first T-shirt design and it was for the college basketball team I played for in California. I had left Switzerland and my family and friends to go on this crazy adventure to try to play basketball in the US. I arrived all alone and after 15 months of struggling in every way imaginable, I had gone from being an unrecruited nobody to being the team captain. Then they allowed me to design a T-shirt to represent our college and my team mates... It meant the world to me.
TR: What is the one advice you would like to share with aspiring young creatives out there?
S: No matter what, stay playful and write down or draw your ideas. Some ideas need time to develop. For others, it might just not be the right time, or client, or project. And sometimes, when revisiting old ideas, they might spark something new.
TR: If you were a symbol or a letterform which one would you be and why?
S: Ampersand. So simple, yet so complicated. There's flow and continuity, change of direction and crossing past lines. There's highs and lows and you end up almost where you started, so it's almost complete, but isn't. It's really hard to describe in words - you just have to see it. And lastly, its aim is to connect.
TR: What are you working on now?
S: I'm in the paper-and-pencil phase of a design to commemorate the game changers of women's basketball in the US.
TR: Which is the best song to accompany this interview?
S: Juicy by the Notorious BIG.
All photos Swissipino appears in are by Vladislav Borimsky. All photos of basketballs alone are by Fernanda Kock.
Tags/ calligraphy, interview, branding, logos, tribute, tattoo, balls, mark burger, sports branding