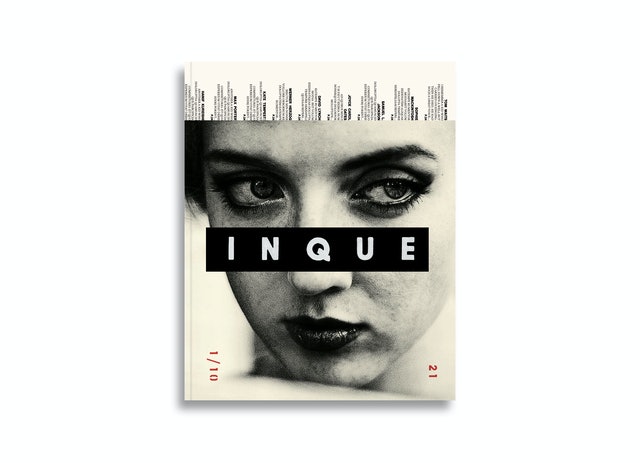 INQUE: Matt Willey on his latest unapologetic print-only magazine for freedom 
Launched on Kickstarter earlier this week, INQUE's campaign for funding is purposeful.
Created by Dan Crowe, the award-winning magazine publisher and book editor and founding editor of Butterfly, Zembla, Port and Avaunt magazines, and his partner in crime Matt Willey, the acclaimed award-winning graphic designer, Pentagram partner, and former art director of The New York Times Magazine, INQUE aims to break the boundaries for magazines. Hailed as one ultimate act of publishing optimism, the new ad-free magazine is to be published, one issue per year, from 2021 through to 2030.
Crowe and Willey love making magazines but hate having to rely on advertising. These two creatives who worked extensively in publishing over the past 25 years have seen how magazines have become editorially constricted with "advertising commitments and excessive distribution costs become the norm, and sales dwindle — not because the audience has disappeared, but because authentic publications have."
For Crowe and Willey giving writers, photographers and illustrators the long-awaited freedom of thought is more important than wasting money on distribution. They want to have control over who we commission, they love the smell of paper and seeing it all come together but hate having to publish something when it's not totally ready and they respect the very essence of collaboration, the "sense of the new, and the unfound, unseen and unpublished." Enter INQUE, their latest print-only dedicated to the art of the mag, devoid of any advertisements that may compromise its editorial line.
"I guess the point in doing this is in order to carve out a space where you get to make something the way you want to. Without compromising. To make something authentic, to make something with integrity" says Matt Willey to Typeroom.
"Doing something like this; slowly and with absolutely editorial and creative control, feels uniquely exciting to me. Editorially it's going to be bold, and unapologetic. It will take risks. I'm deeply bored of magazines being safe and 'neutral' and appealing to the masses. There is so much to be upset about at the moment, so much to talk about, so much to react against. INQUE will eventually be, I hope, a sort of collectable book-like record of a decade. And I think it's going to be, one way of the other, a really interesting decade."
Typeroom: What inspired you to launch INQUE?
Matt Willey: Dan and I started talking about doing this more than four years ago. So it's taken some time to get to this point. I met Dan doing Zembla magazine, back in 2003. He was the founding editor and had approached Vince Frost to design it and I had recently started working at Vince's studio. Dan and I became great friends.
Zembla was wonderful; a weird and playful and accessible literary magazine, and it was such an exciting thing to be a part of. It was the first magazine I ever got to work on. And I think It's also the reason I want to do INQUE. It's all sort of come full circle. Although I've been working in magazines ever since – non-stop for the past 17 years — Zembla is still my favorite. It's still the one I miss. And I think I've spent all this time just trying to work out how to get back to doing something like Zembla.
Dan and I have launched two magazines since Zembla; Port magazine, in 2011, which we still work on together, and Avaunt, in 2014, which we worked on for five issues. We learnt a lot working on them. So INQUE will be my third — and absolute final! — attempt at getting this right. (It's Dan's fifth swing at it!)
On top of Port and Avaunt I've been lucky enough to work on quite a few other magazine launches over the years; MAP, Elephant, YCN, Plastique and so on, and they were all good learning experiences for me. You become aware of how these things work, or don't. You begin to build an idea of what you want and – more importantly – don't want a project like this to be.
We're trying to launch a new literary magazine, called INQUE. Large format, print-only, ad-free & with an extraordinary list of contributors. 1 issue per year for 10 years. 2021—2030.

Here's a 1-min video we did with Cillian Murphy.

& all the info here:https://t.co/TfiYCkk1sT pic.twitter.com/rEdurfY3EU

— Matt Willey (@MrMattWilley) July 21, 2020
TR: Is there gonna be a bespoke typeface designed specifically for the product? If not which typefaces do u plan to use for the premiere issue?
MW: Honestly, I don't know. The first issue won't happen till the end of 2021. If we're successful with the campaign I will have a lot of time to figure it out. I actually found doing the mock-up spreads for this Kickstarter campaign rather difficult. It's too abstract, too hypothetical. I need the real content in front of me.
I've often tended to drawn the headline type for these sorts of magazine projects, and I enjoy doing that, so it's certainly possible with this, but I've really sort of fallen in love with the one I've been working with on these spreads. It's called Mānuka by Kris Sowersby and it's wonderful. I'm not sure when it's being made available. Kris was kind enough to give me a pre-release version of it to play with. It's the kind of typeface that makes doing layouts like these easy.
I drew the INQUE letters quickly because we needed to have a logo for something – I can't remember what, our holding page perhaps – and it feels like we're stuck with that now. Or maybe not… who knows! That's for later. All I can think about right now is if we're going to hit our target. If we can manage that it would be absolutely fantastic and then – THEN I can have a lot of fun figuring all this sort of stuff out.

TR: What does the name stands for? Ink + unique? Something else?
MW: Dan came up with it. We're print only… it sounds like ink. It's a slightly unusual looking word, it's interesting. I like it as a collection of letters. I also just noticed that you get INQUE in the word delinquent. I might have to do a t-shirt with that.
Upon successful funding INQUE, the large format (280mm x 350mm) decade-long publication will be delivered straight to its readers from the people who made it. As announced, great writers and artists are the pillars of the magazine. The acclaimed American author Jonathan Lethem (The Fortress of Solitude; Motherless Brooklyn; Dissident Gardens) will write a new novel over the course of the ten issues of INQUE, one chapter per issue. This collaboration illustrates the very nature of this venture: a ten-year creative document which aims to encapsulate a decade of change.
INQUE won't have any digital version as its creators feel the Internet is oversaturated. "Being print only will ensure a slower experience, allowing the reader to take time to savour the high production values and unique content."
There are plenty of reasons to appreciate INQUE already so do crowdfund it here.
Tags/ magazine, kickstarter, the new york times magazine, matt willey, crowdfund, creative industry, dan crowe