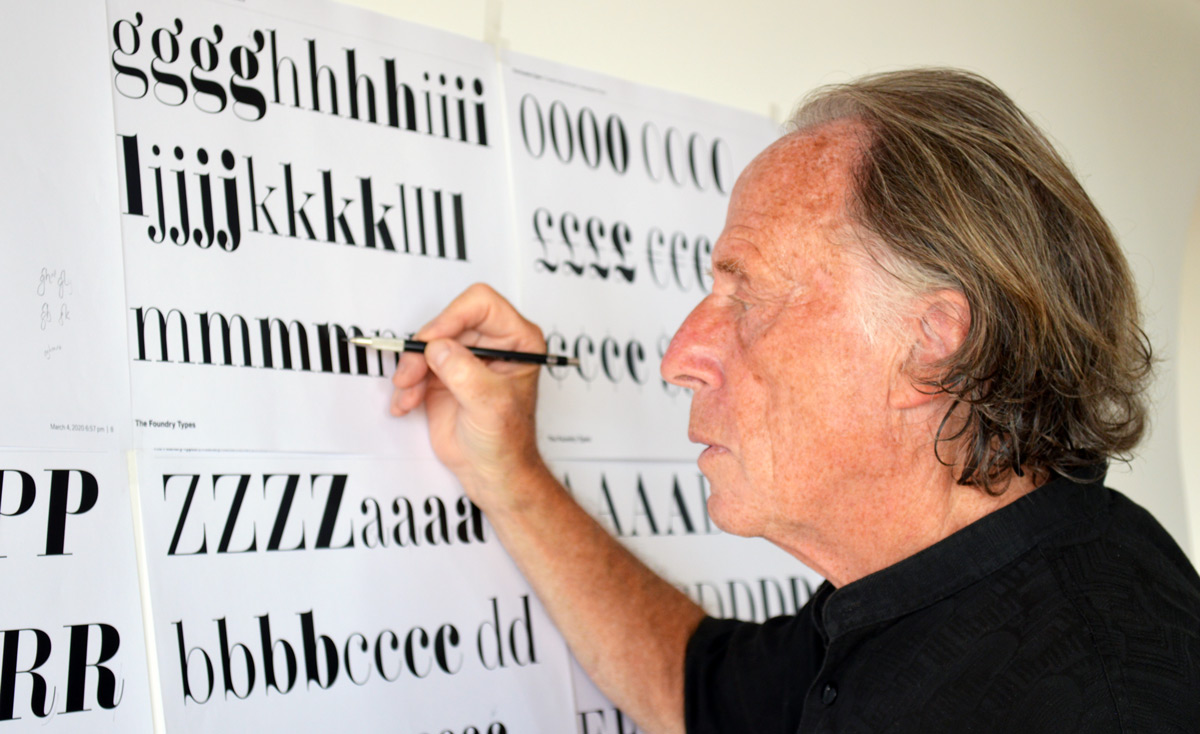 The Foundry Types: David Quay on the rebirth of an iconic type design affair
Originally set up over 30 years ago by David Quay and Freda Sack who took on Stuart de Rozario as a junior designer in 1998, The Foundry was UK's first independent digital type foundry. Fast-forward three decades, David Quay and Stuart de Rozario, the surviving members of The Foundry, have set up a new independent type foundry – The Foundry Types with one mission. To continue The Foundry's legacy of designing well crafted and unique typefaces.
Back in the day, The Foundry designers built up a library of well-known typefaces including Foundry Sans, Foundry Monoline, Foundry Gridnik, that of which was one of the many collaborations with legendary Dutch designer Wim Crouwel. Now, The Foundry Types use a combination of traditional and modern approaches to font design and implementation. After all, Quay and de Rozario have over 75 years of experience between them and have worked through every technological stage of type design since hot metal so this is a collaboration that will deliver.
"The opportunity to work alongside David again after 8 years apart, is not only very exciting, it fills me with immense pride," says partner Stuart de Rozario. "The Foundry, (David and Freda) gave me my first big break after leaving college in 1998 – by furthering my education for 14 years with expert insight into the craft of type design. After a 7 year stint at Fontsmith (now part of Monotype), I have gone full circle and returned home to where my heart is (actually it never really left – there's a sense of affinity here). Freda's passing last year struck a chord with us both – we all shared a deep connection, approach, and understanding to type design philosophy. Today, we give The Foundry Types a rebirth, aiming to continue Freda's legacy with exciting new retail typefaces and offering the same approach and philosophy to all our existing typefaces, by displaying a unique, expertly crafted and balanced typeface design."
Here, Typeroom catches up with founder and type designer David Quay on the past, the present and the future of a Foundry, as true to its craft as ever.
Typeroom: The Foundry was the first independent type foundry in the UK. Since then, many have followed your path. Do you consider yourself a ground-breaker?
In 1989, we saw the opportunity to start our digital type foundry. Freda Sack, Mike Daines, of Signus and I formed 'The Foundry'. We were possibly the first independent type foundry in the UK. In that sense, we were ground-breaking, although we did not see that at the time. In the decade before I had designed typefaces in collaboration with Berthold, ITC, and Letraset and provided them with the complete alphabets, each glyph drawn separately on tracing paper. When The Foundry first started, Signus who specialized in the technical side of type production, digitized our drawings using the Ikarus system, Signus also distributed our fonts.
The transition from working with other type founders and having our foundry was fairly seamless, by still providing drawings to Signus it felt the same. Only later when Signus went into liquidation and we took over the distribution, and eventually, the digitization of our fonts, did we feel the difference, then we knew we had achieved something special.
I think our Architype series was truly ground-breaking. At that time nobody had delved back into the recent modernist past. We studied the experimental type design work at the Bauhaus archive in Berlin and later at the Stedelijk Museum in Amsterdam. Our two collections Architype Konstrukt and Architype Universal consist of designs from Albers, Tschichold, Renner, and Bayer to name a few. Architype Crouwel came later in 1997 and more recently Architype Ingenieur 2011.
TR: Why the eight-year hiatus?
Back in 2012, Freda wanted to retire, shut the studio and escape from the everyday business of licensing and distribution of fonts. Allan Haley from Monotype for a long time had asked if they could distribute our fonts and they seemed an ideal business partner to do that. Stuart de Rozario our designer, went on to work at Fontsmith (now Monotype) and spent seven successful years there. Foundry Types (Freda's company) was eventually wound down in 2014.
So, after Freda's death last year, I realised that The Foundry's legacy needed to continue and thought about how to go about doing this. Stuart had left Fontsmith and I approached him to help rejuvenate and try to bring The Foundry back to something of its former self. The new Foundry partnership is exciting, as we both have big plans and ideas and in the next few years want to craft new fonts in what is an ever-changing industry.
TR: What has changed over the course of three decades in the type design industry?
I started off in the days of metal typesetting at Art School, then later when I was working as a freelance lettering designer, I designed my first typeface for the Meat Marketing Board in the UK. The glyphs were cut in rubylith film and transferred by a photographic process to generate columns of type on a scroll of photographic paper. In the 1980s along came the Apple personal computer and the democratization that allowed us to produce our fonts, but it was not until the late 1990s that we started creating our typefaces on-screen using Fontographer, later FontLab and now I have to learn Glyphs.
Although technology has changed, The Foundry Types' attitude to type design has not. We still believe that type should have a good story, reason, and philosophy behind it. The Foundry Types' philosophy eschews trendy and gimmicky ideas. We try to keep the craftsmanship ideals that are embedded in our craft that go back through the centuries. A computer is just an end tool as was the burin in the hands of the silversmiths that made the first incunabula fonts in the 14th century. A pencil is still one of the best tools in the studio!
Now with thousands of typefaces being produced, it is increasingly difficult to design something truly original. We seem to be making variants of variants splitting hairs between Helvetica and Univers and splitting them again between Helvetica and Helvetica Neue. In our race to jump faster and faster as trends come and go, I feel a certain blandness creeping in, everything's looking the same.
TR: Which are the main challenges for an independent type foundry in times when Google Fonts and other huge corps are entering the digital realm of type design?
I think it's going to get tougher for smaller type companies, but I am also surprised at the amount of commercial work there is out there and with that one can make a reasonable living.
TR: Legendary designer Wim Crouwel was one of your many partners in crime. What was it like working with him?
Wim was a gentleman and very easy to work with. His type designs were so worked out that there was nothing left to chance, so there was very little to discuss. When we took his ideas and expanded them to a full, up-to-date character set we always consulted him, but generally, he was always happy with what we did. Wim was always very flattered by the attention his typeface took.
TR: Collaboration seems to be essential to your work model. Why is that?
With The Foundry's library of fonts we only ever collaborated with Wim Crouwel for his designs – The Architype fonts are revivals based on historical artifacts. Our original designs were all created in our studio, designed and produced by either Freda, Stuart, and myself.
The majority of the typefaces (approximately 85%) came from my initial concepts and sketches. Freda would always cast an eagle eye for any imperfections and between us we made well-crafted, near perfectly drawn typefaces.
TR: You have created corporate typefaces for high-profile brands such as NatWest, Railtrack, Yellow Pages, More Than, Saudi Arabian Airlines, Swiss International Airlines, and WWF (World Wildlife Fund). Which was the most challenging one?
NatWest! We were heavily art directed by a client/designer that thought Emigré Magazine was a designer's Bible and Post Modernism an act of God. The end result was to me, a mish-mash of ideas. I never liked the typeface and found it difficult to work on. Five years after designing it we were asked by another client to revise NatWest in the light of online banking and the sans serif version of the typeface would become paramount, I was a lot happier at the result. What the NatWest typeface did do was to give them a very distinctive voice in a rather staid banking market. Railtrack too was a challenge, but a pleasant one that I named the font 'Brunel' after my childhood hero, Isambard Kingdom Brunel.
TR: From analog to digital, type design has gone through many changes over the course of three decades. What was gained, what was lost in terms of type design?
Digital technology has evolved so much over 30 years and in that time, type design has become more instantaneous, where clients expect things at a 'click of a button'. Type shouldn't be expected in this way. Great, well-crafted typefaces can take time and need to be nurtured. You can't expect to design a beautiful hairline Didone in few weeks!
As type designers go, we are very particular in what we do, finding the right optical balance between positive and negative shapes, ironing out bumpy outlines and nuances in letterforms, crafting, fine-tuning minute details to perfection – it's a labour of love. At The Foundry Types we've always strived to do things the correct way, promote good typography, and execute excellent craftsmanship.
The font design industry has grown over the last 30 years, many institutions now offer further education in type design. The subject has bloomed, more and more programs are accessible throughout the world such as Cooper Union, The Hague, and Reading.
TR: What prompted you to reboot The Foundry as The Foundry Types?
After Freda passed away last year, I realised that The Foundry's legacy needed to continue and thought about how to go about doing this. I knew that Stuart had left Fontsmith and approached him to help rejuvenate and try to bring The Foundry back to something of its former self.
After spending 14 years with Freda and myself, Stuart knew the company and the fonts inside and out. And for many years, he was the stalwart of the studio, designing, producing, and being a vital backbone to our companies success.
First, we had The Foundry partnership between Freda and myself, then in 2000, Freda set up her own company Foundry Types to license The Foundry's fonts. Stuart and I decided on a new name that combined the former names, (The Foundry and Foundry Types) to make The Foundry Types. It seemed the most logical name for the new venture.
TR: What is the mission of the newly launched type foundry?
Stuart and I both share the same type design philosophies, and The Foundry ethos was always to strive to design and craft excellent usable typefaces, on that note we simply want to continue in that vein – promote good typography and execute impeccable craftsmanship. We have big exciting plans, ideas and over the next few years, we want to create new fonts that designers want to use.
TR: How many typefaces are included in the portfolio of The Foundry Types?
Along with our new font Foundry Tiento we currently have 35 typefaces in our portfolio. Foundry Tiento is licensed through The Foundry Types and the 'legacy fonts' are licensed through Monotype and their partners.
TR: What are the main characteristics of Foundry Tiento?
Foundry Tiento is neo-classical in style with strong contrasting thick and thin strokes, and unbracketed hairline serifs. Beauty, grace, refinement, and a quiet sensuality, both the roman and italic are curvaceous and grandiloquent. The alternative Italic ampersand is also quietly voluptuous. It took me on and off 12 years to finally release Foundry Tiento, it was ready for release five years ago, but I pulled it at the last moment as I still thought there could be still some improvement.
TR: Why did you decide to form The Foundry Types Friends team?
When we started The Foundry we had so many wonderful friends who bought our fonts and supported us over the years. Stuart suggested we make any future collaborators who get involved in a project with us become a 'Foundry Friend', in return for their work they receive a fully licensed font to use on their own projects or studio work.
TR: Which advice would you give to aspiring young type designers?
Keep looking, have a sketchbook always by your side, improve your drawing skills both on-screen and off. Use a pencil! Don't think of type in isolation; it is part of the wider world, a reflection of the culture and society we live in. At the beginning when I was working on Tiento I read as much as possible about the Enlightened Age that produced such beautiful Didone typeface.
If any students are reading this who need advice, guidance, or a second pair of eyes to overlook something, feel free to contact us. We all have to start our careers at some point. Stuart started his type career with Freda and myself nearly 23 years ago as a student fresh out of college and wanting some experience. Over time he became the fabric of the company for over 14 years and now is my new design partner. With hard work and dedication, you can achieve big things.
Where to study? I would suggest the KABK in Den Haag, but it is very oversubscribed and difficult to get in. There are probably many other good places too like Cooper Union and Reading. One could also start by sweeping up commas and full points from Stuart's studio.
Tags/ type design, type foundry, wim crouwel, david quay