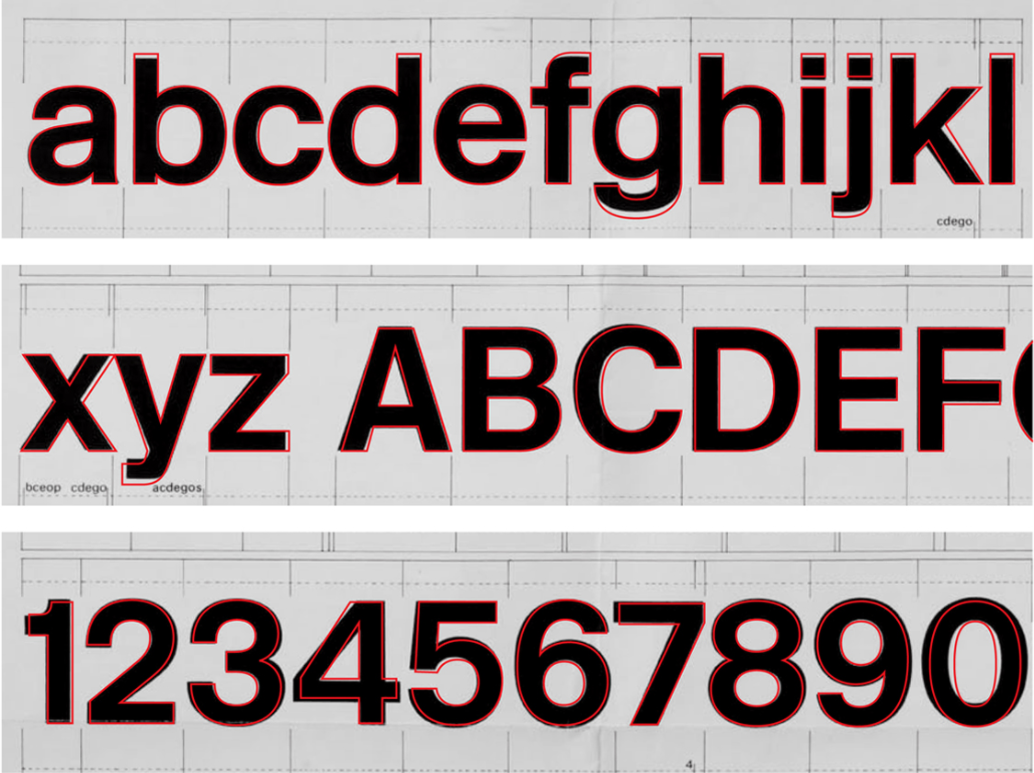 Woman of type: Design Museum celebrates the iconic Margaret Calvert
The Design Museum pays tribute to a British graphic designer pioneer, Margaret Calvert. The display celebrating the work of Calvert, explores the wayfinding systems for transport networks across the UK that she co-designed and her impact on modern information design, alongside insight into her creative process and 'play' projects.
In collaboration with Network Rail, the display also celebrates the launch of the new customized typeface designed by Calvert in collaboration with Henrik Kubel, Rail Alphabet 2. Network Rail will introduce Rail Alphabet 2 in a new wayfinding system and then roll it out across its managed stations.
With a career spanning over six decades, graphic designer Margaret Calvert has helped shape the nation's visual identity and her work with Jock Kinneir has literally defined Britain's visual language with one of the most ambitious and effective information design projects ever executed in the nation.
The legendary Margaret Calvert, designer of Britain's road signs, sporting an appropriate bag today pic.twitter.com/mi5SxVV2bB

— Olly Wainwright (@ollywainwright) October 19, 2020
"It's been wonderful for me to have been given a chance to re-visit the original Rail Alphabet, designed by me in the Sixties, as a starting point for the design of Rail Alphabet 2, for Network Rail, which will be used for both wayfinding, and as a text face for specific publications," Calvert said.
"Margaret Calvert showed Britain the way into the modern world. Her brilliant signage system made sense of the new motorways in the 1960s, welcomed us into a generation of new NHS Hospitals, and guided us through brand new airports and railway stations" said Deyan Sudjic, Director Emeritus of the Design Museum.
"The original rail alphabet designed by Margaret was an enduring design icon of the 1960s, and heralded the rebirth of the modern British railway system" added Sir Peter Hendy CBE, chair of Network Rail. "She is a true pioneer of design and I'm delighted we've been able to work with her and Henrik Kubel on Rail Alphabet 2. There's a muddle of different fonts used on railway signage which are hard to read and confusing for passengers, so we were keen to work on a clean and consistent design to make journeys and stations better. This is just one of the ways in which we are taking a fresh, collaborative approach to design and putting passengers first."
Still going strong in her 80s Calvert is a living legend of British design. Talent-spotted by Kinneir, her tutor at Chelsea College of Art, who took her on as an assistant initially to work on signs for Gatwick Airport, Calvert eventually became a partner in the firm which was renamed Kinneir Calvert Associates and taught for nearly 40 years at the Royal College of Art.
"While it's a modest display, wrapping around the atrium of the building at first-floor level, the exhibition is an enjoyable insight into a designer who according to curator Rachel Hajek, has been responsible for much of Britain's graphic identity" writes RIBA's Pamela Buxton."Yet this is not showy design but the everyday, background variety that eases legibility and movement, whether around transport systems, complex buildings or websites, without being remarkable in itself. That so much of her work seems invisible, is, adds Hajek, its genius."
"Her slab serif design for Newcastle's Metro system was a change from the sans serif normally used in transport signage and was chosen because Calvert felt it suited Newcastle's distinctive architecture. Now known as Calvert, this lettering has also proved long-lasting and is still in use on the Metro after 40 years, as well as on many buses and ferries in the north-east, and is also the Royal College of Art identity. In the exhibition, we learn that this design was derived from a proposal for a new town in France, which was rejected for looking too English. The show also includes earlier work for P&O, in which Kinneir and Calvert created a label system for passengers' luggage that didn't rely on language but instead used color and pattern to convey international regions and different ports within them."
"Banksy loves to mess about with them."

Margaret Calvert, typographer and graphic designer who co-designed the UK's road signage system, says she's worked with Banksy before and she's "flattered" he "takes the mickey out of what we do"#Newsnight pic.twitter.com/mL6bBsML1t

— BBC Newsnight (@BBCNewsnight) October 19, 2020
Due to COVID-19 restrictions please check the Design Museum website for specific booking information.
Margaret Calvert: Woman at Work until 10 January 2021, Design Museum,
Tags/ typography, typeface, exhibition, design museum, margaret calvert, wayfinding