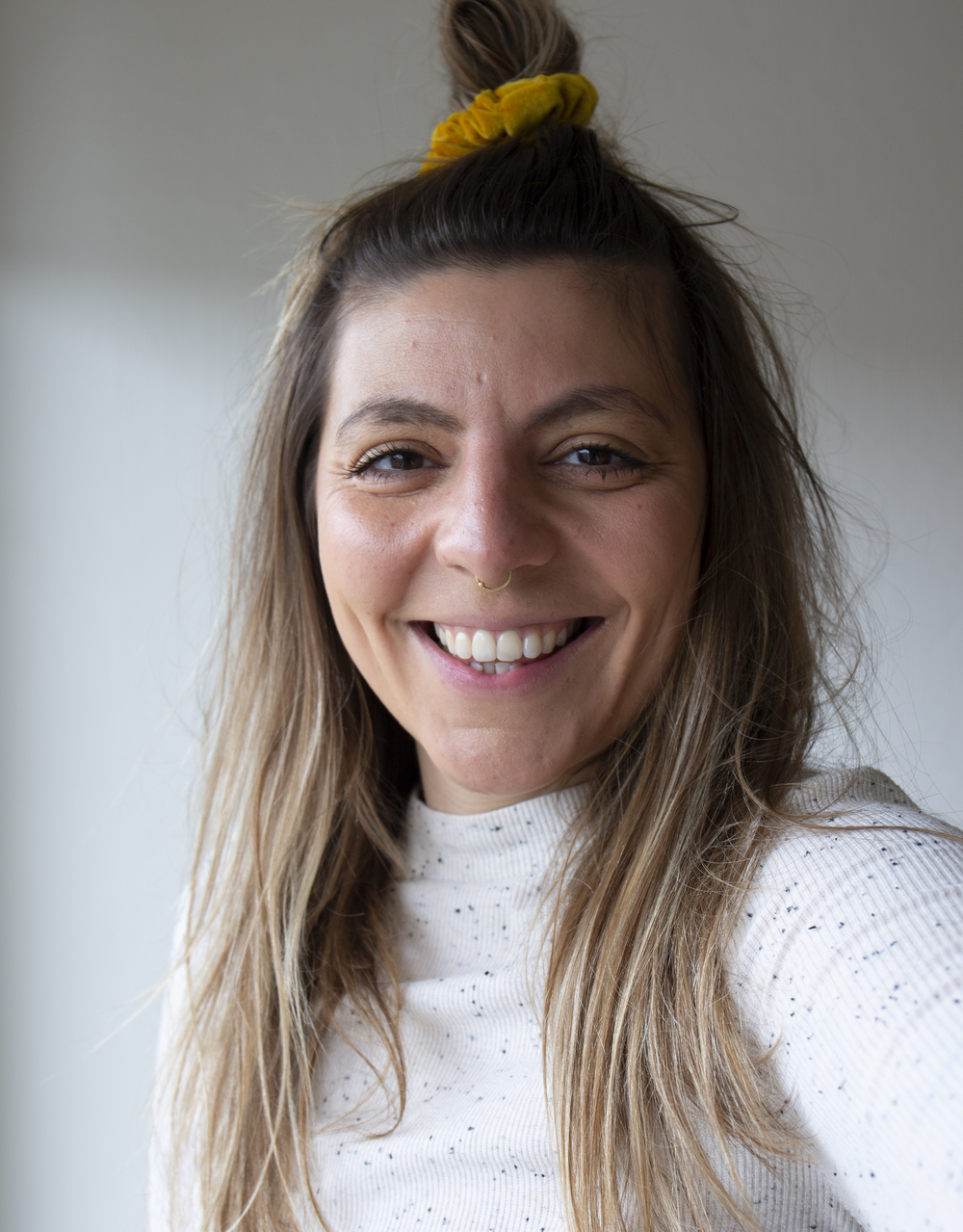 Bold! Fun! Relatable! A talk with Anna Maria Kiosse, a creative power force with a skillset like a Swiss army knife
A creative that swears a lot is a creative we appreciate. Anna Maria Kiosse was born in Greece, brought up in Germany, settled down in Amsterdam, and is a proud citizen of Europe but not the one with the haters' version of it.
Anna Maria Kiosse's line of work is bright and bold, fierce and smart, to say the least, impressive. A creative with "a skillset like a Swiss army knife."
An illustrator, designer, art director, and author, she started Studio Kiosse, her own creative business model, with the only employee being her dog. Here she breaks down her creative path as she keeps on working on a variety of projects for a massive clientele -Adidas, Airbnb, The Observer, de Volkskrant, Financial Times Magazine, and more-, when she is not busy giving workshops and design talks or making pottery with a twist.
Typeroom: How did it all start?
Anna Maria Kiosse: Oh boy. How did it all start? Back in the day when the tiger used to smoke the pipe, in the industrial suburbs of Stuttgart in South Germany a greek girl in her early 20s decided to study communication design. It was me. A 7-year long study, lots of travel, and now ten fun years later I am writing these lines sitting in my studio in Amsterdam.
T: You are a Greek-based in Amsterdam. How did you make that decision? Which was the most challenging aspect of it?

AMK: Actually, I never decided to leave Greece, I was two years old when my parents emigrated to Germany for work. I lived and studied in Germany. However, for my parents, it was of high importance to keep us, me and my brother, connected to Greece. We spent many summers there, and also Christmases and Easter, and actually, whenever an opportunity came up we would take it and go explore Greece. So I remember many great summers there. Those memories remained and so I always had that strong connection to Greece. Whilst living in different countries it didn't change my pride in being Greek at all - if anything the opposite happened.
Growing up and working creatively – I feel the connection to my greek roots a lot and it feels like the connection to home, is growing stronger and stronger. I think mostly you can see that in my ceramic work. Who knows where we are all going and will end up, but I can feel it in my gut that for me at some point I will return to Greece again.
To answer your second question: For a long time, the most challenging aspect was the feeling of not belonging and always being the ex-pat. I had it in Germany, and it continued in the Netherlands in the beginning even stronger. Always questioning 'Where is my home?'.
But the last couple of years I came to realize that actually this is what makes me who I am and you can see that in my creative work. It is awesome to be in the position to have seen all this, mixing mentalities and culture, being places. Nowadays when people ask where are you from, I say 'I am European' :)
T: Your work lies in the intersection of illustration and type. Which comes first?
AMK: They go hand in hand and one makes the other stronger. It's a symbiotic relationship. An illustration can trigger a certain type of lettering and at the same time, a line can be a great inspiration for an illustration. The lines in my work are blurry, sometimes I think the type becomes the illustration or the other way around.
T: You are a creative power force. From authoring books for children and adults through heavy-on type illustration to art direction for major brands, nothing seems beyond limits. How do you pull this off?
AMK: Fake it till you make it. Jokes. But honestly, I just don' think about it, I just do things -think: Shia LaBeouf 'do it' GIF. The good thing about creativity is that you don't need permission to be creative.
You can pick up a pen and draw, you're an illustrator, you take a photo with your phone, you're a photographer, you wrote a line wow you're a writer and so on...
I believe creativity is not something that you can put in a box or category. At least it doesn't work for me that way - I am curious and naturally, I say 'YES' to everything that comes my way - which means you need to have a mentality that is the opposite of the one of a perfectionist. Imperfection is where you find the good stuff, the gems, where it gets really interesting, and for me personally where the fun starts. FUN is always leading my process, if it's painful or feels slightly boring I lose interest quickly. I got really excited and felt a jump in my career once I lost the feeling of pressure to be 'as good as' or 'as quick as' or 'as clean as' someone else out there. Done is better than perfect, once something is done I get results, a reaction and that makes me grow. It's more important for me to try everything that lights even the slightest spark of interest and I love trying new things.
I think another important step for me was when I stopped listening to people who were trying to put me in a box 'Oh are you an art director then or what?' and realized that the problem was theirs to solve, I just am a creative. And I do anything I want. I just try to shake off the doubts and the stage fright and be confident in my creativity and my mind. And yes, before you ask: Of course this can result in chaos and failure but also in many beautiful happy little accidents and learning curves. Maybe it is worth mentioning that it's not easy to want to try everything. There are times where I am too much for my own brain and get overwhelmed. Then I just stop for a couple of days or weeks and do nothing to decompress and structure things again. Like a reboot.
T: Typography is essential to your craft. Are there any typography artists you admire, creatives who inspire you?
AMK: I think more than 'typography artist' I look up to people who have an interesting approach and view on life and creativity overall. For me, it's more about the way talented people out there think and view certain things and then use creativity to communicate this. For example, the poster designer Peter Bankov is super inspiring, James Victore has a good mindset for creativity and has done some amazing work in the past. Frank Höhne is great, I love how he mixes illustration and type to tell stories. I think overall for me I like to see people with a good attitude making stuff.
T: What is your design approach?
AMK: Everything starts in a sketchbook. Every idea will start in a little black book. I use them all the time and I have many of them in all sizes and in every bag, at home, in the studio, everywhere really. They are very important for various reasons mainly to keep my process in check and also structure my thoughts. I draw all the time, write little lines, take notes or make little sketches. Not all of them actually make it into a 'real' project but most ideas come from there. And then I have to feel connected to the topic. There has to be an instant spark - it has to be something that I am curious about and interested in.
If the connection is there I work very intuitively and playfully. I get excited trying to figure out what materials to use and how they'll come to life.
T: Do your work by hand or through digital means?
AMK: Nothing beats pen and paper. A brush dipped in ink will create a much fuller stroke than any digital photoshop or procreate brush, ever. Full stop. However, I do really like to work with the Ipad as well. Especially if I work for bigger clients and go through many stages of feedback and many last-minute changes. If it's a tight deadline, digital is just a lifesaver. I do love it when it gets messy so for personal projects I almost only work analog and get my hands dirty :)
T: Is freelancing a viable career path for many?
AMK: I can't speak for many but for me it really is. I feel more independent and creatively free. Since I am freelancing I have not had the feeling of being stuck in a 'job' I don't like, without a clear sense of purpose.
T: What advice would you give to aspiring creatives out there?
AMK: 1. Be yourself & stick to your guns. 2. Frustration and doubt are part of the struggle. 3. Listen to your gut, not to others. 4. Keep moving.
T: Which was the most useful lesson you learned from your career so far?
AMK: Don't listen to anyone, but yourself. People had many opinions about what, how, when, with whom I should and shouldn't be doing things. I stopped listening and from that moment on things got only better. Now I just put in the work and enjoy life. I don't think too much about things and I try to be grateful and curious instead of afraid of big changes. Of course, I keep the bigger picture in mind and stay determined but the key is to also be open to take different roads and paths and most important: Enjoy the ride.
T: Which would you consider the most important piece of your work so far and why?
AMK: The Swearing Collection. No questions asked. There is so much me in that project, it's unreal. It was my graduation project so it's like my baptism haha. How much blood sweat and tears went into that project you cant imagine.
The process was amazing, I did everything myself from idea to every single bit of execution. Of course, I had help and creative exchange throughout the project but the one making the final decision was me. I even built the boxes and screen printed the details on them, screen printed shirts, photographed the models, and even recorded a self-help tape. I love thinking back to the time working on this. The amount of craft that is in this big project is really something special.
The reason as to why this is the piece of work I consider most important are many, some I mentioned above but I think one of the most significant reasons is that it combines many creative tools, which is what I still do and what describes my process well even to today. Keep using and exploring tools.
T: How would you describe your work in five words or less?
AMK: Bold, Fun, Relatable.
T: If you were a swearing poster which one would you be and why?
AMK: I would be the FUCK YEAH!
T: What is your daily creative routine?
AMK: Coffee, dog walk, cycle to the studio, radio on, more coffee, sketchbook, procrastinate, start work.
T: What are you working on now?
AMK: I just bought a tattoo machine so I am practicing a lot. And I finished reading the book CIRCE by Madeline Miller. It's all greek mythology, so Gods and Titans and so on, you get the idea. However this inspired me and I am working on a new series of Ceramics, I am using black clay this time, which I haven't used before so I am excited.
T: Which is the ideal soundtrack to this interview?
AMK: Walter Martin, In my socks.
Explore more here.
Tags/ typography, illustration, interview, greek, amsterdam, anna maria kiosse, ceramics