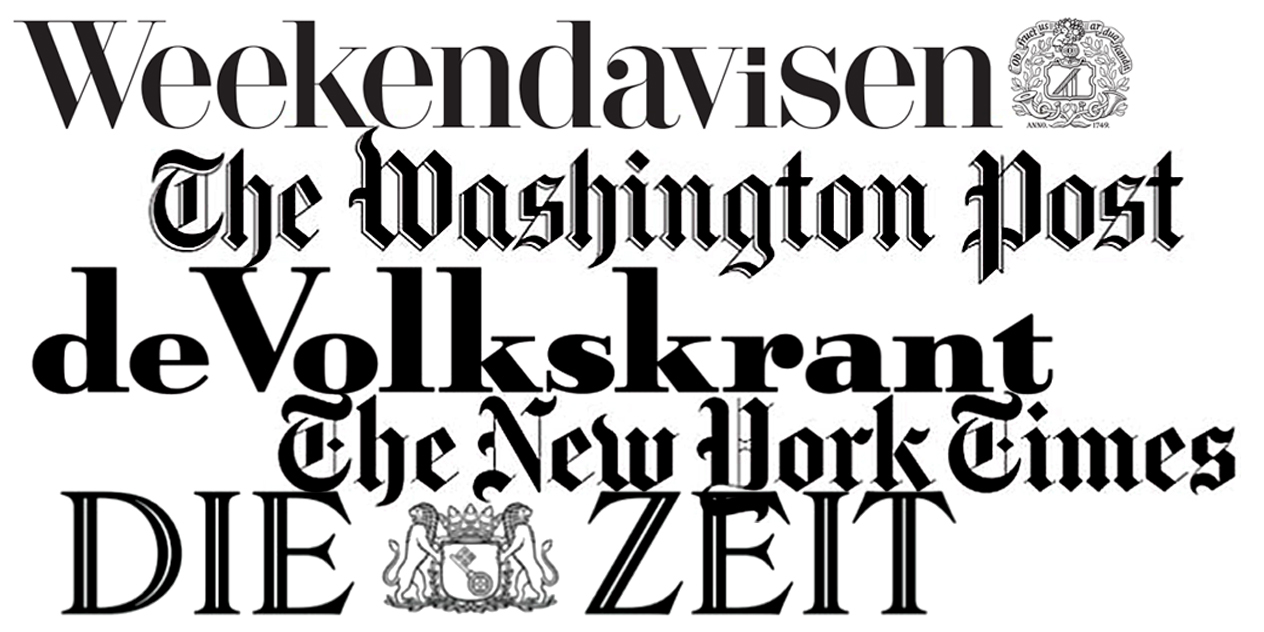 SND 42 Awards: Weekendavisen and de Volkskrant named World's Best Designed Newspapers for 2020
In 2020, a global pandemic forced our collaborative process onto computer video cameras, in disparate locations, to report a torrent of news notes the Society for News Design (SND) 42's judge panel on the world's most beautiful newspapers out there.
This "inspired a dialogue among the five of us who judged this category. In evaluating the 25 entries, we came to see the role of the printed newspaper as a message in a bottle, from one set of isolated people to another. The intimate, tactile and finite qualities of printed publications helped us to connect, to think and to understand the avalanche of online news."
The pandemic required judging pdfs over Zoom so the judges tried to imagine holding the papers in their own hands, and viewed them as a reader would: one after another, horizontally.
"We looked for publications that presented the news with a rigor and humanity that placed readers first. We valued design that organized the chaos of coverage with precise and polished orchestrations of typography, photography, graphics and illustration. We sought evidence of a distinctive editorial voice that was confident, consistent and creative."
"We were inspired to see a maturity in visual journalism that is durable and sustaining in a year of unimaginable challenges. There was no evidence in any of the entries of the industry's particular difficulties in creating and manufacturing a distributed product day after day, week after week; the excellence and integrity were undiminished. Indeed, we noted that some newspapers seized the crisis as an opportunity to push their print editions in dazzling new directions."
The five finalists were Washington Post, The New York Times, de Volkskrant, Weekendavisen and Die Zeit.
"Print is not legacy, but avant-garde: The newspapers who are the 2020 World's Best recognize that the ubiquity of online content can make print a niche product, special and revolutionary. Publications in this group understood how to use design in exciting, creative and authoritative ways, making the print product indispensable" reads the judges comment.
Following are the winners aka the Dutch daily de Volkskrant and the Danish weekly Weekendavisen with the panel's comment.
Weekendavisen
"This Danish weekly is thoughtful, refined and filled with a subtle sense of humor in its visual details throughout. Started in 1749, redesigned for a relaunch in 2020 with expanded culture coverage, Weekendavisen illuminates with its smart blend of legacy and modernity. This newspaper is daring, ambitious and often playful in its approach to covering a full range of global topics. A mastery of the basic principles of news design undergirds the jazz riffs in Weekendavisen—the exaggerated quote marks, the tiny icons and spot illustrations populating the pages to clever effect, the switchups in color and defining folios—all elegantly build both framework and identity. There's sophistication in the photo editing, a wide variety at play across news, portraiture, conceptual and collaged images. A variety of typography is used to boldly define sections, highlight conversations, and gracefully define navigation. Illustration includes a full range of styles—adeptly mixing the modern with the classic, the unexpected with the ironic. The images and graphic touches in Weekendadvisen do not dominate, but provide an alternate story that enhances a richly textured reading experience. To all this, Weekendavisen adds tightly edited headlines and a discipline on story length to create a complicit conversation with the reader. Balanced and well-crafted, it's a wonderful newspaper"
de Volkskrant
"The Dutch daily de Volkskrant surprises at nearly every turn of the page. Its bold front pages and section covers are inventive and invite readers inside for an excellent visual chronicle of reportage with highly creative use of illustration, photography and graphic details. The compact pages are used to full effect, with a confident balance of space, typography, image and data to create highly dynamic layouts throughout. The paper achieves brightly contrasting rhythms that boldly define sections and the story types within them. The skillful photo editing and art direction work to bring contrast to its pages with careful attention to detail. Typographic texture balances with consciously defined white space. Brand-defining use of icons, quote marks, and spot illos are used throughout the publication, sharpening personality and adding to a cohesive visual voice. Graphics are used sparingly but purposefully—as is color, which lends the publication a crispness and clarity. This is a publication that has abandoned the traditional packaging by subject. Instead, the mix seems created for readers who also scroll feeds: An in depth look at an upcoming election on Saint Maarten, the Dutch constituent country in the Caribbean, is followed immediately by a display of art photographs of children. A feature on racial justice protests yields to a spread featuring a large chicken in illustration. Coronavirus is represented as a pincushion cactus, beautiful and treacherous. The paper uses photographic series to bring honesty and intimacy to stories about the challenges its readers face amid the pandemic. The pages of de Volkskrant show what truly collaborative teams can achieve when editorial and creative direction work together in unison. It's an exhilarating experience to dive into a publication that manages to provide such finely balanced cohesion with continual surprise—and make it look so effortless."
The judges for this year's World's Best Designed Newspaper were: Simon Khalil (Global Creative Director at Arab News), Jesica Rizzo (Head of Photography at La Nación), Ann Gerhart (Senior Editor for visual enterprise at the Washington Post), Kelly Doe (Director for Brand Identity at the New York Times) and Javier Zarracina (Graphics Director at USA Today)
The 42nd competition ended with a jury of 27 judges awarding one judges' special recognition, five gold medals, 59 silver medals and nearly 900 awards of excellence.
Read more about the five newspapers that were named finalists for World's Best Designed Newspaper here.
Winners in the other categories have been notified and a database of all of the SND42 results can be found here.
The Society for News Design (SND) is an international organization for news media professionals and visual communicators – specifically those who create print/web/mobile publications and products. SND's members art direct, design, edit, report, illustrate, make photos and video, visualize data – and write code.
Founded in 1979, SND is a U.S.-registered non-profit organization with around 1,500 members worldwide. Among other activities, SND hosts an annual Best of News Design competition open to newspapers and magazines from around the world, and a yearly conference (rotating through various cities) that brings in visual journalists from all over the world.
Tags/ awards, print, best newspapers, snd