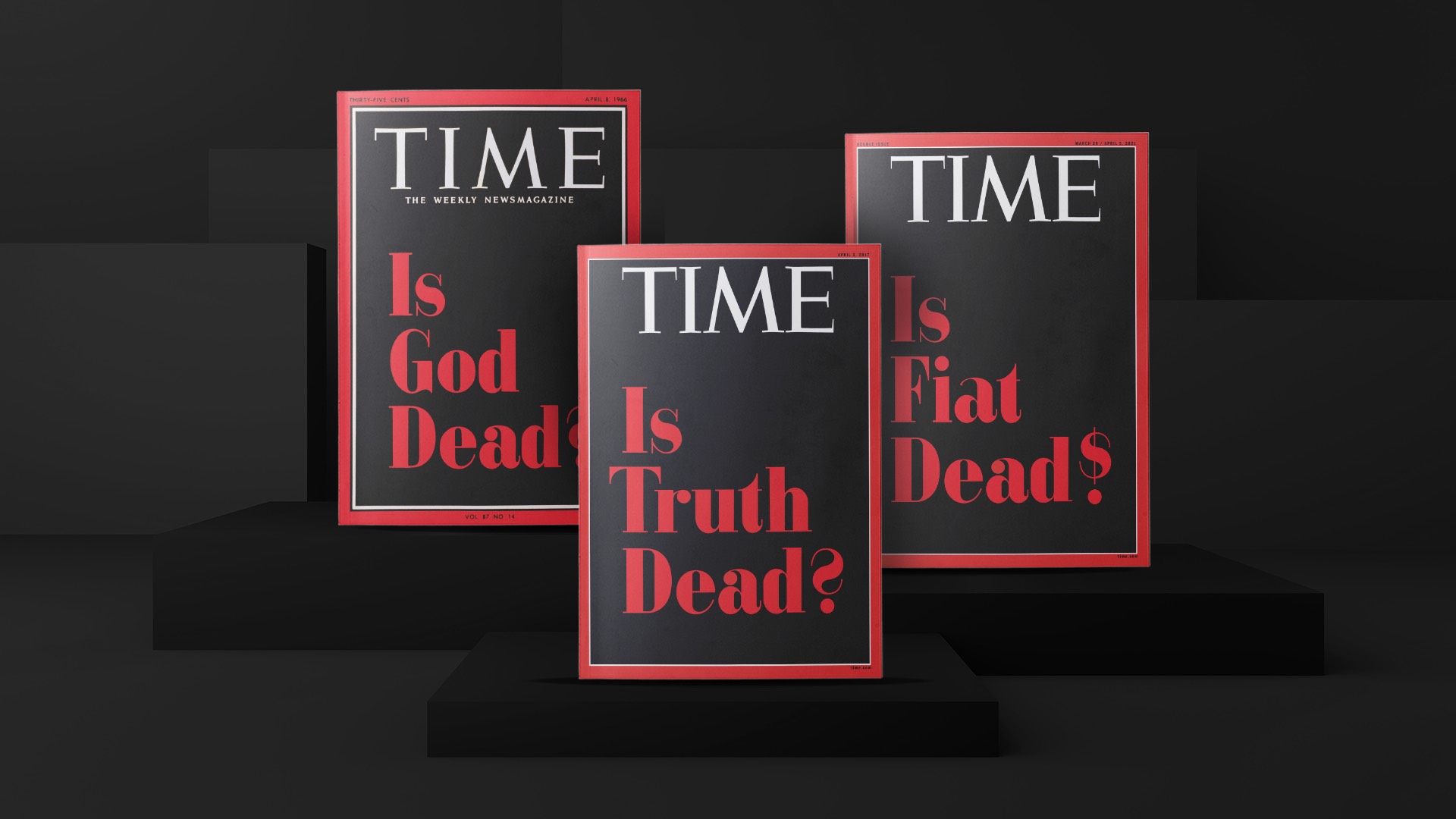 Bodoni goes crypto! TIME magazine auctions three iconic type-only covers as NFTs
TIME magazine enters the latest NFT craze with a Bodoni bang!
The magazine auctions three first-ever NFTs (non-fungible tokens) inspired by one of TIME's most iconic covers and including an original cover created, especially for the event.
"Inspired by the Is God Dead? cover from April 8, 1966, the original NFT rendition, released amid the stratospheric rise of NFTs and adoption of cryptocurrencies, returns to the stark black field and red bold typography to once again ask a topical question, Is Fiat Dead?" reports TIME.
"I love the idea that its meaning isn't clear to the casual viewer – much like the crazy, lucrative world of NFTs," says TIME Creative Director D.W. Pine, who created the new "Is Fiat Dead?" cover, part of an exclusive series of three incredibly prescient TIME covers, including one of the most iconic covers in TIME's 98-year history, and the first-ever cover designed exclusively as an NFT.
The typography used on the original cover was based on Bodoni Poster, designed by American printer and typeface designer, Chauncey H. Griffith back in 1929. "The bold contrasting strokes, strong verticality, and easily recognizable serifs and ball terminals were perfectly suited for advertisements, posters and signs in the early 20th century."
"The typography on the two most recent covers needed to be hand-drawn, as we could find no modern type foundry which has an exact interpretation of the one used on the original cover" notes TIME of the three NFTs which are available individually or as a collection on the cryptocurrency marketplace SuperRare.
The auction is open now and will run until Wednesday, March 24 at 8PM ET.
More here.
Tags/ typography, bodoni, covers, auction, time magazine, nfts, cryptocurrency