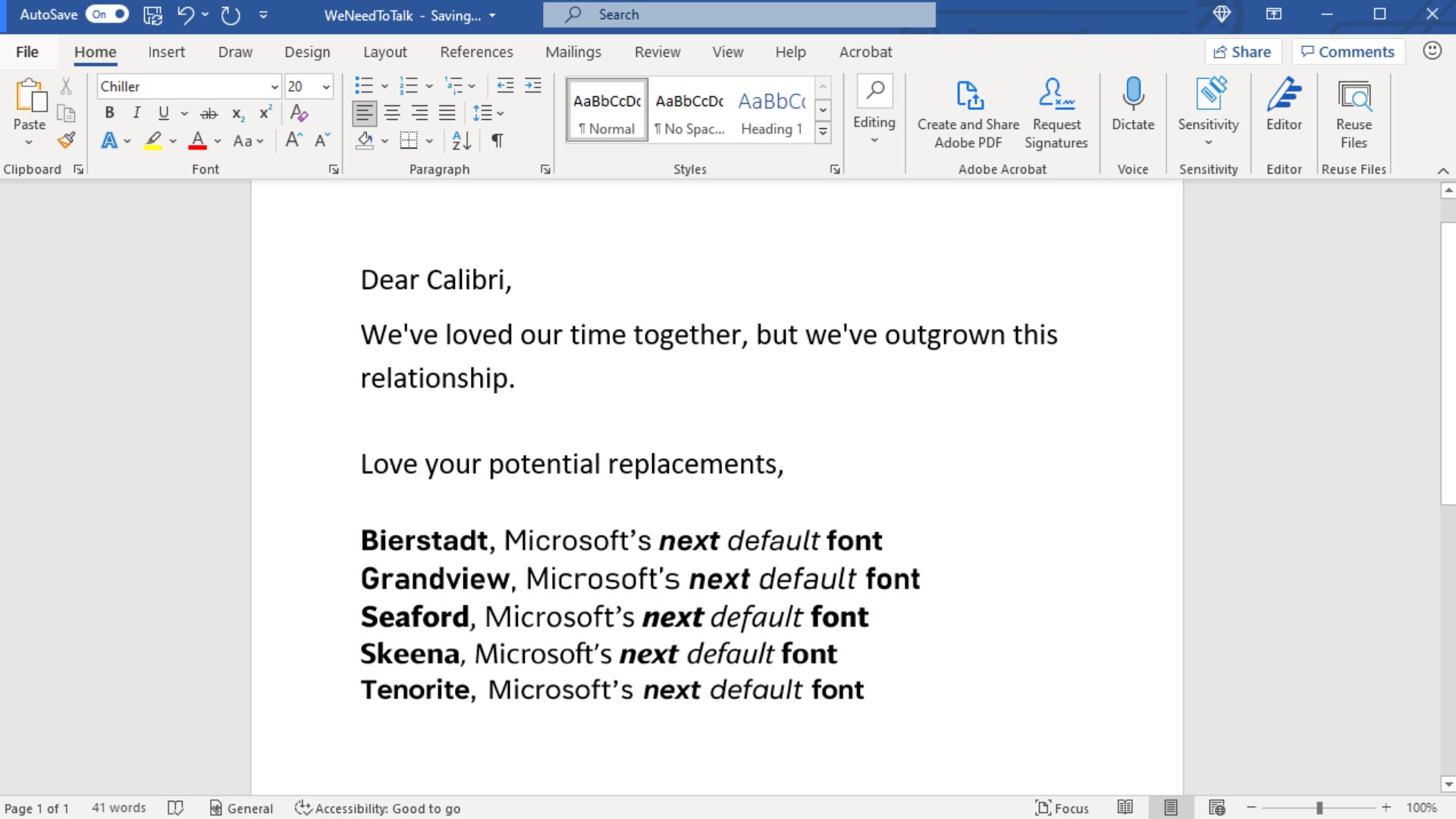 Beyond Calibri: vote for Microsoft's next default font now
The Microsoft Design Team has announced that it has commissioned five new custom fonts but no-one knows yet which should be the next default font. After all it's all about your vote.
"Default fonts are perhaps most notable in the absence of the impression they make. We seldom give them much thought, and therein lies their greatest gift. When a font blends into the background of a user experience, people can jump right into the creative process and stay grounded in their thoughts rather than thinking about the form those thoughts take" writes Microsoft's blog post.
"Still, while default fonts may not have the same flair as some of their more eye-catching cousins (we're looking at you, Bauhaus 93 and Showcard Gothic), they communicate a distinct personality in their own quiet way—a personality that by extension becomes our personality as well. A default font is often the first impression we make; it's the visual identity we present to other people via our resumes, documents, or emails. And just as people and the world around us age and grow, so too should our modes of expression."
As noted Calibri has been the default font for all things Microsoft since 2007, when it stepped in to replace Times New Roman across Microsoft Office.
"It has served us all well, but we believe it's time to evolve. To help us set a new direction, we've commissioned five original, custom fonts to eventually replace Calibri as the default. We're excited to share these brand-new fonts with you today and would love your input.
So which one of the five fonts will be the big winner in this type-only crash-course?
The new fonts span the various sans-serif styles—humanist, geometric, swiss-style, and industrial—and we've interviewed the designers of each to help bring their nuances and unique personality to life.
"All five families are now available via the cloud across your favorite Microsoft 365 apps and experiences. Go use the fonts starting today, and show us which you love best with feedback and comments on social" adds the company.
We need to talk. What should our next default font be? pic.twitter.com/fV9thfdAr4

— Microsoft (@Microsoft) April 28, 2021
So here are the nominees:
TENORITE by Erin McLaughlin and Wei Huang
BIERSTADT by Steve Matteson
SKEENA by John Hudson and Paul Hanslow
SEAFORD by Tobias Frere-Jones, Nina Stössinger, and Fred Shallcrass
GRANDVIEW by Aaron Bell
Head over to Microsoft's social channels vote on your favorite and have no worries.
"If the font you love best isn't chosen as the next default; all of them will be available in the font menu, alongside Calibri and your other favorite fonts in your Office apps in Microsoft 365 and beyond" notes Microsoft.
More here.
Tags/ typeface, type design, font, microsoft, tobias frere-jones, social media, vote, type designers, microsoft calibri, nina stössinger, windows, default font