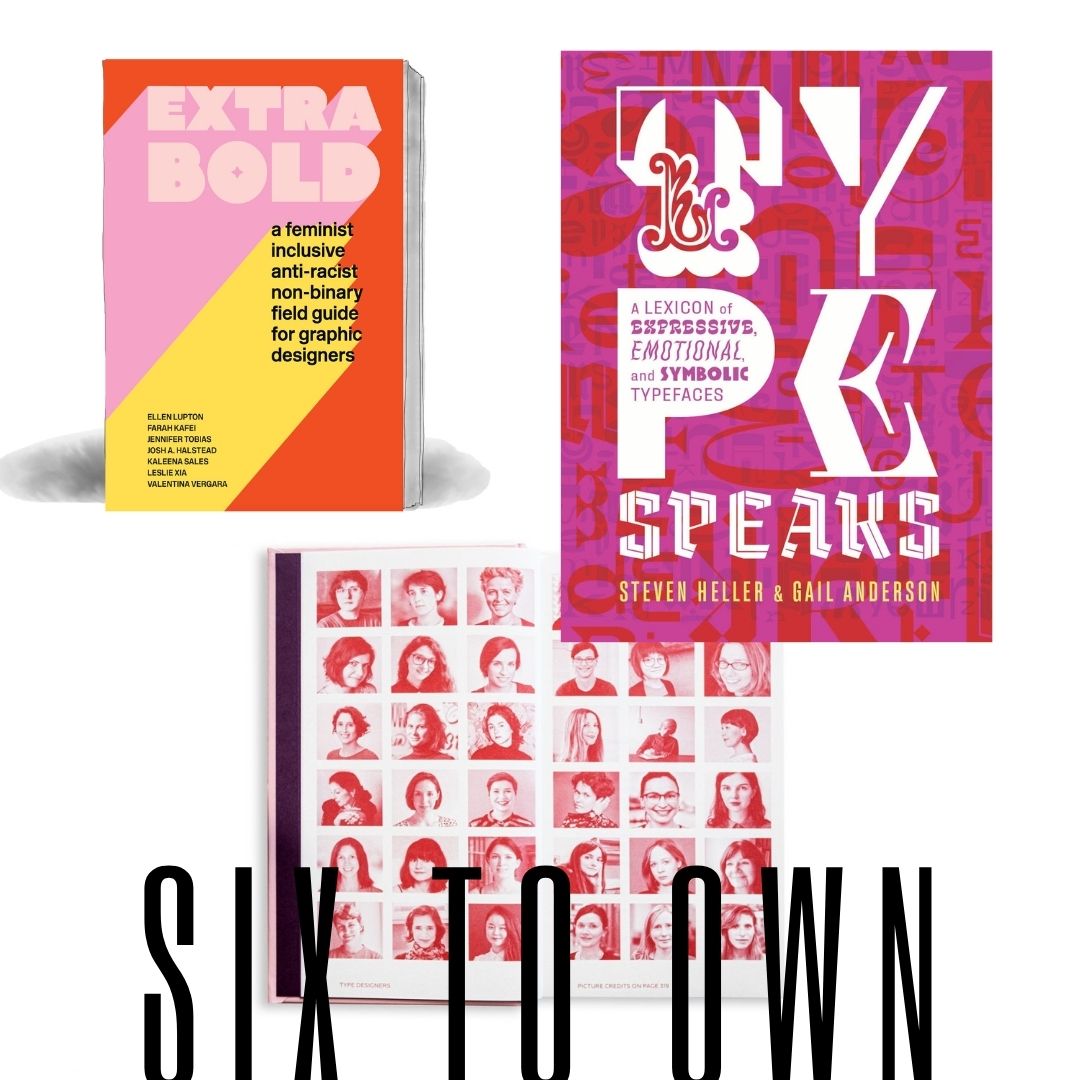 FT's How to Spend It selects 6 books for type-enthusiasts
And we couldn't agree more.
From Steven Heller and Gail Anderson through Ellen Lupton to the World's Best Typography aka The 41st Annual of the Type Directors Club the following books are highly recommended per Financial Times so make some room in your library for the following type-heavy publications.
/
Type Speaks: A Lexicon of Expressive, Emotional and Symbolic Typefaces by Steven Heller, and Gail Anderson, Abrams Books.
"Type is the handwriting of the 21st century, lending its expressive voice to the language of all written communication. Type Speaks is the first book to explore type as a medium that conveys emotions, concepts, and ideas, filled with hundreds of new fonts available through digital foundries."
"Some exude joy, radiate serenity, or jangle the nerves; some sell or persuade or command or seduce. More than ever before, a great range of type choices, both conventional and unconventional, is available to graphic design professionals and nonprofessionals alike. In this new world, Type Speaks will be an essential reference for anyone crafting messages in words."
Preorder "this essential resource to using contemporary typefaces for effective communication" here.
/
Montblanc: Inspire Writing by Alex Fury, Assouline Editions
Montblanc: Inspire Writing tells the remarkable story of a pioneering Maison striving since its very inception to inspire people to write, to let their thoughts flow across a page, to leave their mark, pen in hand.
Through the words of journalist and author Alex Fury, punctuated by archive images, documents, and striking new product visuals by photographer Laziz Hamani, the book reveals the multifaceted identity of Montblanc, as the summit of luxury writing instruments for people who strive for excellence and dare to make their individual mark with signature flair and style. It also reminds us of the power of handwriting and the traces of humanity found in every letter inked on paper.
Order here.
/
Extra Bold: A Feminist, Inclusive, Anti-racist, Nonbinary Field Guide for Graphic Designers by Ellen Lupton, Farah Kafei, Jennifer Tobias, Josh A. Halstead, Kaleena Sales, Leslie Xia and Valentina Vergara, Princeton Architectural Press
"Extra Bold is the inclusive, practical, and informative career handbook for designers that we've all been waiting for. Written collaboratively by a diverse team of authors, the book opens with critical essays that rethink design principles and practices through theories of feminism, anti-racism, inclusion, and nonbinary thinking."
"Extra Bold features interviews, essays, typefaces, and projects from dozens of contributors with a variety of racial and ethnic backgrounds, abilities, gender identities, and positions of economic and social privilege. The book adds new voices to the dominant design canon."
Preorder here.
/
The World's Best Type and Typography: The Annual of the Type Directors Club (Typography 41) by TDC
The World's Best Typography (Typography 41) is the only awards annual devoted exclusively to typography. It presents the winning designs for the Type Directors Club's two respected yearly competitions: the 66th communications design competition (TDC66) and the 23rd TDC Typeface Design Competition. This edition also highlights the 2019 Ascenders competition for design honorees 35 years and younger.
This beautiful 384-page book features over 500 full-color images of international graphic design and type design in a wide range of categories, including books, magazines, corporate identities, logos, stationery, annual reports, video, web graphics, and posters.
The World's Best Typography was designed by Anagrama in Mexico.
Order here.
/
Louise Fili, Inspiration and Process in Design by Princeton Architectural Press
Renowned graphic designer and author Louise Fili takes us on a personal tour through her most famous brands, books, and packaging.
This peek behind-the-scenes shows how research and vintage typography give rise to her unique and ingenious designs. See how her work—still done by hand—transforms from early sketches to final design. Her instantly recognizable style, elegant and timeless, takes shape on the page before our eyes. Also included are Fili's copyright pages, which are works of art in their own right. Much of the content appears in print for the first time.
Preorder here.
/
How many female type designers do you know? by Yulia Popova, Onomatopee
Authored, edited and designed by Yulia Popova, the first part of the book offers research on the gender issue in type design field. It includes statistics, data and an overview of some works that address this issue. Further, it contains some biographies of female type designers that worked in the 19th and in the beginning of 20th century. These women contributed to the industry, yet they are rarely mentioned in educational material.
The second part is a series of interviews with 14 women that are either currently working as type designers or are in any other way involved in the field of type design. These interviews intend to uncover the topic of unequal share of female and male speakers at type conference as well as the lack of women in the industry. The last part of the book is a showcase of typefaces designed by women. The purpose of this part is to show the great amount and broad variety of such typefaces.
Featuring interviews with designers Gayaneh Bagdasaryan, Veronika Burian, Maria Doreuli, Louise Fili, Martina Flor, Loraine Furter, Jenna Gesse, Golnar Kat Rahmani, Indra Kupferschmid, Briar Levit, Zuzana Licko, Ana Regidor, Fiona Ross and Carol Wahler the book aims to shine light on work of women in type.
Order your copy here.

Tags/ typography, books, type design, type directors club, financial times, how to spend it