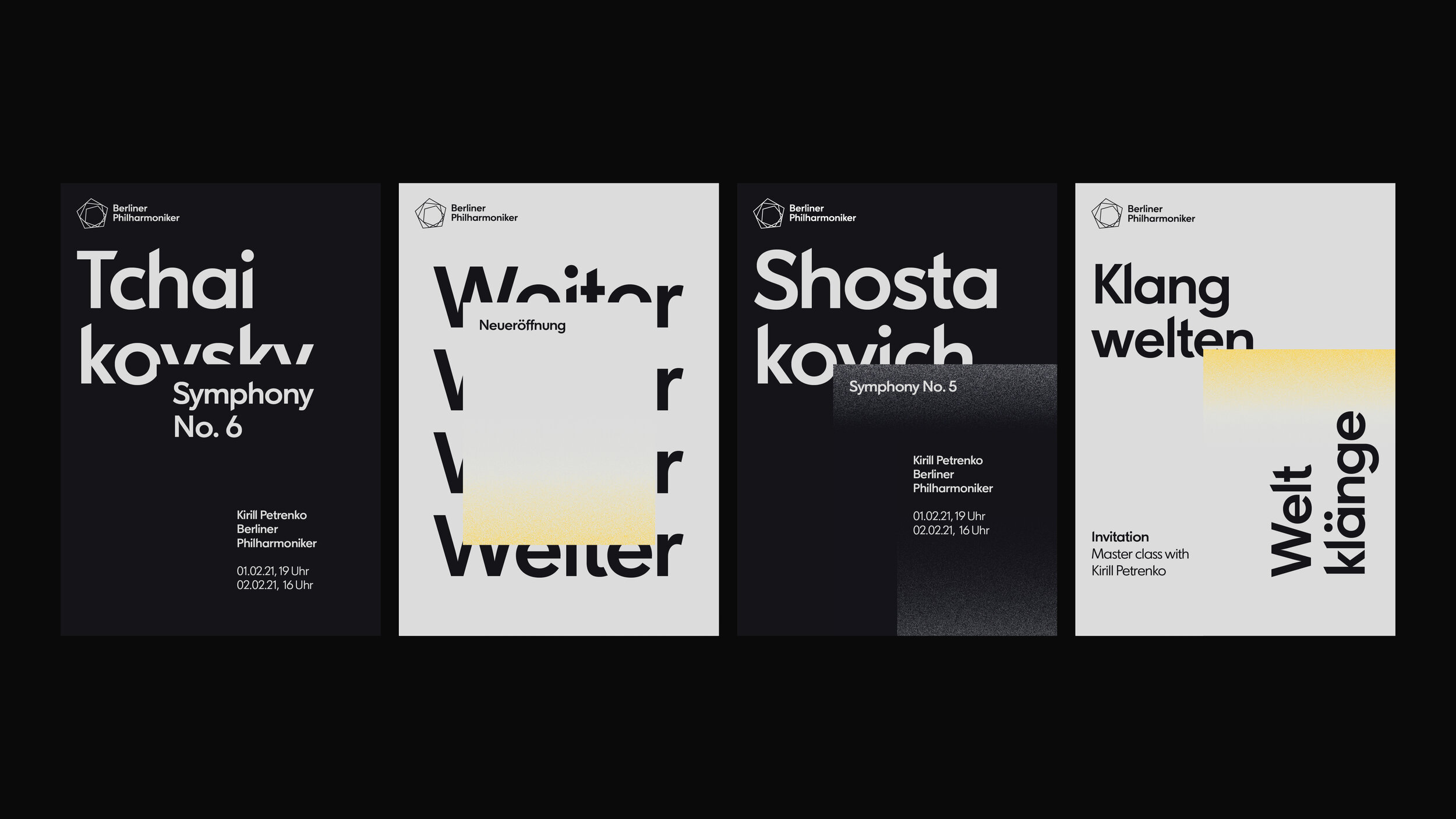 Studio Oliver Helfrich X Berliner Philharmoniker: a bold rebranding of an eternal classic
Consistently ranked in the top handful of orchestras in the world, distinguished amongst peers for its virtuosity and compelling sound the Berliner Philharmoniker is arguably a cultural powerhouse like no other. Its latest rebranding, created by Oliver Helfrich and his strategy partner Cecilia Martin -co-founder of the Lava Lab (Amsterdam)- justifies the orchestra's fame and fierce force.
Twelve months in the making, the new identity "captures the emotions the orchestra evokes in people – through music that has the power to open new perspectives" notes the studio.
The sleek, contemporary brand identity was created in close collaboration with the in-house brand team that orchestrated its talent in a mesmerising manner.
Based on brand's most recognisable elements from the past -aka the iconic symbol and the colour yellow- "the new identity has been expanded to create a consistent, highly expressive design language across all parts of the brand."

"Our starting point for the new identity was the Pentagon shape, a visual representation of the Grand Hall of the iconic modernist Philharmonie building. The Pentagon sits at the heart of most of the brand's assets, from the symbol to the bespoke typeface to patterns and illustrations."

"Another key element of the brand are the three Pentagon layers from the symbol. These layers have been translated into dynamic layouts, animations and UI behaviours, representing the movement of sound and multiple perspectives."
Founded in Berlin in 1882 by 54 musicians under the name Frühere Bilsesche Kapelle (literally, "Former Bilse's Band"), Berliner Philharmoniker was renamed and reorganized under the financial management of Hermann Wolff in 1882.
Famous conductors like Wilhelm Furtwängler, Herbert von Karajan and Claudio Abbado heavily influenced the orchestra's history and development. In 2009, the Berlin Philharmonic started a new, innovative project: the Digital Concert Hall, which presents the Philharmonic's live concerts on the web.
Coming from a graphic design and sculpting background, Oliver Helfrich, originally from Germany and based in London, has worked for renowned agencies such as Studio Dumbar, Koeweiden Postma and Wolff Olins London.
A scholar at the Willem de Kooning Academy, Rotterdam, Helfrich runs side his his own design studio in UK and he produces self-initiated projects, like the award winning Book of Paper, the childrenswear brand Beep or his series of wooden totems. The muti-awarded creative, Helfrich, is also collaborating closely with the Scandinavian branding agency Bold as their Global Creative Director.
Explore more here.
Tags/ music, visual identity, branding, berlin, bespoke, orchestra, berliner philharmoniker