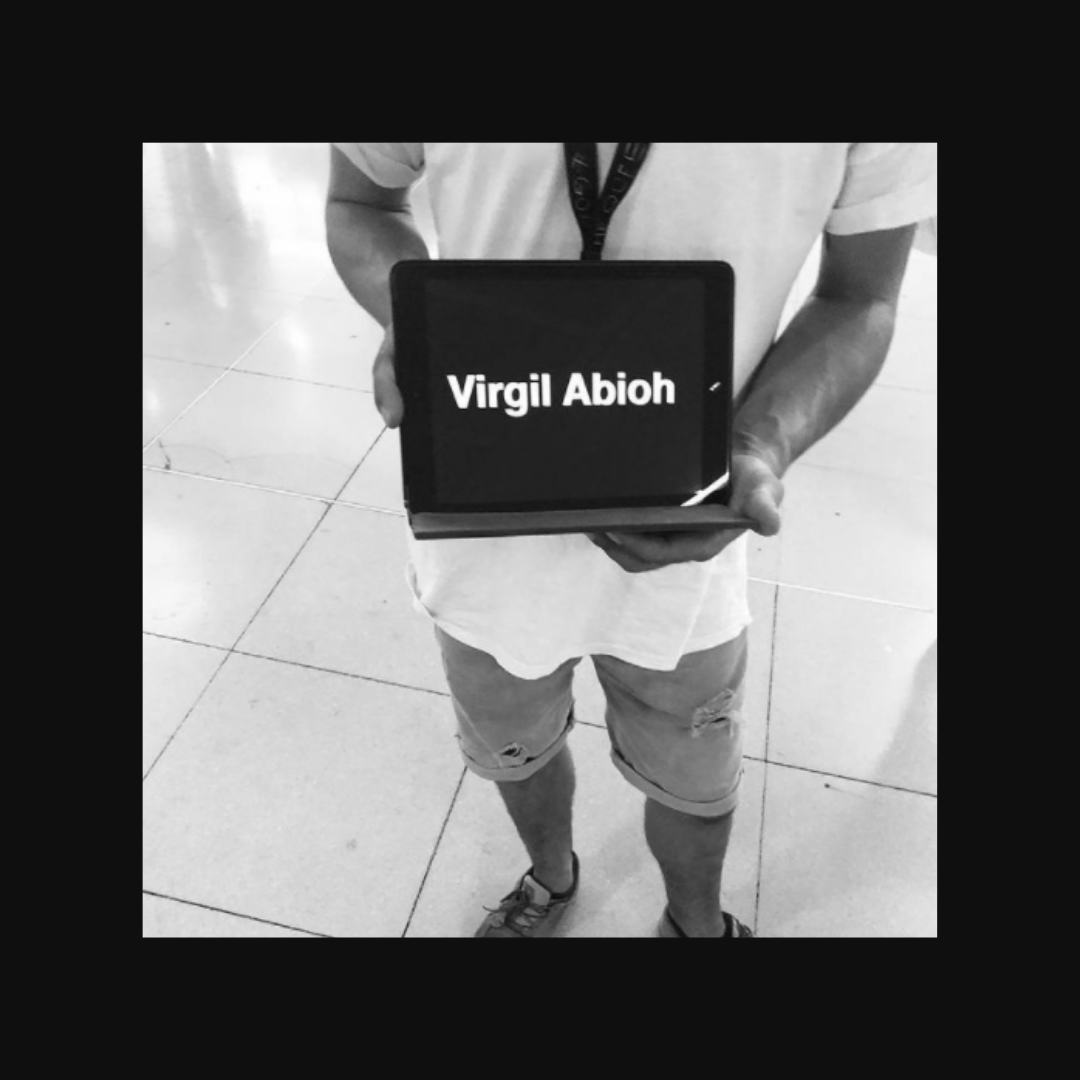 It's the font that really matters: a tribute to typophile and creative trailblazer Virgil Abloh
Fashion designer Virgil Abloh who passed away at age 41 after a long, private battle with cancer on the 28th of November 2021 didn't believe in disciplines, did believe in type and was a highly influential creative genius beyond boundaries.
A true visionary and a typohile par excellence, Abloh was the first African-American to be artistic director at a French luxury fashion house -he was the artistic director of Louis Vuitton's menswear collection from 2018 until his death in late 2021- and he was named by ΤΙΜΕ magazine as one of the 100 most influential people in the world in 2018.
Prior to the LVMH era, the trained architect had founded the Milan-based label Off-White in 2012. A type-heavy fashion label that soon built a celebrity following with his use of typography.
Strongly influenced by the street culture aesthetics Abloh bridged streetwear and luxury clothing in a "transformative way" notes The New York Times.
Born in Illinois to Ghanian parents, Abloh studied civil engineering and architecture before blazing new trails in the fashion world, often via typography.
From Pitti Uomo show in Milan circa 2017 when he paired up with iconic text artist Jenny Holzer to create an orange t-shirt that said "I'll Never Forgive The Ocean" as the invitation to Off-White's SS18 show, in addition to a giant projection that the models walked beneath -a line by the writer and artist Omid Shams, who fled Iran for Europe- through his design for Hailey Bieber's wedding dress circa 2019 that read "Till Death Do Us Part" set in in his trademark quotation marks on the veil or his IKEA receipt rug to collaborations with brands and institutions (NIKE and the Musée du Louvre in Paris to name a few) Abloh invested in the power of the letter.
"There's an art to everyday things like words" he told DAZED. "My brand is made up of diagonal lines that are sort of a visual language that works in every place across the globe. It's not as specific as a monogram brand but I was able to use it and adopt it. Helvetica, how I use that typography to sort of own it. I've used text since the beginning and that's how we originally connected is that (Jenny) had seen the work and was intrigued by it enough to say yes to work on it on a larger project" he added.
"You know, text on clothes... it's fundamental to streetwear, so I think now when streetwear has come to a place of acceptance, a number of different types of fashion designers have said hey, put text on it. It generally makes things sell more. People respond to branded things. I have hidden motivations around the text I choose to use. I use it in a very specific way. That's where we connected. I think it's safe to say (Jenny) does the same thing."
Highly political and a genuine trailblazer, Abloh used quotation marks to convey detachment from society and social norms. During the rise in neo-nationalism in 2017 Abloh worked with conceptual artist Jenny Holzer to create a line emphasizing the positive aspects of immigration, cultural integration, and globalization. In December 2017, he worked with Holzer again to design T-shirts for Planned Parenthood in response to the Women's March on Washington.
Abloh and Holzer joined forces again back in 2019 to create a political statement and Planned Parenthood fundraiser, all in one t-shirt. Holzer and the Off-White founder paired up to create a limited edition collection of t-shirts that feature Planned Parenthood's mission statement on the back and one of Holzer's most iconic "truisms" on the front: "Abuse of Power Comes As No Surprise."
"You can use typography and wording to completely change the perception of a thing without changing anything about it" Abloh explained to 032c. "If I take a men's sweatshirt and write "woman" on its back, that's art."
His choice of typeface was not by chance -nothing ever was for Abloh. Developed in 1957, Helvetica is so ubiquitous that it's almost invisible, a "masterpiece of the mid-century era that Abloh worshipped when he was studying architecture" writes Highsnobiety's Alex Leach.
"The diagonal lines help me solve a huge issue, how to take a bunch of random things and let them be one. That's the mindset of Helvetica. That's the mindset of architecture" Abloh said."It's the font that really matters" Abloh once posted on Instagram. It really does.
Tags/ typography, type, fashion, helvetica, font, jenny holzer, virgil abloh