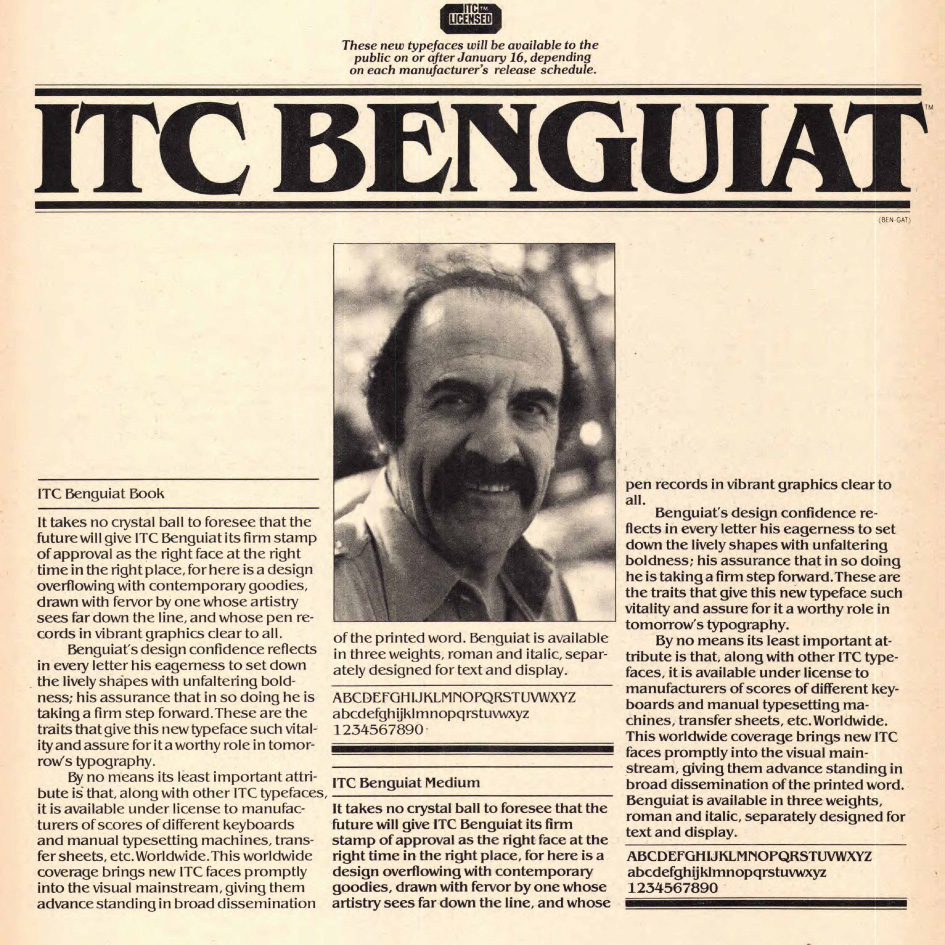 In Memoriam: Ed Benguiat (1927-2020)
Undoubtedly one of the most prolific type designers of our times, Ed Benguiat passed away on the age of 93.
Born Ephram Edward Benguiat, October 27, 1927 the iconic typographer has crafted over 600 typefaces including Tiffany, Bookman, Panache, Edwardian Script, and the self-titled typefaces Benguiat and Benguiat Gothic.
Benguiat has also designed logotypes for The New York Times, Playboy, Sports Illustrated, the original Planet of the Apes film, Super Fly and countless others.
Growing up in Brooklyn, NY, Benguiat was once a very prominent jazz playing in several big bands with the likes of Stan Kenton and Woody Herman.
An avid pilot who enjoyed flying his personal plane, with his wife Elisa, Benguiat was also a teacher at the School of Visual Arts in his native New York.
"Edward Benguiat got acquainted with design and showcard lettering when he was nine years old. His father was display director at Bloomingdale's and he had all the drawing tools a little boy could want. Edward would play with his father's pens, brushes, and drafting sets, and learned about sign painting, showcard and speedball lettering" writes ADC's Elisa Halperin.
The established progressive Jazz musician under the name Eddie Benart, Benguiat made use of the G.I. Bill and enrolled at the Workshop School of Advertising Art. After his graduation Benguait "established an impressive career as a designer and art director at a number of large and small publishing houses, studios, and ad agencies."
Benguiat became the typographic design director of Photo-Lettering Inc (PLINC) in 1962 and, in 1971, played a critical role, along with Herb Lubalin, Aaron Burns and Ed Ronthaler, in the establishment of the International Typeface Corporation (ITC), the first independent licensing company for type designers. Eventually he became Vice President of ITC, and he partnered with Lubalin to found U&lc, ITC's magazine.
Benguiat was introduced to the young audience of Netflix through the use of his eponymous typeface, ITC Benguiat, in the title sequence of the TV show, Stranger Things.
A member of the Alliance Graphique Internationale and a past president of the Type Directors Club. In 1990, Benguiat received the gold medal for excellence from the New York Type Directors Club, and won the prestigious Fredric W. Goudy Award.
Following is some of his wisdom in his own words.
"I do not think of type as something that should be readable. It should be beautiful."
"Doing something a long time does not mean you're good. It only means you've done it a long time."
"To me designing has never been a job or profession. It's a way of life, like a priest or rabbi."
"The only place Avant Garde looks good is in the words Avant Garde."
"The contributions that one makes in typography, design, and art in general cannot be, and must not be measured on how much money is involved. That would lead to total chaos. The word itself (contribution) is to give to a common purpose."
"I'm never satisfied. No matter when it's finished, I still say, 'should-a, could-a, would-a.' Design is personal."
"I use this expression with my class all the time: "Music is nothing more than placing sounds in their proper order so they are pleasing to the ear." What's a layout? Placing things in their proper order so they are pleasing to the eye. You get feedback from other musicians when you are playing and bounce things back and forth at each other to make the tune sound better (or worse). Same goes for design. That's one way music and design connect for me. I made a good living as a musician for a while. I was the No. 3 drummer in the United States, playing in big bands with Stan Kenton and Woody Herman. It's still a part of my life. At my funeral, I'd like to have someone play a drum solo."
"I'm really a musician, a jazz percussionist. One day I went to the musician's union to pay dues and I saw all these old people who were playing bar mitzvahs and Greek weddings. It occurred to me that one day that's going to be me, so I decided to become an illustrator."
Watch TDC's Type Legends video with Benguiat below.
Tags/ typeface, fonts, herb lubalin, ed benguiat, typedesign, itc, in memoriam, itc benguiat