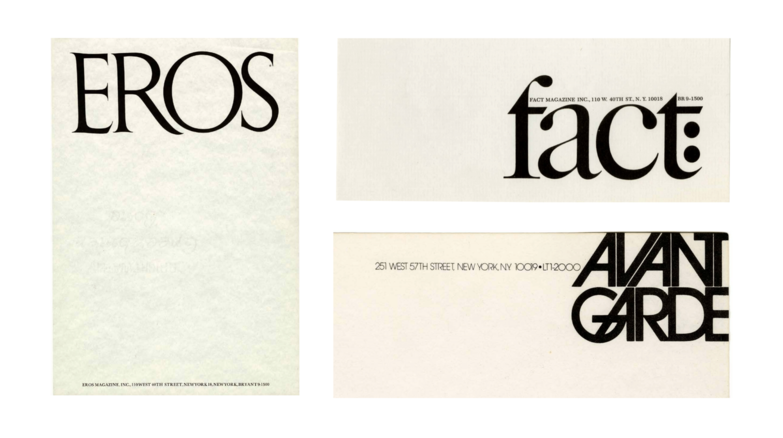 Watch: Alexander Tochilovsky on Lubalin, Ginzburg, and the triumph of creative risk
On Wednesday, May 20th, the NYC-based independent creative studio Athletics reintroduced its "Evening Sessions" as virtual events open to the public with a bang. Athletics and the Herb Lubalin Study Center of Design & Typography at The Cooper Union hosted the first virtual presentation ever titled "Lubalin, Ginzburg, and the Triumph of Creative Risk."
"Amidst the ferment of the 1960s, designer Herb Lubalin and editor Ralph Ginzburg cultivated one of the greatest creative partnerships in history, launching three highly-influential print publications: Eros, Fact, and Avant Garde. In the process, the two luminaries courted controversy, accusations of obscenity and libel, and legal persecution, putting both of their careers — and lives — on the line" notes the studio of the presentation by a man in the know aka Alexander Tochilovsky, the curator of the Lubalin Center which ever since 1985 preserves an "unprecedented resource, Herb Lubalin's vast collection of work."
In his talk, Tochilovski uses archival materials, correspondence, and documentation to weave a "fascinating story, shedding light on the nature of creative risk, and its relationship with materiality, partnership, and arousal."
From Eros, "a handsome magazine, bound in hard covers, to be treasured as a thing of beauty and joy forever" through Fact, a publication "dedicated to the proposition that a great magazine, in its quest for truth, will dare to defy not only Convention, not only Big Business, not only the Church and the State, but also—if necessary—its readers" and Avant Garde which was "exuberantly dedicated to the future," Tochilovski breaks down the many layers of a bold bonding between two friends and partners in crime. When Ginzburg was indicted on charges of violating federal obscenity laws for Eros and was found guilty by the Supreme Court Lubalin said, "I should have gone to jail too."
Eros, a high-priced magazine of classy erotica, was launched in 1962, with only four issues published before Ginzburg was ordered to stop publishing it. The editor and publisher was sentenced to five years in prison but eventually he was released after eight months.
Their next project was Fact, a political journal with a muckraking bent, published between January 1964 and August 1967. Fact cost him another lawsuit after he published a special issue claiming that Senator Barry Goldwater, the Republican presidential candidate that year, was psychologically unfit for the office. He lost the lawsuit again and had to pay $1 in compensatory damages and $75,000 in punitive damages to Goldwater.
From 1968 to 1971, Ginzburg and Lubalin created Avant Garde aka the art and culture magazine with a logo font which later gave birth to a well-known typeface of the same name. Avant Garde focused on radical politics and stopped publication when Ginzburg started serving his sentence in 1972.
Watch the presentation below and enter the triumphant realm made by American author, editor, publisher and photo-journalist Ralph Ginzburg and American graphic designer Herbert F. "Herb" Lubalin, two iconic creatives who were radical, controversial and ahead of their time.
Tags/ video, magazine, herb lubalin, avant garde, alexander tochilovsky, ralph ginzburg, eros, herb lubalin study center, atheltics, presentation, fact