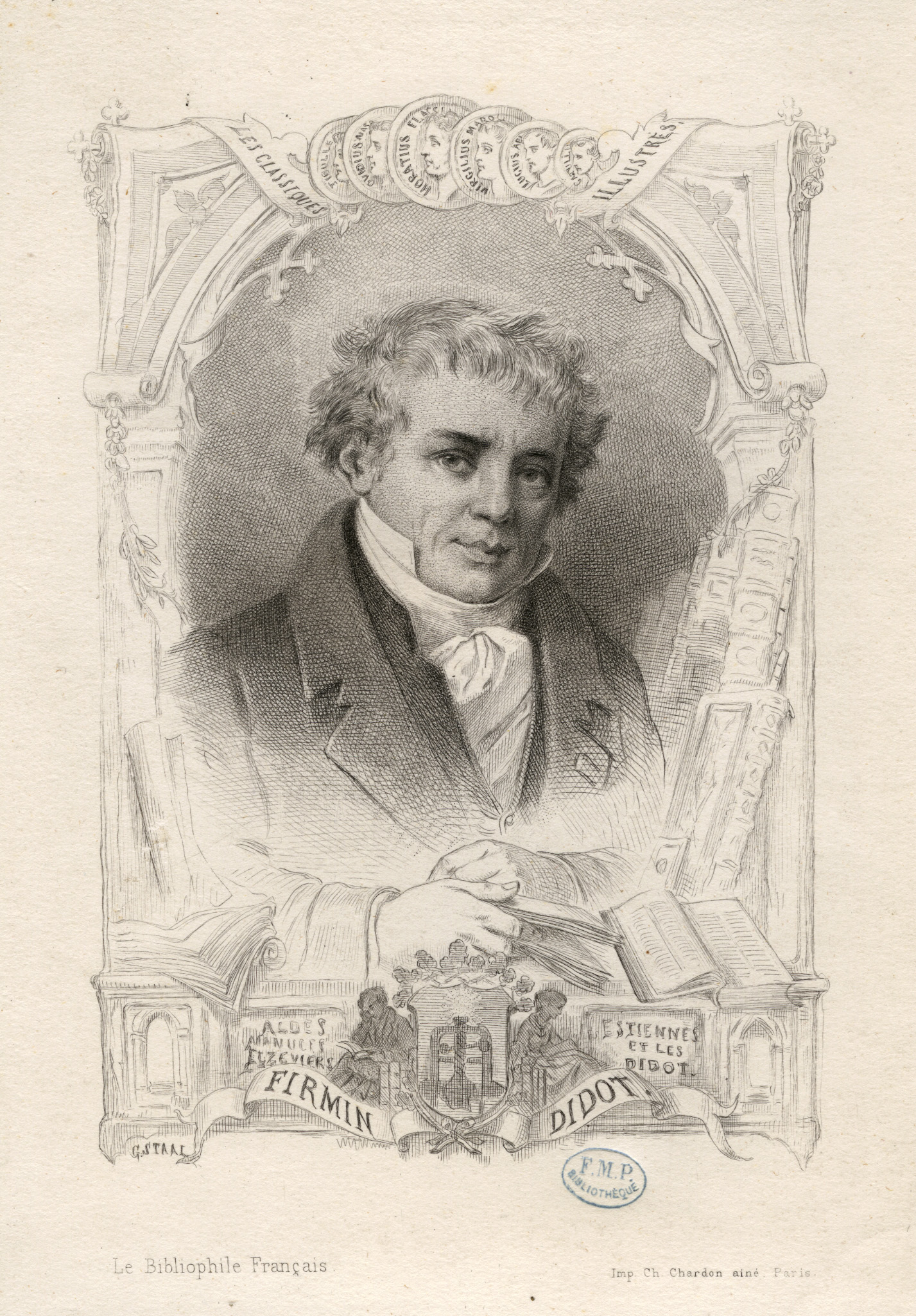 Firmin Didot: 10 things to know about
1. Firmin Didot (14 April 1764 – 24 April 1836) was a French printer, engraver, and type founder.Born in Paris into a family of printers founded by François Didot, the father of 11 children, Firmin was one of his grandchildren.
2. A dynasty of French printers, punch-cutters, and publishers, the family "gained renown for their illustrated editions of the classics, as well as for publishing inexpensive editions of scholarly texts."
"The former were illustrated by some of the most respected artists of the day, providing a wide audience with access to images that had only ever been available to those privileged few who had access to royal palaces and aristocratic chateaus. Making classic works—be they artistic, philosophical, or literary—available to a broad audience was only part of the family's influence, however. The family's most lasting legacy is the Didot family of fonts, designed by Firmin Didot, which influences typography to this day" writes Dana Hart, Manager for Library Administration at the Thomas J. Watson Library for The Met.
3. Didot invented the word "stereotype", which in printing refers to the metal printing plate created for the actual printing of pages (as opposed to printing pages directly with movable type), and used the process extensively, revolutionizing the book trade by his cheap editions.
4. Didot first used the process in his edition of Callet's Tables of Logarithms (1795), in which he secured an accuracy till then unattainable. He published stereotyped editions of French, English and Italian classics at a very low price. Three years later, at the 1798 Exposition des produits de l'industrie française Pierre and Firmin Didot and Louis Etienne Herhan won an honorable distinction, the highest award, for their "Superb edition of Virgil with characters and ink of their manufacture; a stereotype plate, and an in-12 edition of the works of Virgil and Lafontaine with these characters."
5. Didot was appointed by Napoleon as the director of the Imprimerie Impériale typefoundry.
6. A man of words and tales himself, Didot was also the author of two tragedies — La Reine de Portugal and La Mort d'Annibal — and he wrote metrical translations from Virgil, Tyrtaeus and Theocritus.
7. Along with Italy's Giambattista Bodoni, Firmin Didot is credited with establishing the use of the Didone or "Modern" style of serif typefaces. The types that Didot used are characterized by extreme contrast in thick strokes and thin strokes, by the use of hairline serifs and by the vertical stress of the letters. Many fonts today are available based on Firmin Didot's typefaces, and are often called Didot as a result.
8. "When movable type was first created, fonts were designed to look as much like the handwriting of scribes as possible. This attempt to maintain the look and feel of manuscripts, known as Old Style, ended in the 1750s when the English printer John Baskerville designed the first Transitional typeface, known as Baskerville" writes Hart of Didot's legacy.
"Firmin was inspired by Baskerville's typeface and took his experiments in letterform to the extreme, designing his first font in 1784. This font, regarded as the first Modern typeface, has high contrast between thick and thin strokes, hairline serifs with no bracketing, and vertical stress in rounded strokes."
"Thirty years later, an Italian type designer, Giambattista Bodoni, started creating his own Modern typeface. He also admired Baskerville, and his designs were greatly influenced by Didot. Bodoni's letters were dramatic, with horizontal serifs and high contrast. Viewing Baskerville, Didot, and then Bodoni alongside each other shows an important transition into Modern typography."
"Today, Didot's legacy can be seen in the 'modern Moderns.' Modern typefaces tend to denote luxury brands, and are often used on the covers of fashion publications such as Vogue. Since Didot created his first typeface in the eighteenth century, many typographers have created designs inspired by the Didot type family, and these new interpretations pay tribute to the impact Didot had on the world of typography."
9. Didot is a group of typefaces named after the famous French printing and type producing Didot family. The classification is known as modern, or Didone.
The most famous Didot typefaces were developed in the period 1784–1811. Firmin Didot (1764–1836) cut the letters, and cast them as type in Paris. His brother, Pierre Didot (1760–1853) used the types in printing.
Didot is described as neoclassical, and evocative of the Age of Enlightenment. The Didot family were among the first to set up a printing press in the newly independent Greece, and typefaces in the style of Didot have remained popular in Greek since.
Several revivals of the Didot faces have been made, first for hot metal typesetting and then for phototype and digital versions.
Among the most successful contemporary adaptations are the ones drawn by Adrian Frutiger for the Linotype foundry, and by Jonathan Hoefler for H&FJ.
Hoefler's design anticipates the degradation of hairline in smaller point sizes by employing heavier weighted strokes in the smaller point sizes.
Frutiger's Didot revival, which is bundled with macOS, was specifically intended for display use and not for body text, and adds in addition an even more delicate headline font.
A libre open source implementation of Didot including the Cyrillic and Greek alphabet was released under the name Theano Didot by the Russian historian Alexey Kryukov.
Alexey Brodovitch implemented the usage of Didot in Cahiers d'Art and Harper's Bazaar. Vogue has been using Didot as the typeface for their cover title since 1955.
The "CBS Didot" version of Didot was commissioned and used by broadcast network CBS for many years alongside its famous "eye" logo.
While the network's use of Didot with its logo is not as prevalent as it once was, it is still a common sight, used mainly for the imaging of CBS News, the logo for CBS Corporation, and the logotype for The Late Show with Stephen Colbert. It is also used as the logotype for the credits of the CBS sitcom "Mom."
Another note-worthy usage of Didot is in the new Zara logo that caused quite a bit of uproar for its "uncomfortably close" kerning. Didot is a commonly used typeface by logo designer Baron & Baron.
10. A survey of 368 people done by writer and typographer Sarah Hyndman suggested that bold typefaces with rounder terminals appear cheaper, whereas lighter weights, serifs, and contrasts were rated as more expensive, with the modern Didot selected as the most expensive-looking font.
"I think cultural associations have a great deal of impact. We see these styles used repeatedly in a similar context, which reinforces the links," said Hyndman of the results. "The delicacy of the detail is also associated with craftsmanship, skill, and quality" she added.
Tags/ fashion, typeface, type design, font, magazines, typographer, ten things, atypi, sarah hyndman, baskerville, modern, serif, giambattista bodoni, printer, john baskerville, firmin didot, luxury, craig eliason