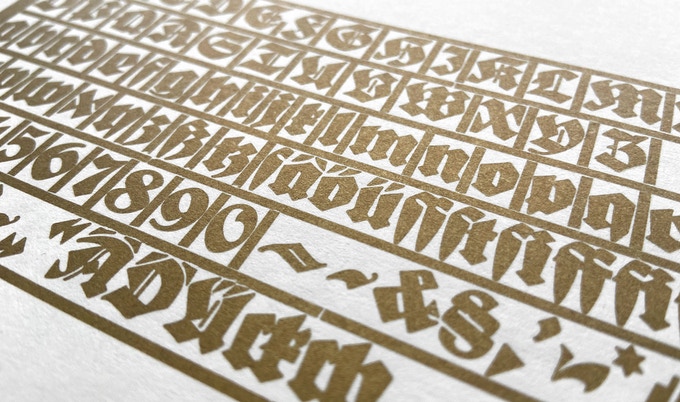 Wiking: crowdfund a blackletter revival for all
Designed by Heinz König and published in 1925 by the type foundry J. D. Trennert & Sohn in Hamburg, the Wiking font was never been professionally revived properly. Till now.
That's the task of the latest Kickstarter campaign to crowdfund if you are into blackletter design.
If the campaign launched by Ralf Herrmann, founder of FDI Type and the man responsible for Typography.Guru and Typografie.info among others, reaches it funding goal, "a careful and complete digitization of the font will be created from the original letterpress font and offered for free under the Open Font License."
"A proof print from the original letterpress font was already created at the printing museum Pavillon-Presse using an Original Heidelberg Platen Press (a.k.a the "windmill"). I also digitized some of the letters to create the materials for this campaign." writes Herrmann who is on a mission to digitize the full letterpress font including figures, ligatures, punctuation marks and other symbols of Wiking.
"No auto-trace, no shortcuts, no compromizes! This will be a careful and completely manual digitization. I will extend the character set to at least Latin 1 to allow for a global and professional use. As a result, the font will get new accent letters of Western European languages, currency symbols (Euro, Dollar, Pound, Yen), math symbols and so on" notes Herrmann who also runs a printing museum in Weimar.
"I will design alternate characters to allow for both traditional German blackletter typesetting as well as contemporary/international use for readers who aren't familiar with the traditional German blackletter letterforms. When the base style is finished, I will digitize the inline version (Lichte Wiking) as well as selected border elements from the original Wiking type specimen booklets. Those will not be available to the public and will remain exclusive for supporters."
"If I create this font revival in the traditional way, I would have to offer the font commercially to pay for the work put into it. Through this crowdfunding campaign the work can be paid upfront and I will happily make this font available for free for millions of users so that the original design by Heinz König can get the attention and use it deserves" adds Herrmann and we approve.
Wiking was designed by Heinz König in 1925. König (1856–1937) was born in Lüneburg, Northern Germany. The son of a letterpress printer and lithographer, he started a three-year apprenticeship as a typesetter in his father's printing shop at 16, followed by two decades of employment at various printing companies.
In 1881 Hamburg's Gensch & Heyse foundry commissioned his first type designs – two series of decorative initials. Four years later the company produced his first text face, a blackletter type called Münchener Renaissance-Fraktur.
König returned to his hometown in 1887 to take over his father's printing house, and resumed his career as a type designer only a decade later. König became one of the first specialized type designers in Germany, providing drawings to half a dozen foundries, including Genzsch & Heyse, Klinkhardt, Klingspor, and German Linotype.
Among his most spectacular type designs are his last ones, drawn in the 1920s for J.D.Trennert & Sons in Hamburg: Wiking and Alarm.
"Wiking (1925) was a surprisingly playful blackletter variation on similar ideas, preceding both Fanfare and Alarm. Alarm (1928) was clearly designed as a competitor to successful heavy faces such as Louis Oppenheim's Fanfare (Berthold, 1927) and Rudolf Koch's Neuland (1923). Alarm was first digitized in 2017 in a collaboration between Berlin's Fust & Friends and type designer Andreas Seidel" writes MyFonts.
If funded successfully the project is scheduled to be complete in the middle of 2020, but delays are possible should technical problems arise.
Tags/ typography, typeface, font, campaign, kickstarter, revival, blackletter, heinz konig, ralf herrmann