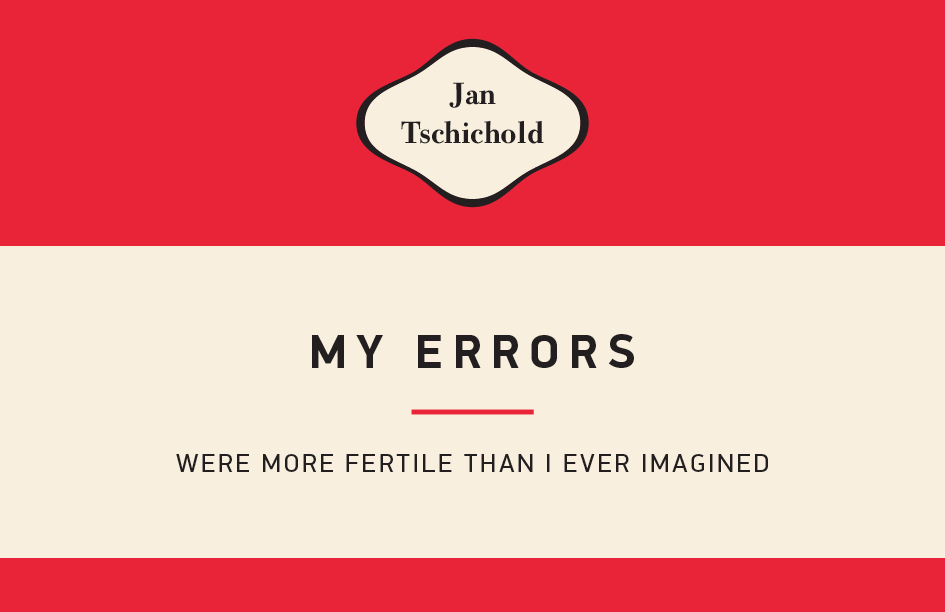 Jan Tschichold: the father of modern typography in his own words
Considered by many the father of modern typography, German calligrapher, type and book designer Jan Tschichold (1902-1974) revolutionized the craftsmanship of the letterform with asymmetrical brilliance breaking new ground in type design.
Inspired by the Bauhaus school of design which took the world by storm a century ago, Tschichold's use of sans-serif typography has shaped the graphic design, printing and typographic industry as we know it.
A refugee from the Nazis, the author of Die Neue Typographie, published in Berlin in 1928 and the iconic redesigner of Penguin's entire series of paperback novels post World War II, Tschichold influenced every type designer of the 20th century, to say the least.
"Two men stand out as the most powerful influences on 20th-century typography: Stanley Morison, who died in 1967, and Jan Tschichold" wrote the avant-garde German typographer himself on the occasion of his 70th birthday in 1972.
Born on the 2nd of April, 1902 in Leipzig, Germany Tschichold, kicked off his career as a calligrapher for advertisements.
Highly influenced by any -isms available at his time and Bauhaus, he became an acclaimed figure pushing the manifesto of a New Typography, his groundbreaking work, and agenda.
Abstract at large, Tschichold's geometrical body of work, the text designed in only sans-serif mode, was unconventional, ground-breaking, an obvious enemy of the Nazi regime who denounced him along with the designer of the modernist Futura, Paul Renner, as a "cultural Bolshevists."
"After Hitler became chancellor, designers had to register with the culture ministry. Indexes of art books can be found with the note: 'Jews are identified by an asterisk' Permission to work was refused on political or racial grounds. All radicals were at risk. At best, their livelihoods were taken away. 'Protective custody' was arranged for any who had links with progressive movements" writes Richard Hollis, the author of Graphic Design: A Concise History, in his Guardian Review of Graphic Design in Germany 1890-1945 by Jeremy Aynsley (Thames and Hudson).
"The typographer Jan Tschichold had a visit from the stormtroopers while he was away lecturing. They asked his wife to 'open' a Mondrian painting on the wall, mistaking it for the front of a safe. More dangerously, they found incriminating collages by Russian constructivists. Rather than wait for the party thugs, Tschichold surrendered himself to the police. After six weeks a policeman helped him get a passport so that he could leave for Switzerland. In a letter to Tschichold's publisher, the Gestapo wrote that 'for the protection of the German people' all copies of one of his books were to be confiscated. 'In its general design and in its exclusive use of lower-case letters and the type of illustration, Photo-Eye exhibits a subversive tendency incompatible with the aspirations of the nationalist-socialist state.'"
Taken into "protective custody" under the Nazi authorities, Tschichold was imprisoned but he managed to escape in August 1933. A refugee in Basel, Tschichold became a prominent figure in the new visual language of typographic geometry.
His relationship with Penguin Books started in 1946.
The paperback's dominance in book publishing in England was redesigned by Tschichold with Allen Lane, the Penguin publisher noting that "nothing compared to storm when Jan Tschichold arrived. Mild-mannered man with an inflexible character. Screams heard from Edinburgh to Ipswich and from Aylesbury to Bungay."
Tschichold "respected the quality of typeface designs available for machine typesetting" notes The Guardian.
"For the covers of the main series, Tschichold retained Eric Gill's elegant, clean fonts Gill Bold and Gill Sans. And the way a book opened, how comfortable it felt in the hand, were as much Tschichold's concern as the details of its typography. He considered the weight and grain-direction of paper, stiffness or flexibility of cover boards, and binding."
Eventually his books -Die Neue Typographie and Typographische Gestaltung- became standard textbooks for the next generation of type designers cementing his legacy as a true titan of type design and typography as we know it.
Tschichold passed away on August 11, 1974, in Locarno, Switzerland at the age of 72 leaving a legacy that is influential, inspiring, insightful, and in demand as ever.
Tags/