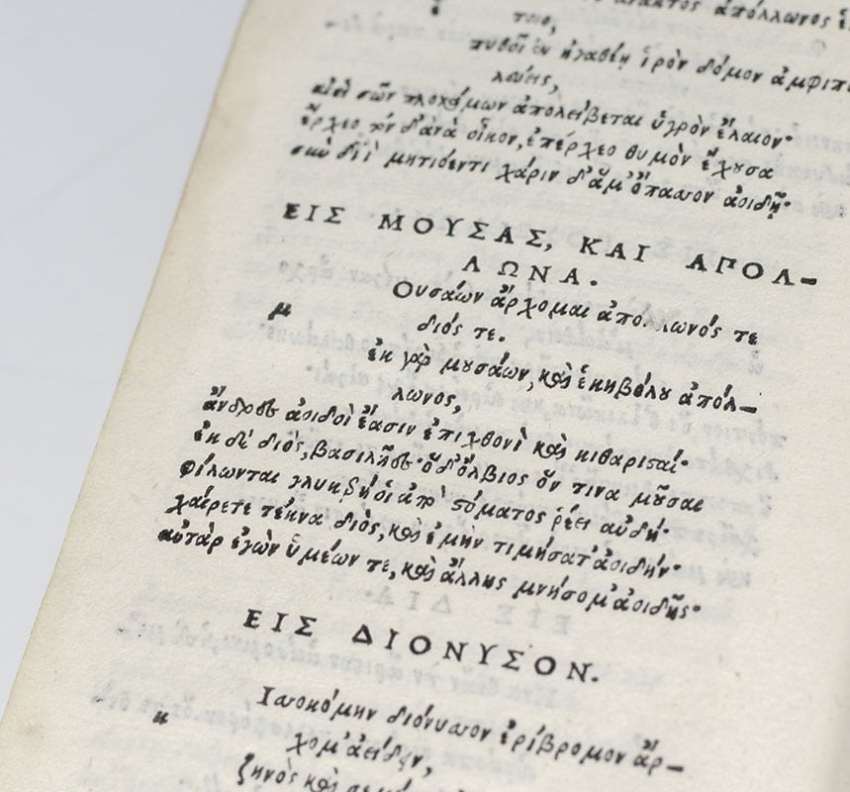 Aldus Manutius: the inventor of the paperback saved the Greeks with his Aldine Press revolution
Aldus Pius Manutius really saved the Greeks classics from oblivion. The Italian humanist, scholar, educator, and founder of the Aldine Press, Manutius revolutionized reading and knowledge and he is the true original inventor of a typeface made for humans.
Manutius devoted the later part of his life to publishing and disseminating rare texts and his passion to spread the word of the great philosophers of humanity changed our lifes for ever.
Regarded an iconic innovative publisher, always dedicated to the editions he produced, Manutius also launched a format of books, his "libelli portatiles in formam enchiridii" ("portable small books in the form of a manual"enchiridia), that revolutionized personal reading and are the predecessor of the modern paperback.
Manutius wanted to produce Greek texts for his readers because he believed that works by Aristotle or Aristophanes in their original Greek form were pure and unadulterated by translation. Before him publishers rarely printed volumes in Greek, mainly due to the complexity of providing a standardized Greek typeface.
Manutius decided to publish these rarities, the precious manuscripts, in their original Greek and Latin forms. A visual pioneer and a figure whose massive legacy defined us, Manutius commissioned the creation of typefaces in Greek and Latin resembling humanist handwriting of his time; typefaces that are the first known precursor of italic type.
Manutius settled in Venice in his late thirties or early forties to become a print publisher. There he met Andrea Torresani in Venice and the two cofounded the Aldine Press. Eventually a printing revolution of Europe had just happened.
Established in 1494 the Aldine Press had its first publication in March 1495 (Erotemata cum interpretatione Latina by Greek scholar Constantine Lascaris) and its first great achievement was the printing of a five-volume folio edition of Aristotle, with the first volume published in 1495 and the other four published together in 1497 and 1498.
Manutius desired to "inspire and refine his readers by inundating them with Greek." The Aldine Press produced nine comedies of Aristophanes in 1498, and Pietro Bembo edited Petrarch's poems that Manutius published in July 1501. In December 1507, the Aldine Press published Iphigenia in Audlis in an 80-page octavo with Erasmus's translation from Greek into Latin.
Manutius strove for excellence in typography and book design while publishing lower-cost editions. To preserve ancient Greek literature, the Aldine Press commissioned a typeface based on classical Greek manuscripts so that readers could experience the original Greek text more authentically.
While publishing Greek manuscripts, Manutius founded the New Academy, a group of Hellenist scholars, in 1502 to promote Greek studies.
His first portable format was printed in 1501 with the publication of Virgil and many scholars consider the development of the portable book as Manutius's most celebrated contribution to printing and publishing. These mobile books were the first known appearance of an editio minor, a straightforward text. His famous octavo editions are often regarded as the first prototype of the mass-market paperback.
Everyday handwriting in Venice was in cursive, but at the time, printed works imitated formal manuscript hands, either blackletter or the humanistic littera antica.
Manutius commissioned typefaces designed to look like the handwriting of humanists both in Latin and Greek in order to uphold the manuscript tradition. In the New Aldine Studies, Harry George Fletcher III, Pierpont Morgan Library's curator for printed books and bindings, writes that Manutius intended "to make available in type a face comfortable for its readers" with the cursive typeface.
Manutius commissioned the punchcutter Francesco Griffo of Bologna to create the new typeface. The Aldine Press commissioned the first Greek script designed "with accents and letters cast separately and combined by the compositor."
The typeface was first used in publishing Erotemata by Constantine Lascaris in 1495. The Roman typeface was finished later the same year and Pietro Bembo's De Aetna was the first book published in the new Roman script.
The Aldine Press, launched by Manutius based on his love of classics and the need of preservation of Hellenic studies produced more than 100 editions from 1495 to 1505. The majority were Greek classics, but many notable Latin and Italian works were published as well.
Fifty years after the invention of the Gutenberg Press, Aldus Manutius helped flood the market with over 20 million books.

The top best seller?

The Pneumatics of Hero of Alexandria

A 50 A.D. book on technology that directly influenced the rise of machines and the—computer. https://t.co/MTyIBIyIfT pic.twitter.com/C7DiLvJFBf

— Brian Roemmele (@BrianRoemmele) December 30, 2019
Historian Elizabeth Eisenstein claimed that the fall of Constantinople in 1453 had threatened the importance and survival of Greek scholarship, but publications such as those by the Aldine Press secured it.
With the Aldine Press's increasing popularity, people would come to visit the shop, interrupting Manutius's work. Manutius put up a sign that read, "Whoever you are, Aldus asks you again and again what it is you want from him. State your business briefly and then immediately go away" note Clemons and Fletcher in "Aldus Manutius, A Legacy More Lasting than Bronze" (2015)
"Aldus ensured the survival of a large number of ancient texts and greatly facilitated the diffusion of the values, enthusiasms, and scholarship of Italian Renaissance Humanism to the rest of Europe" wrote Paul F. Grendler wrote of his legacy. "He jettisoned commentary because he felt that it prevented the dialogue between author and reader that the Renaissance prized."
Aldus Manutius was born close to Rome in Bassiano between 1449 and 1452 and died on the 6th of February 1515 and "with his death the importance of Italy as a seminal and dynamic force in printing came to an end."
On the anniversary of Aldus Manutius' death (#otd in 1515), the first page, colophon, and final anchor device from Deipnosophistae, a work by Athenaeus of Naucratis, printed in Venice in 1514. Catalogue record at https://t.co/XLpPC0IAdF. #WrenLibrary pic.twitter.com/478Atwj6St

— Trinity Library (@TrinCollLibCam) February 6, 2020
The pioneer of type design Hermann Zapf created Aldus® with the font foundry D. Stempel AG in Frankfurt am Main in 1954.
Zapf named this font after the famous Venecian printer Aldus Manutius, whose work is among the most important of the Renaissance period as well as Zapf's inspiration for Aldus. Linotype Aldus was introduced by Linotype as a text font lighter than Palatino®.
Zapf's goal with his Palatino and Aldus was to create a new form of Old Face typeface with a font that "gives text the feeling of elegance which was typical of the Renaissance."
Tags/ typography, books, typefaces, printing, hermann zapf, manuscripts, humanist typeface, aldus manutius, aldine press