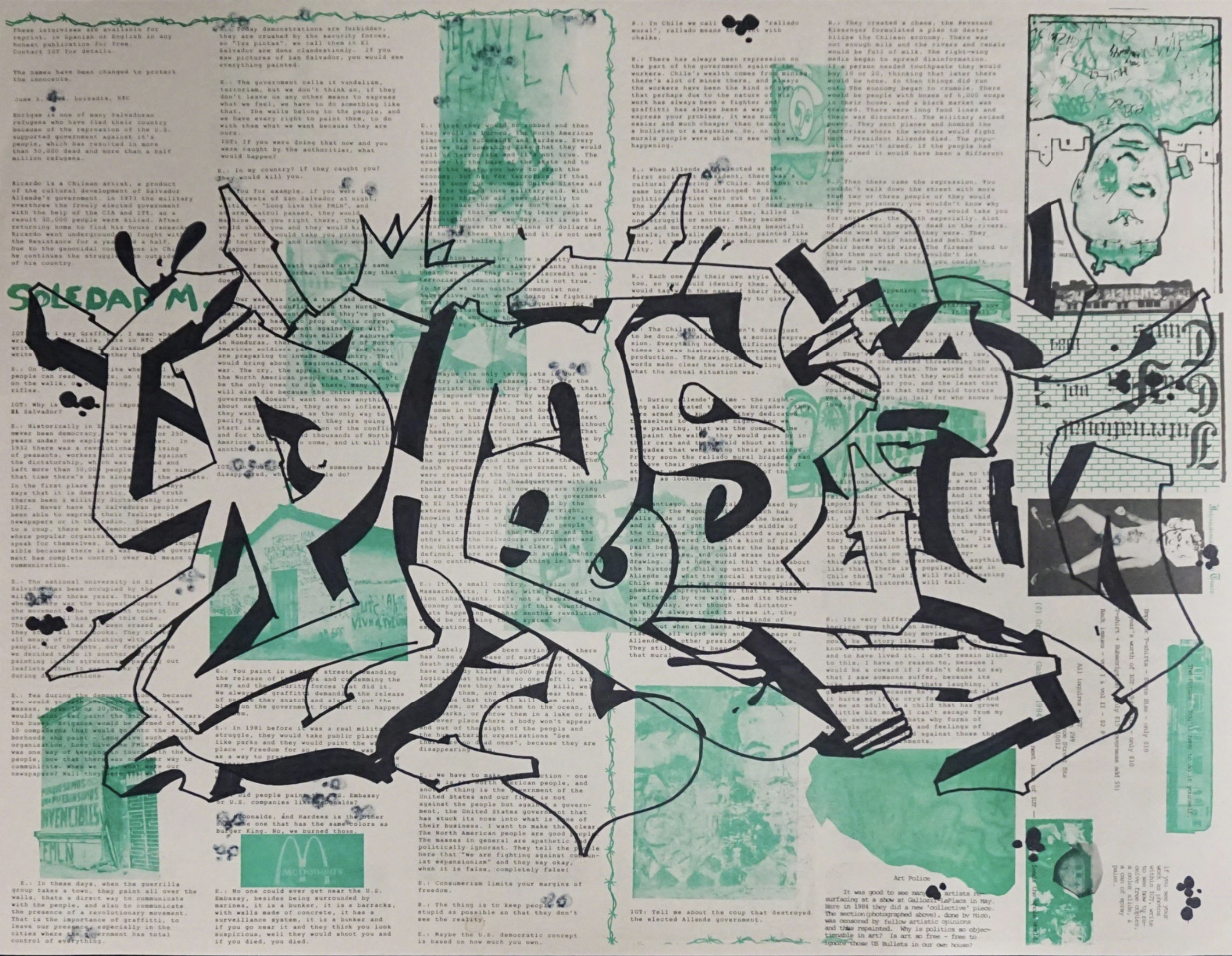 No more softies: RIP Phase 2, the legendary urban artist you should know
Lonny Wood, also known as Phase 2, will not bring his writings on the walls anymore. The iconic aerosol paint artist passed away at the age of 64 in December 2019 yet his legacy will not be forgotten.
A pioneer of the street art as we know it Phase 2 was a legend born in the Bronx.
Wood attended DeWitt Clinton High School and he began writing his stories on the surfaces of the city in late 1971.
Mostly active in the 1970s, Phase 2 is generally credited with originating the "bubble letter" style of aerosol writing, also known as "softies" whilst his influence in the early hip hop scene and its branding remains iconic. PHASE 2 appreciated aerosol writing for it allowed him to get his "name" known, yet remain anonymous. As he noted tagging provided disadvantaged urban teens "the only significant vehicle to represent their existence."
In late 1972, Phase 2 first used an early version of the "bubble letter" or "softie" a style of writing which would become extremely influential and is considered a "giant leap" in the art form.
His puffed-out, marshmallow-like letters drawn by Phase 2 were soon copied by other artists who added their own variations. As Wikipedia notes Phase 2 is also credited with having pioneered the use of arrows in graffiti writing around this same time.
Phase himself quickly embellished on his original form, creating and naming dozens of varieties of softies such as "phasemagorical phantastic" (bubble letters with stars), "bubble cloud" and "bubble drip." He is also credited with pioneering the use of arrows in graf writing around this same time. Hip-hop journalist Jeff Chang has noted that Phase 2's canvasses from 1973 have "been widely recognized as defining the early genre."
Over time Wood's work becomes more complex, moving away from the simple tags of the early 1970s to deconstructed letterforms mixed with "hieroglyphical calligraphic abstraction."
Chang points out that much of Phase's work involved "deconstructing the letter", transforming characters in the alphabet "into hard lines, third eyes, horns, drills, spikes, Egyptian pharaohs and dogs, pure geometrics." Another New York aerosol artist, Vulcan, remarked that "one of the things about Phase is that he was the only person at the time whose name could roll by ten times and each piece was different. That's what you noticed about his [work]."
In 1975 Phase 2 joined the newly created United Graffiti Artists, a professional aerosol writer collective that began to attract media attention. In 1986, Phase 2 became the art director of International Get Hip Times, the first 'zine about aerosol culture.
His genius in graphic design is evident in the early promotional materials of the hip hop scene -after all, he was the first person to use the term hip hop on a flyer. His promotional flyers and posters for artists like Kool Herc and Grand Master Flash are proof of his influential legacy that formed the visual language of the music industry the past four decades.
Phase 2 was also the first to create a large-scale, 3 Dimensional graffiti/aerosol sculpture.
An early b-boy aka an innovator of breaking dance Phase 2 was a DJ before many and he is considered a "first-generation of writers with subway art movement roots, intertwined with the larger hip hop culture developing in the Bronx of the 70s."
"Phase 2 has always preferred 'style writing' to graffiti, as most people used that term to encompass the entire public form of art that was slowly emerging globally from the subways of New York City. Due to the negative connotations of the word graffiti, which originates from the Italian graffiari, meaning to scrawl or scratch, Phase 2 would vehemently reject that term and refer to his craft as writing or style writing" writes Widewall's Jean Gallard.
"Phase 2 was a good friend and a good person who cared deeply for other people and the culture (hip hop, aerosol/graffiti) he was greatly responsible for creating. He spent a lot of time educating people like me who were eager to learn more about hip hop culture, back in the early 1980s. He will be missed, dearly" notes Michael Holman of his colleague. Together they formed the pioneering break dance crew, The New York City Breakers.
Wood died in December 2019 in New York City after suffering from Lou Gehrig's disease.
Tags/ graffiti, new york, aerosol writing, bronx, phase 2