Peter Lindbergh (1944-2019)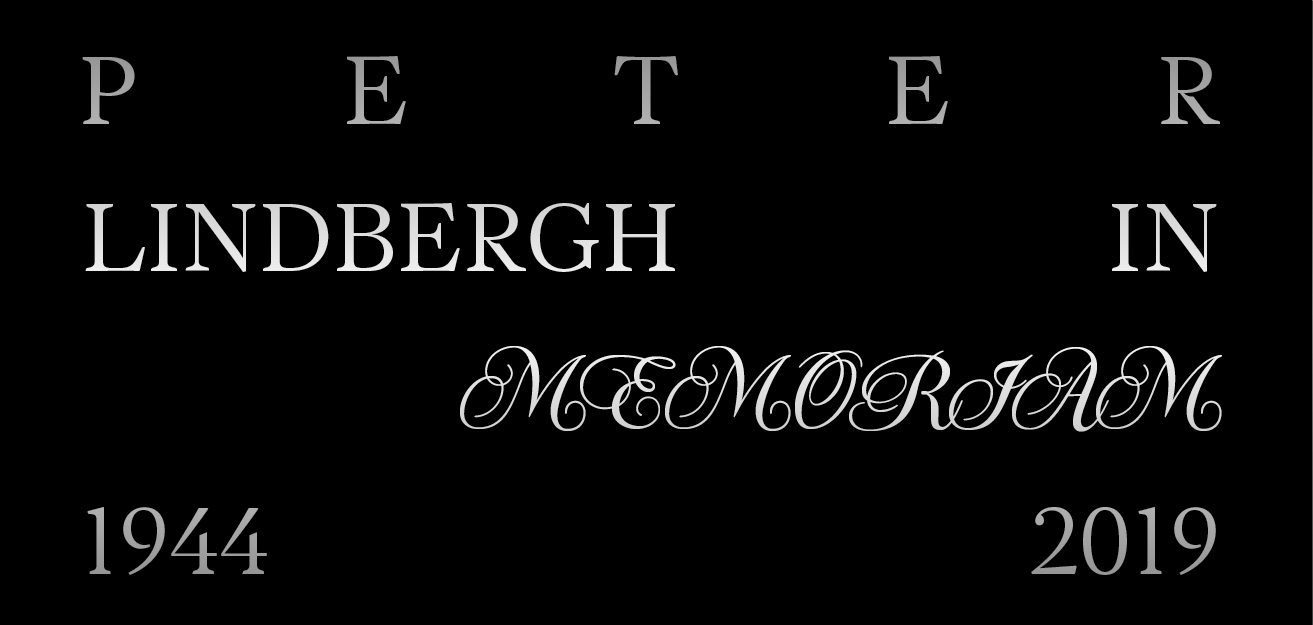 "He leaves a big void." This is how Peter Lindbergh's Instagram account announced to the world the death of fashion's iconic master of visuals and storytelling. Lindbergh died on the 3rd of September. He was 74.
Lindbergh rose to prominence during the 80s and in the 90s he defined the identity and physique of how a real supermodel should be like. Lindbergh's portait of Linda Evangelista, Rachel Williams, Tatjana Patitz, Karen Alexander, Christy Turlington, and Estelle Léfebure in 1988 for Vogue is the definition of the Supermodel.
His work was always cinematic, therefore influential for the contemporary visual language of fashion. "Over the course of his career, Lindbergh took inspiration for his photography from modern dance, early German and Eastern European cinema and photography, and his own personal history to create his distinctly bold, elemental visual language. Replacing staged glamour with an improvised vérité approach, his signature high-contrast black-and-white photographs use body movement to celebrate the human form in a way that speaks to both antiquity and modernity, allowing the innate character and natural beauty of his subjects to emerge" notes Gagosian.
Born as Peter Brodbeck in 1944 in Leszno, Poland, Lindbergh spent his childhood in Duisburg (North Rhine-Westphalia) and he enrolled the Berlin Academy of Fine Arts in the early 1960's.
"Inspired by the Dutch painter van Gogh, Lindbergh travelled parts of the world before studying free painting at the College of Art in Krefeld. Influenced by Joseph Kosuth and the Conceptual movement, he is invited before graduating to present his work at the renowned avant-garde Galerie Denise René - Hans Mayer in 1969. After moving to Düsseldorf in 1971, he turned his attention to photography and worked for two years assisting German photographer Hans Lux, before opening his own studio in 1973. Becoming well known in his native country, he joined the Stern magazine family along with –photography legends Helmut Newton, Guy Bourdin, and Hans Feurer, and moved to Paris in 1978 to pursue his career" writes Lindbergh's official site.
"Considered a pioneer in photography, he introduced a form of new realism by redefining the standards of beauty with timeless images. His humanist approach and idealisation of women sets him apart from the other photographers as he privileges the soul and the personality. He changed drastically the standards of fashion photography in times of excessive retouching considering that there is something else that makes a person interesting, beyond their age."
A lover of authenticity Lindbergh "offered a new interpretation of women post-1980's... British journalist Suzy Menkes points out that the German photographer is: "Refusing to bow to glossy perfection is Peter Lindbergh's trademark – the essence of the images that look into each person's unvarnished soul, however familiar or famous the sitter."
"My imagination was indelibly marked by the blunt realism in the faces immortalized by documentary photographers such as Dorothea Lange and Walker Evans"
"Lindbergh is the first photographer to include a narrative in his fashion series, his storytelling brought a new vision of art and fashion photography. Over the years, he has created images that marked the history of photography, characterised by a minimalist approach of the post-modernist photography. Back in 1988, Lindbergh garnered international acclaim by showing a new generation of models all dressed in white shirts that he had recently discovered and launched their careers. A year later, Linda Evangelista, Naomi Campbell, Cindy Crawford, Christy Turlington, and Tatjana Patitz, young models then, were photographed together for the first time by him for British Vogue's legendary January 1990 cover."
"Pop singer George Michael, the initiator of the movement of the Supermodels, was inspired by the photographs taken by Lindbergh for Vogue, to create the iconic video for his song Freedom 90, followed by Gianni Versace, marking the beginning of the era of the celebrity-models, which redefined the image of the new modern woman."
"Lindbergh works with the most prestigious fashion brands and magazines since the late 1970's, including international editions of Vogue, The New Yorker, Rolling Stone, Vanity Fair, Harper's Bazaar US, Wall Street Journal Magazine, The Face, Visionaire, Interview and W. In 2016, Lindbergh was commissioned for a record third time to create the 2017 edition of the Pirelli calendar, being the first one to photograph it more than twice in the fifty years history of the iconic calendar. He previously photographed the 1996 and 2002 editions."
"Refusing to bow to glossy perfection is Peter Lindbergh's trademark – the essence of the images that look into each person's unvarnished soul, however familiar or famous the sitter" Suzy Menkes on Peter Lindbergh
His work is part of the permanent collections of many Fine Arts museums around the world and has also been shown in prestigious museums and galleries. Among these are the Victoria & Albert Museum (London), Centre Pompidou (Paris), Museo Thyssen-Bornemisza (Madrid), the Metropolitan Museum of Art (New York), as well as solo exhibitions at Hamburger Banhof (Berlin), Bunkamura Museum of Art (Tokyo) and the Pushkin Museum of Fine Arts (Moscow). The exhibition 'A Different Vision on Fashion Photography', initiated by the Kunsthal Rotterdam in 2016, was then displayed at the Kunsthalle München and in Turin's Venaria Reale. In 2017, he took part in the exhibition 'Alberto Giacometti Beyond Bronze' presented at the Kunsthaus of Zurich, followed by 'Shadow And Substance' at the Gagosian Gallery (London) and 'Seizing the invisible' at the Giacometti Institute (Paris) in 2019.
Lindbergh has directed a number of critically acclaimed films and documentaries: Models, The Film (1991); Inner VoIces (1999) which won the Best Documentary Prize at the Toronto International Film Festival (TIFF) in 2000; Pina Bausch, der Fensterputzer (2001) and Everywhere At Once (2007), which was narrated by Jeanne Moreau and presented at the Cannes and Tribeca Film Festivals.
"My imagination was indelibly marked by the blunt realism in the faces immortalized by documentary photographers such as Dorothea Lange and Walker Evans," he said of the American photographers who inspired him, masters of photography who captured the Great Depression and influenced him to create his signature black-and-white style.
"Fashion photographers are the painters of today," Lindbergh told Melanie Abrams of The New York Times. Following are some of Lindbergh's most iconic quotes in black and white, a combination which "has always been connected to the image's deeper truth, to its most hidden meaning."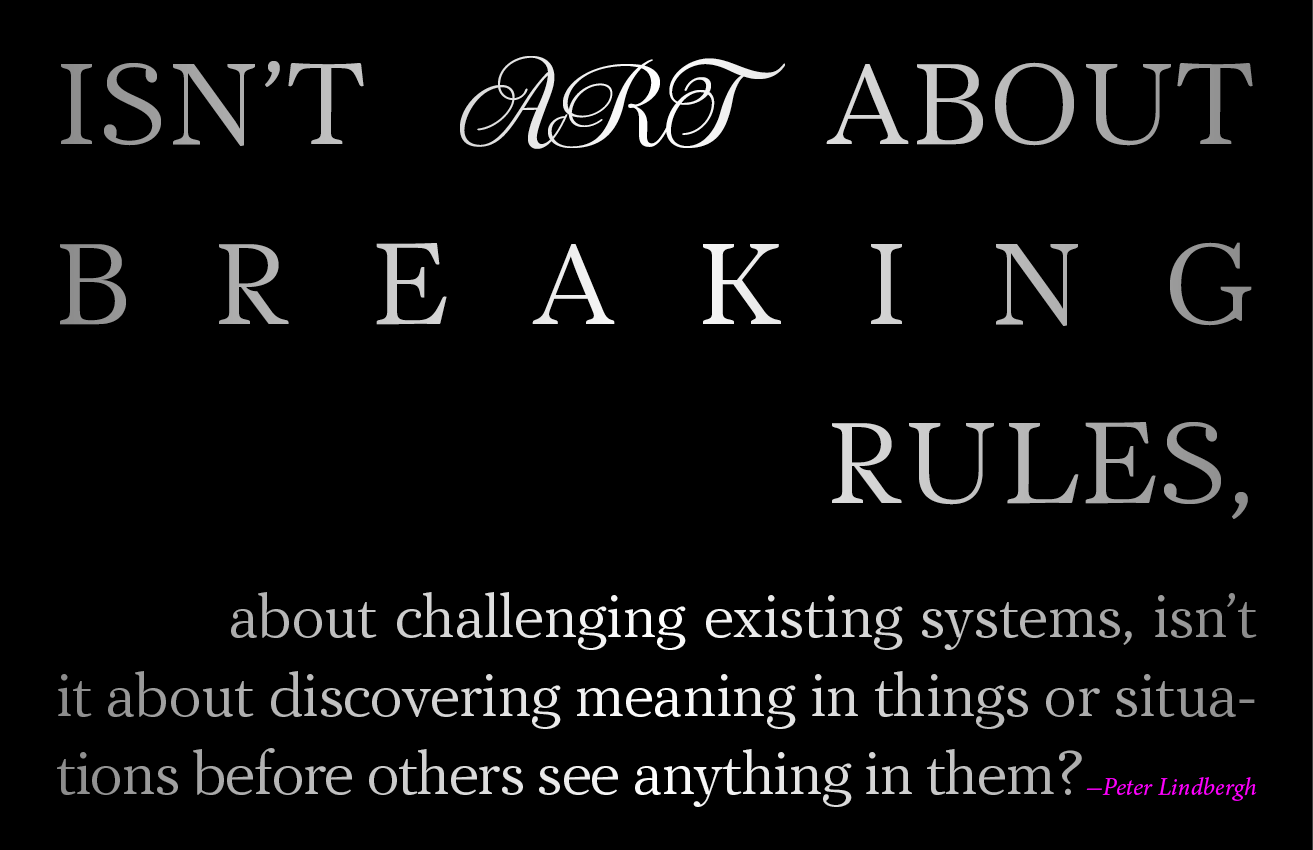 "Isn't art about breaking rules, about challenging existing systems, isn't it about discovering meaning in things or situations before others see anything in them?"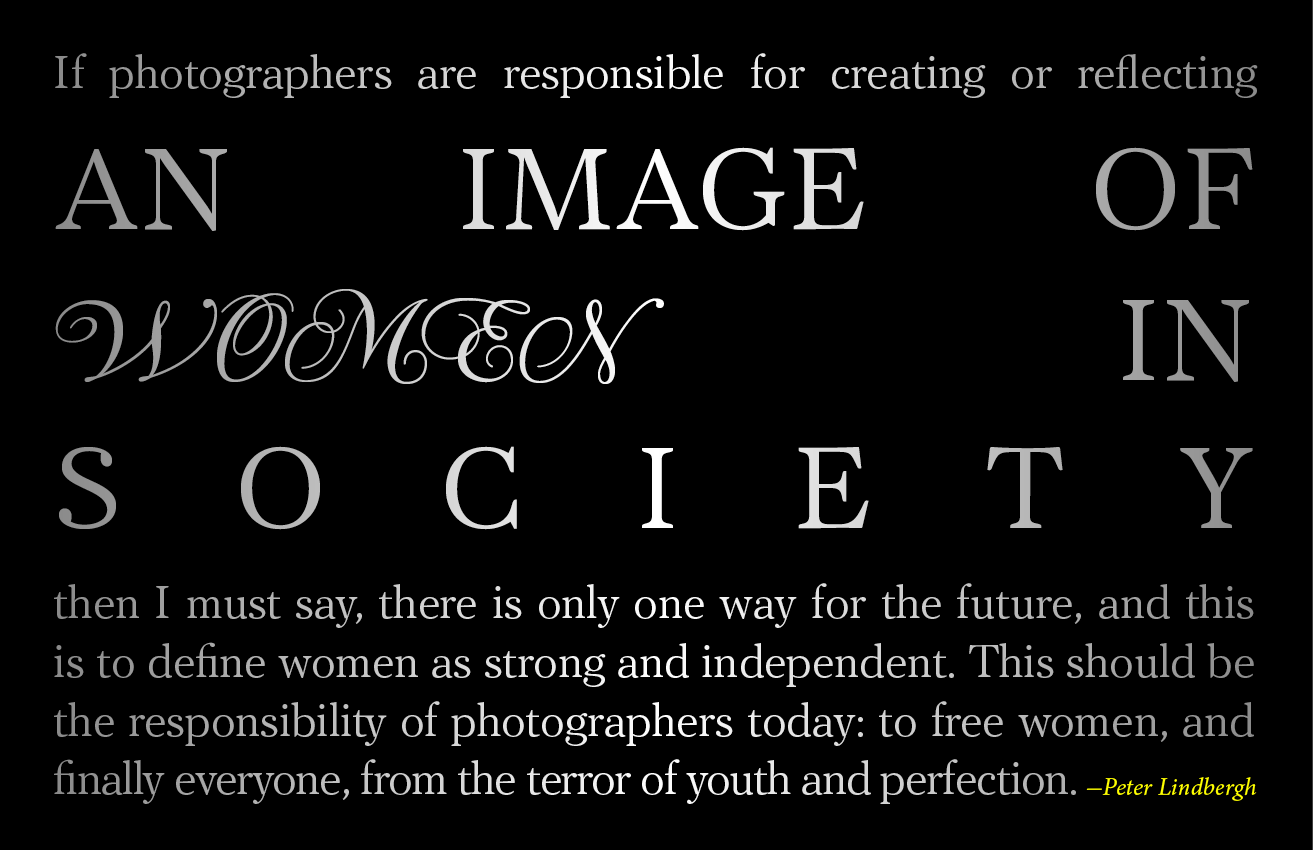 "If photographers are responsible for creating or reflecting an image of women in society, then I must say, there is only one way for the future, and this is to define women as strong and independent. This should be the responsibility of photographers today: to free women, and finally everyone, from the terror of youth and perfection."
"The woman is always more important than the clothes."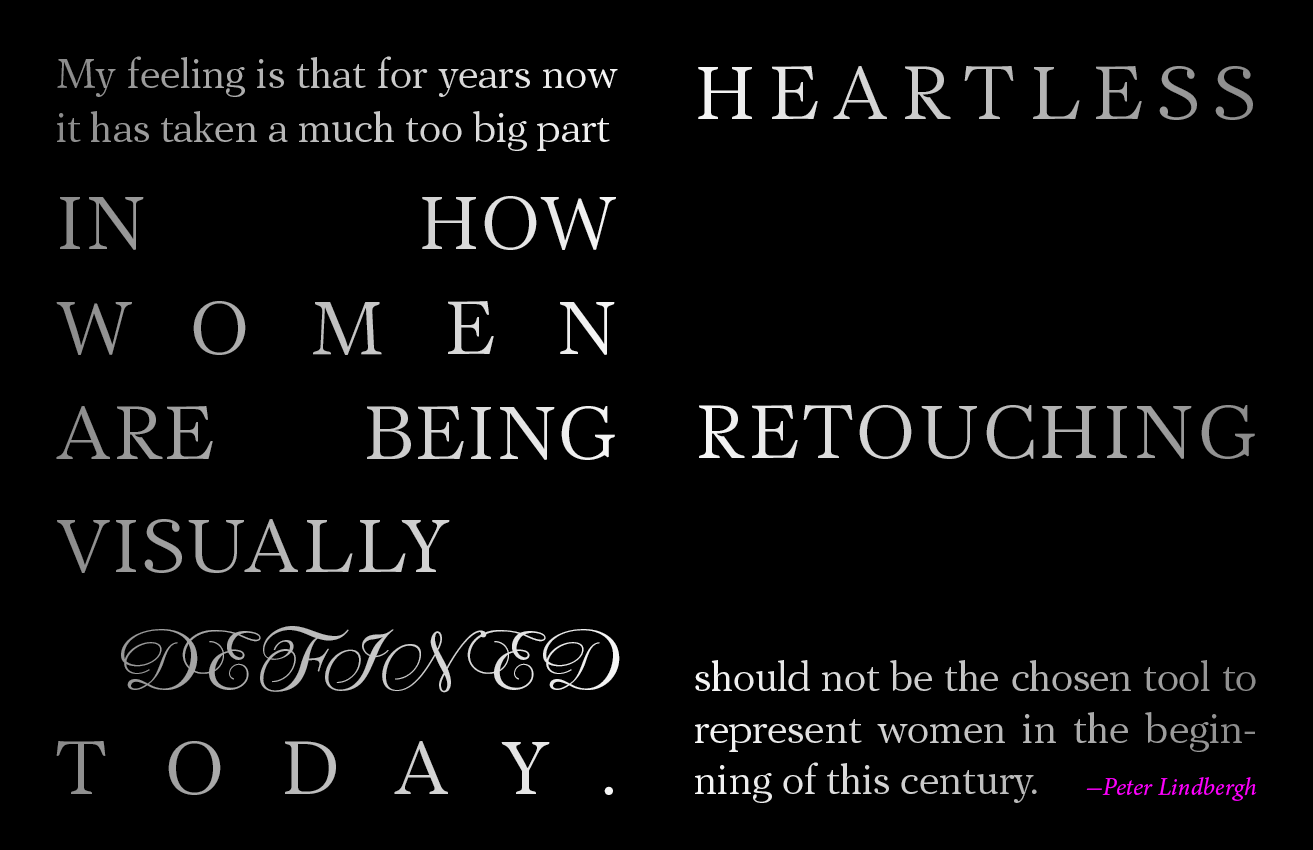 "My feeling is that for years now it has taken a much too big part in how women are being visually defined today. Heartless retouching should not be the chosen tool to represent women in the beginning of this century."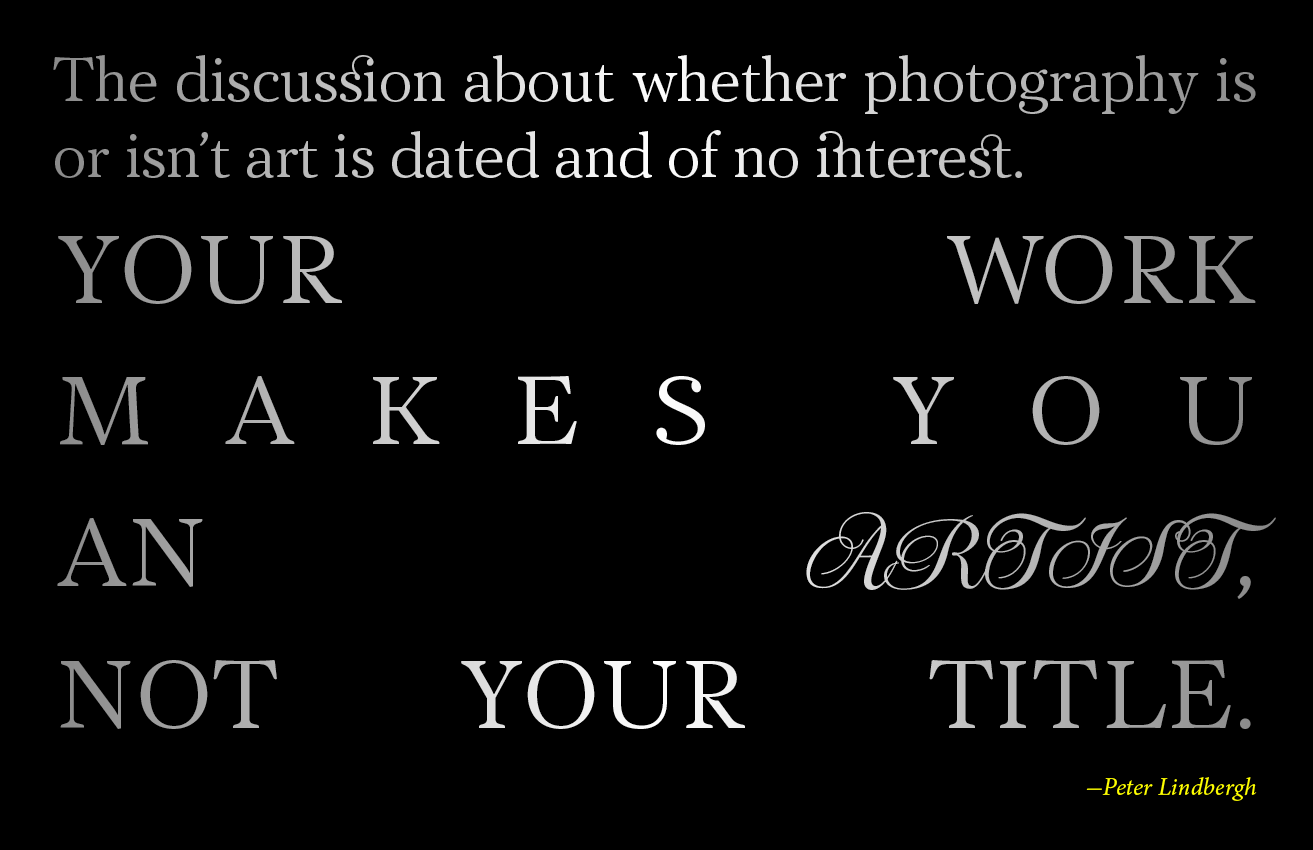 "The discussion about whether photography is or isn't art is dated and of no interest. Your work makes you an artist, not your title."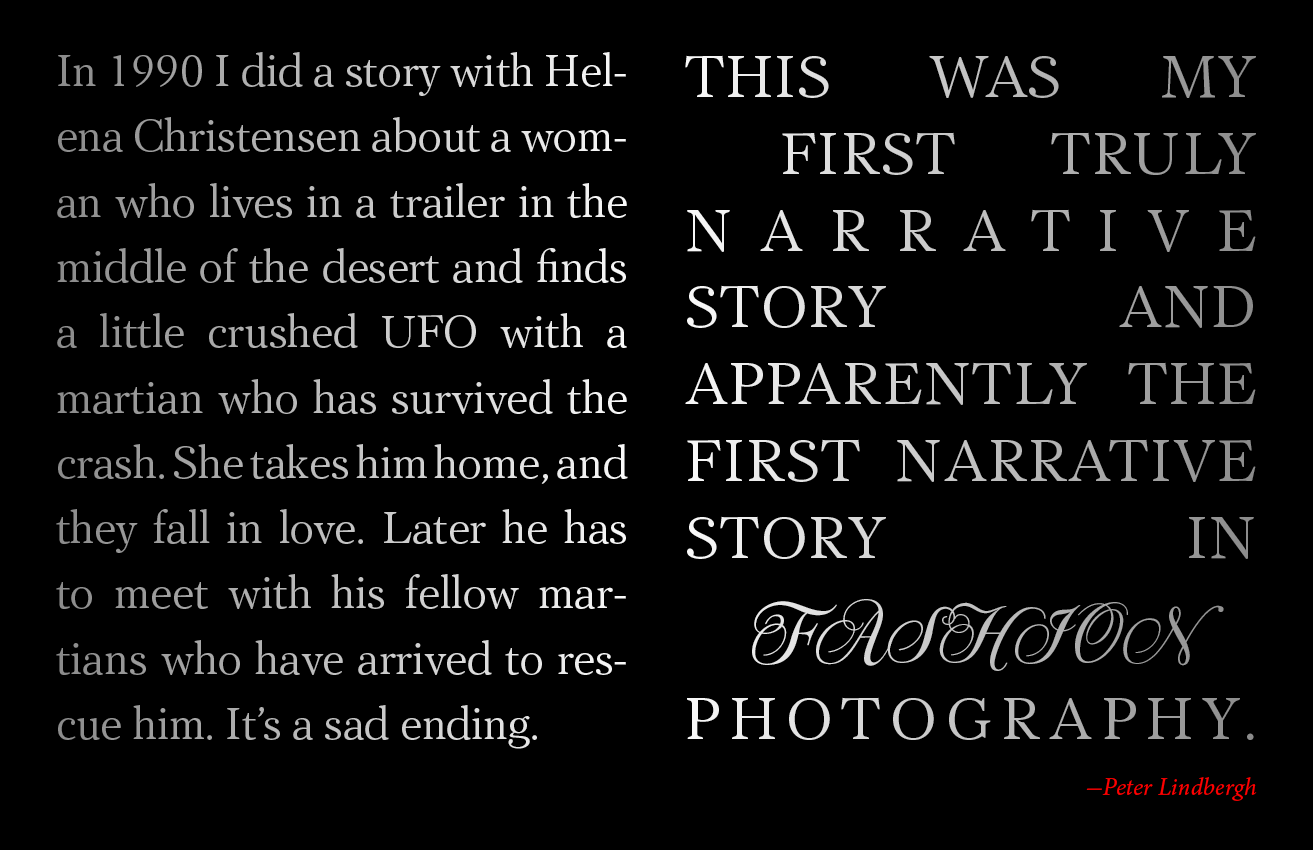 "In 1990 I did a story with Helena Christensen about a woman who lives in a trailer in the middle of the desert and finds a little crushed UFO with a martian who has survived the crash. She takes him home, and they fall in love. Later he has to meet with his fellow martians who have arrived to rescue him. It's a sad ending. This was my first truly narrative story and apparently the first narrative story in fashion photography."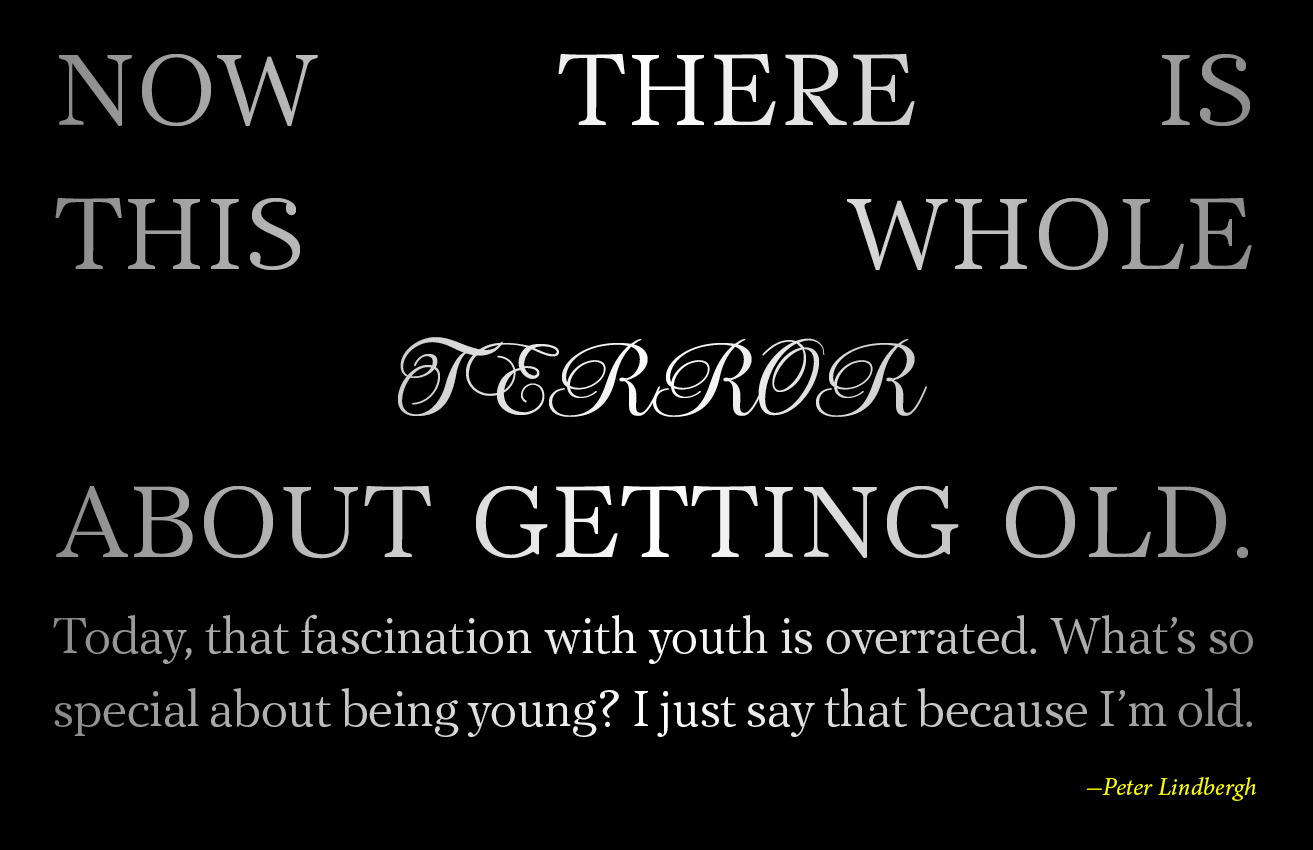 "Now there is this whole terror about getting old. Today, that fascination with youth is overrated. What's so special about being young? I just say that because I'm old."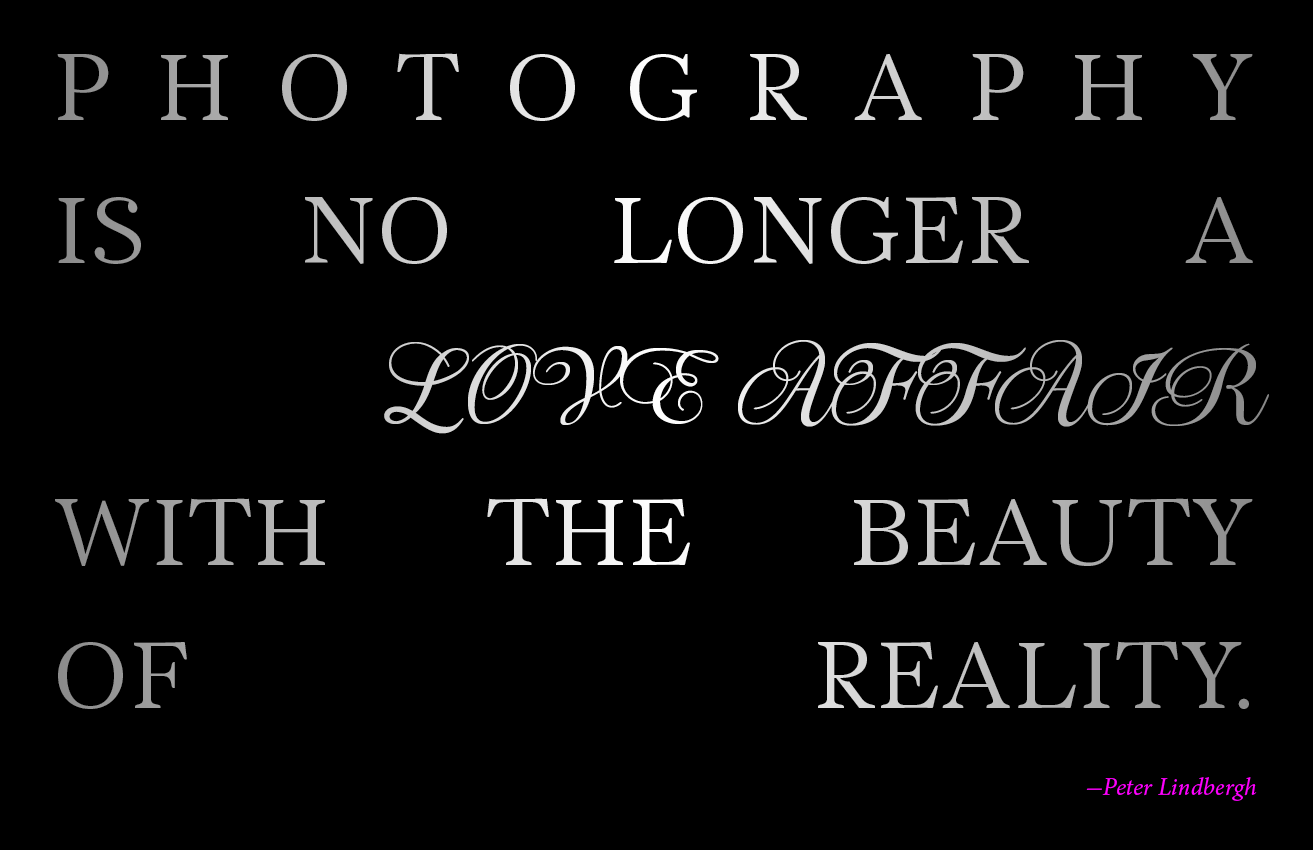 "Photography is no longer a love affair with the beauty of reality."
Lindbergh is survived by his wife Petra, first wife Astrid, four sons (Benjamin, Jérémy, Simon and Joseph) and seven grandchildren.
This typographic ode of truth and beauty, two qualities Lindbergh lived by, is set in Parachute's typefaces, PF Regal Text, and PF Bodoni Script.
Tags/