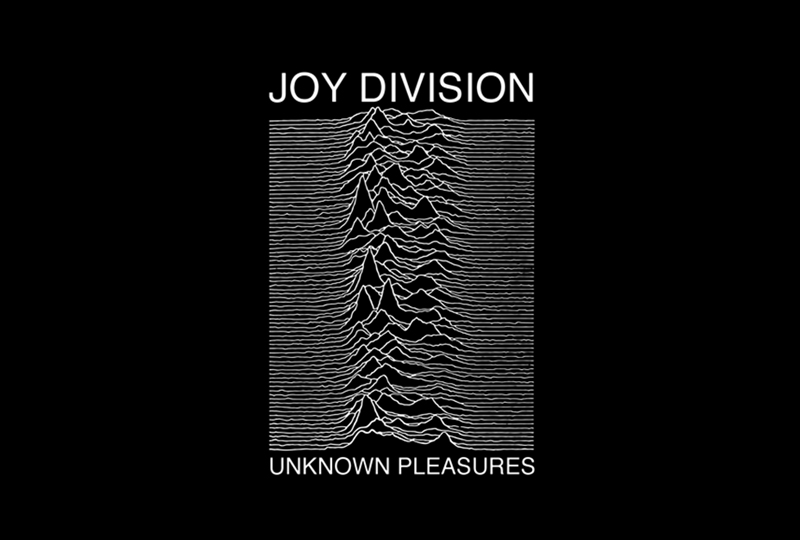 Peter Saville on Joy Division's Unknown Pleasures stellar cover art
Regarded as one of the most iconic album covers ever, Joy Division's Unknown Pleasures is one of the most identifiable pieces of graphic design art ever and a fine example of the groundbreaking designs from Factory Record's album cover catalogue designed by British artist Peter Saville.
The cover features a textured virtual landscape and the creator himself explained in his interview for Visualized conference in New York, the origins of the album art. The album cover is literally a data visualization unveiled the designer who hears music through his eyes.
Saville has collaborated with many artists -New Order, Roxy Music, Pulp and more- with Unknown Pleasures being already a classic.
From Cambridge Encyclopedia of Astronomy to a legendary piece of cover art, the album image is a "comparative path demonstration of frequency from a signal of a pulsar."
"What you're seeing is a comparative chart of the frequency and the accuracy of this signal" explains Saville on Unknown Pleasure's stellar data visualization cover art.
Last year, on the 40th anniversary of Unknown Pleasures release, astronomers revisited the pulsar from the iconic album cover as a scientific tribute to the album that features 80 wiggly lines of our cosmos.
40 years ago today, @joydivision's Unknown Pleasures was released. Its cover featured signals from the first pulsar CP1919. To mark the anniversary, we made this observation of the pulsar earlier today pic.twitter.com/xQfyEm6lLf

— Jodrell Bank (@jodrellbank) June 15, 2019
As noted the picture itself which caught the attention of band member Bernard Sumner, can be traced to the work of the postgraduate student Harold Craft, who published the image in his PhD thesis in 1970.
Released on 15 June 1979 by Factory Records, Unknown Pleasures is the debut studio album by Joy Division and the only album released during lead singer Ian Curtis's lifetime.
Factory Records did not release any singles from Unknown Pleasures, and the album did not chart despite the relative success of the group's non-album debut single "Transmission".
Unknown Pleasures is regarded one of the most influential post-punk albums ever and has been named as one of the best albums of all time by publications such as NME, AllMusic, Select, Spin and more.
Tags/ graphic design, peter saville, joy division, factory records, data visualization, album cover, astronomy