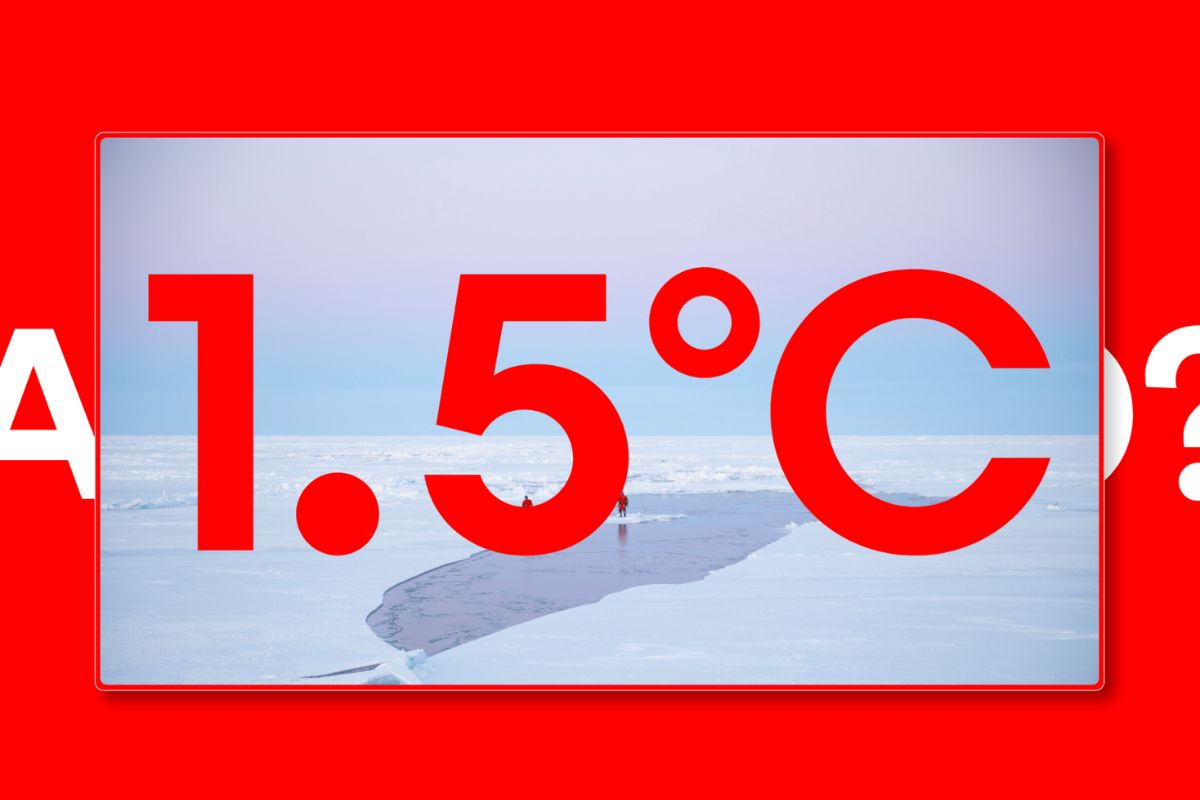 Bold Period X Soul Energy: 1.5°C is the awarded magazine & website that aims to raise voices of justice against the climate crisis
The latest climate update from the World Meteorological Organisation (WMO) puts the planet on the brink of irreversible global warming as average global temperatures have a 50:50 chance of temporarily reaching 1.5°C above pre-industrial levels during at least one of the next five years.
"The 1.5°C figure is not some random statistic. It is rather an indicator of the point at which climate impacts will become increasingly harmful for people and indeed the entire planet" WMO warns.
The report, published in May 2022, used expertise from internationally acclaimed climate scientists and the world's best prediction systems to produce information that policymakers can use to prevent the worst crisis in our existence, the climate crisis.
The report also found that between 2022 and 2026, there is a 93% chance that we will see the hottest year on record -in other words, there is a 93% chance that global average temperatures over the next five years will be higher than in the previous five years warns WMO. "This study shows – with a high level of scientific skill – that we are getting measurably closer to temporarily reaching the lower target of the Paris Agreement on Climate Change," explained WMO secretary-general Professor Petteri Taalas.
Released in April, the IPCC's latest landmark report on climate change said that to stay within 1.5°C of global warming by 2030, global greenhouse gas emissions needed to drop by 43%. To avoid the worst effects of climate change, emissions need to be halved.
"We are at a crossroads. The decisions we make now can secure a liveable future. We have the tools and know-how required to limit warming," IPCC Chair Hoesung Lee said at the time. "For as long as we continue to emit greenhouse gases, temperatures will continue to rise," said WMO's Professor Taalas.
Addressing the urgency of the climate crisis and humanity's continuous denial to change its wastefulness, renewable energy solution company Soul Energy and creative impact company Bold Period launched "1.5°C" in response to this ongoing worldwide problem.
The Colour of the Climate Crisis: Eddie Opara, Tré Seals & more creatives for the planet
"We provide articles online and publish a magazine four times a year. This quarterly magazine has a specific theme demonstrating timely issues of the climate crisis" notes the team of the recently awarded in this year's 2022 iF Design Awards project.
Via means of heavy type and striking UX, Bold Period partnered with Manual Graphics (website design) and Studio Gomin (art direction & editorial design) in this alliance for good, "seeking ways to save our planet by participating together in practice."
Save the planet! The Climate Crisis is an OpenType variable font for all to own
"All the symptoms happening around the globe are receiving the title, 'ever in the history. Is it all coincidence? All these extraordinary phenomena are happening while the earth is being extremely heated. If this current flow of global warming continues, 5% of the Korean peninsular will be sunk, and 3.3 million people will experience flood damage in the year 2030. Moreover, the whole arctic glacier will disappear by September 2040. Not to mention the lowlands all over the world; even Busan, Incheon, and parts of Gyeonggi and Chungcheong will be sunk."
"In the 200 years since the Industrial Revolution, the Earth's average temperature has risen by 1 degree. What's so significant about only 1°C increase? 70% of the world's wild animals disappeared while the Earth's temperature rose by 1°C, and over 1 million species are considered to be endangered. Scientists call this phenomenon the first Sign of Mass Extinction since the extinction of the dinosaurs! What would happen if the Earth's average temperature increased by 2°C then? Grain yields and fish catches are expected to decline unimaginably, and hundreds of millions of climate refugees will be suffering from hunger. Only 1°C will lead everything to an irreversible extinction. To run away from a doomsday scenario of the whole human race, heads of state from about 200 countries worldwide meet in Paris to agree to defend the rising temperature in less than 1.5°C by reducing greenhouse gas emissions in 2015."
Climate Emergency alert! Commit to Futerra's Creative Climate Disclosure before we become extinct
"The Maginot Line for our survival is 1.5°C. Here's the thing not only you but also anyone around you has never paid proper attention to this number. How come this whole world can be so complacent as if nothing is going amiss? In the meantime, your only house is on fire. Will you keep watching your loved ones die?"
"What should we do to respond to the climate crisis? Most of all, you need to say goodbye to what you were familiar with before. Get rid of coal power stations, convert to regenerable energy, and completely change the lifestyle that incites overproduction and overconsumption. Might it feel uncomfortable? The countdown is already underway."
This deformed due to climate change typeface is a wake-up call for all
"You can assume that 'a drop in the bucket will never change anything' or 'The government and its enterprises should step up for the actions in the first line.' However, do you really think like that? Think about it again. The government and its enterprises should move by our choice after all. So what if we start to raise our voice of justice against the villains who are ruthlessly burning our precious earth? The government can be established only by the vote, and the enterprises need our money to maintain their businesses. So let's boycott the enterprises that invest their capital in coal power stations and kick politicians out who don't care about the climate crisis. Imagine such small actions, but from it seeing justice. Don't you think we possibly and eventually change the government, the enterprise, the culture, and our future?" adds 1.5°C in its quest to start raising the voice of justice to the "villains who are ruthlessly burning our precious earth."
Simplicity, modesty, sustainability: why the design ethos of Dieter Rams is vital to follow
"So what can we do? We 1.5°C magazine will continuously bring the issue of the climate crisis to our table to guard the Maginot line of human survival. Does it sound boring? Not cool? We will show how up-to-date it is to know the meaning of the number 1.5 and bring up the issue of the climate crisis. Let's talk about 1.5°C together to protect our loved ones. Come together. Be with us. The most remarkable change will start right here, right now from you."
Pollution campaign "Trash Isles" wins Beazley Graphic Design Award
World leaders pledged under the 2015 Paris Agreement to prevent crossing the long-term 1.5°C threshold -measured as a multi-decadal average- but so far have fallen short on cutting climate-warming emissions.
Today's activities and current policies have the world on track to warm by about 3.2°C by the end of the century.
Get involved to keep our Earth alive here.
Tags/ magazine, website, environment, korea, climate change, climate crisis, bold period, studio gomin, renewable