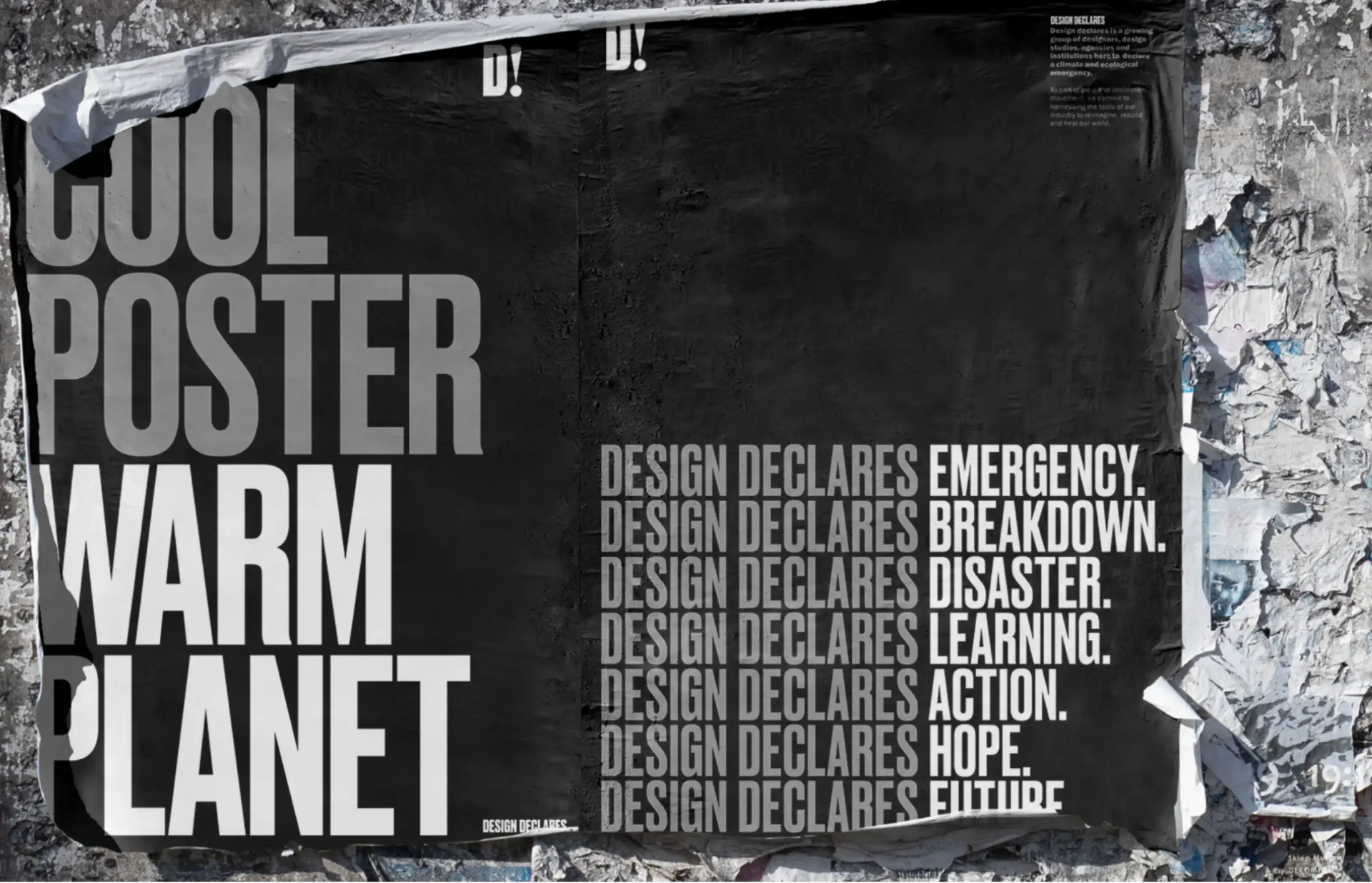 There is no design on a dead planet! Design Declares is the must-know creative movement to join in times of climate apocalypse 
Aiming to unite the creative industry's agenda and recruit the thinkers to provide a climate-first agenda and put life over profit, Design Declares is a movement that addresses the most crucial challenge for our collective future aka the human-made climate crisis. Well aware that this is a global problem that "needs global solutions, activated locally" the project has begun in the UK but is actively seeking partnerships to expand around the world and this involves you.
This call to action is for the global community of designers who are ready to act on the climate crisis Design Declares is a growing group of designers, design studios, agencies, and institutions that join the fight in times of climate and ecological emergency.
"As part of the global declaration movement, we commit to harnessing the tools of our industry to reimagine, rebuild and heal our world" notes DD's manifesto. "The science is settled. We are in an emergency of climate and nature. The world is past breaking point; the breakdown has begun. As designers working within an industry that relies on production and powers global consumption, we must acknowledge that we have had a role in bringing us to where we are now and that we have an important role in what comes next. Because designers are makers. We make ideas real. We generate solutions. We build the world - dreaming up new futures and bringing them to life in ways that are beautiful, vital, and impossible to resist. It's not quite magic, but it feels like it."
"Together with our clients, partners, and colleagues across the supply chain, we are daring to reimagine the way we create every product, service, campaign, and designed solution we put out into the world. This means measuring and actively reducing the greenhouse gas emissions and resource use linked to our designs. It means introducing principles of sustainability, circularity, and, ultimately, regenerative design into our practice to recapture and repurpose resources and materials. And it means acting systemically — seeing the bigger picture and working with others to sharpen design's incredible capacity to influence and accelerate climate repair and justice."
Simplicity, modesty, sustainability: why the design ethos of Dieter Rams is vital to follow
View this post on Instagram
"We know all we need to make this a reality. The information, the guidance, the inspiration, and the solutions are there. What design needs now is action - meaningful steps that can begin to connect what we know to what we do. This is the most important brief of our lives. Join us as we begin to design a climate-positive future" adds the movement. But what does it take to declare?
Design Declares' climate emergency declaration campaign, launched in the UK, offers Eight Acts of Emergency to implement as starting points.
1. Sound the alarm
2. Start the journey
3. Bring clients with us
4. Measure what we make
5. Redefine 'good'
6. Educate, accelerate
7. Design for justice
8. Amplify voices for change
Initially formed by design and innovation consultancy Morrama and creative group URGE Collective, the campaign has received the full support of the Design Council, as part of their Design for Planet mission. The Design Council is a founding signatory along with Morrama, URGE, design and impact agency Driftime®, service design agency Snook, industrial design agency Studio Wood, communication design studio Thomas Matthews and product, space, and service design studio Pearson Lloyd.
"If this year's heatwaves aren't enough to engage the design industry that there's work to be done, then try to imagine what it's going to be like in ten years' time. We need to create an alternative and positive version of the future through design, and the time to do it is now," said URGE's Alexie Sommer. "As designers working within an industry driven by consumption and reliant on production, we have to acknowledge that we have a role to play in changing this system. This is the most important brief of our lives. Join us as we begin to design a climate-positive future" added Jo Barnard, founder of Morrama.
"The acts of emergency above are the first (big) steps. As we all commit to this work, we must also commit to doing it in a way that is genuinely inclusive and equitable" notes the movement. "It doesn't matter where on the journey you are. What matters is that you're here, and you're ready to do the work. Because there is no design on a dead planet. Climate breakdown has begun. And business as usual is not an option. That's why we started Design Declares. Inspired by a global declaration movement sounding the alarm in industries everywhere, we're an industry-recognised initiative representing the fears, hopes, and commitment to action of a growing group of UK designers, design studios, agencies, and institutions" notes D!
"Together, we sit at the very beginning of the creative process. The tools we use and the choices we make can influence society's behaviour, change economies and challenge everything that's come before. Because design, whether it's a product, a piece of packaging, or an exhibition space, has impact. It's up to us whether that impact is harmful or healing."
Free to join, DD's call to action is open to individuals and institutions working in industrial, digital, graphic, communication, and service design. As noted the team offers support to all its signatories through shared best practices, resources and insights, all found in the Design Declares Toolkit. This live and evolving Notion site co-created with DD's community is filled with the latest resources and methods to help creatives on their journey to climate-positive design practice. Every signatory to Design Declares will receive an access link to the Toolkit but, if you are unable to declare emergency quite yet, you can still access the Toolkit - just register here.
"In 2019, amid mounting pressure from Extinction Rebellion, the UK Government became the first to declare a climate emergency. It triggered ripples of industry declaration movements, starting with Culture Declares and Music Declares, and quickly followed by architects, business, engineers, fashion, health, heritage, and tourism" Sommer told DEZEEN in an interview about how it all started.
"Around the same time, over coffee with Sophie Thomas, we at URGE Collective bought the Design Declares web domain name. We started to define what the campaign's elements could look like: a set of principles to sign up to; access to guidance from leading designers; signposts to industry leadership – and we came up against some unanswered questions: whose responsibility is Design Declares? How do we fund it? How do you support designers facing the 'designer's dilemma'? As a service economy, designers are dependent on clients. Hence the designer's dilemma: how do those designers who are emotionally engaged and ready to take action on the climate emergency navigate their businesses if the majority or even just some of their revenue comes from 'climate conflicting' clients such as oil companies, large supermarket chains, or pollutive industries? Do you refuse the work? Do you continue working with these clients to try and effect change from the inside? Do you look for better clients? These are all much easier said than done. We set up a survey, 'How can design businesses respond to the climate emergency?', to gather feedback from fellow designers to inform Design Declares and asked the Design Council to circulate it. They didn't. Although at the time, the Design Council was going through an internal shake-up, with a new chief executive and a realigned strategy to 'Design For Planet' – a huge step in the right direction."
"It's important to understand what declaring a climate emergency means" she said. "It's what you do as a business: who you choose to work for, what projects you take on, what those projects' outcomes are and who they impact. The European Commission statistic that more than 80 per cent of all product-related environmental impacts are determined during the design phase clearly shines the light on the opportunity and responsibility we have as designers" added Sommer, a designer and communicator focused on the intersection between design creativity, business sustainability and authentic communication who is passionate about delivering positive impact through strategic thinking and design and has previously collaborated with Thomas Matthews, The Guardian & Observer, LOCOG, British Council and Philips electronics.
"As designers working within an industry driven by consumption and reliant on production, we have to acknowledge that we have a role to play in changing this system," said Morrama's Barnard. "If we're looking for paradigm shifts, those need to start with everyone," Sommer said. "We can't rely on government. We can't just rely on industry leadership. We need to start doing things in practices on a daily basis. It's a lot about education" she added.
Currently, the campaign is only accepting signatures from UK studios and freelance designers but the organisers are looking at creating international partnerships in countries including France, Portugal and the Netherlands to expand D! around the world reports DEZEEN.
Get involved, declare on the Design Declares website, spread the word via Instagram and LinkedIn and, most importantly, start change-making and declare your emergency here.
Tags/ design, graphic design, uk, environment, creative industry, sustainable, climate, climate crisis, climate action, design declares, alexie sommer, jo barnard, morrama, urge collective