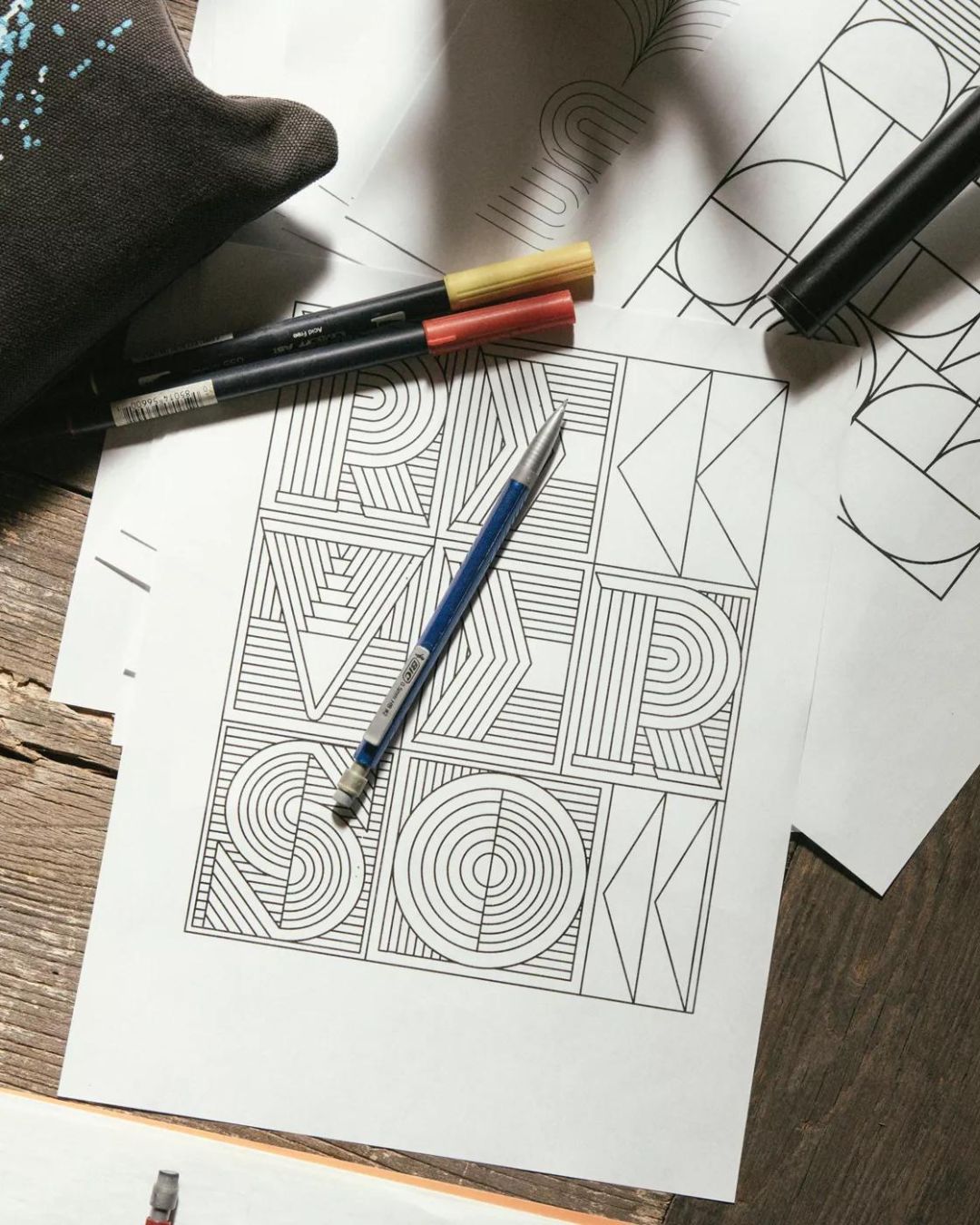 Alex Trochut X Jaeger-LeCoultre: a bespoke Art Deco alphabet honors a heavy typographic legacy 
"Design is an act of empathy and art is an act of freedom" for the digital crafter and multi-awarded lettering artist Alex Trochut whose love for the abstract nature of letters is perfectly unveiled in his latest partnership with Swiss watchmaker Jaeger-LeCoultre aka the 1931 Alphabet.
The deeply rooted in-history project sees Trochut using his typographic heritage as a foundation to redefine traditional ideas of what typography can be. "Letter design is the non-verbal communication of the written medium" notes Trochut who pays a personal tribute to the man who inspired him, his grandfather and typographer Joan Trochut.
"Working for a watch Maison like JLC and with Art Deco typography at the center of the project, hit close to my heart because my grandfather (born in the 1920s) was a designer and printer in the forties" writes the renowned lettering artist about his latest collaboration with JLC, launched on the occasion of the brand's new art deco-inspired space Reverso 1931 Café that opens this month in New York.
Alex Trochut literally continues his family's legacy and artistry. His grandfather Joan Trochut (1920–1980) and great-grandfather Esteban Trochut Bachmann were both prominent figures in the printing and typographic scene of the past in Spain.
Considered a leading figure in Spanish type design, Joan Trochut's Supertipo Veloz typographic system produced in 1942 by Fundición Tipografica Iranzo in Barcelona (Spain), was a collection of modular forms which could easily be combined into typographic, pictorial, or decorative elements and one that allowed small printers to produce cover compositions and work more economically. An iconic modular system, Super-Veloz's digital version was designed in 2004 by Andreu Balius and Alex Trochut for Typerepublic type foundry, taking into account the original material of the late typographer.
"His life and career developed during that time. I felt like I could connect with him through a visual language that he very much helped to shape up in Spain during his youth with Super-Veloz. It felt very rare — because, let's be honest — a style that is 90 years old is not something you get requested to reinterpret that often" Alex Trochut writes in his Instagram post. "The project also connects all generations of tradition within JLC, which has been remixing the same model for over nine decades" he adds.
"Alex Trochut turned to Art Deco for his inspiration on this collaboration, a visual signature that remains deeply imprinted on the landscape of his adopted home in New York" notes JLC about the partnership. "The style also inspired the identity of the original Jaeger-LeCoultre Reverso in the 1930s, helping make it one of the most iconic watches ever made. This natural fit has resulted in a new typeface from Alex Trochut that conveys a sense of tremendous creative energy infused with an extraordinary spirit of modernity. Each letter a true work of art" adds the company.
"To craft an expressive new visual signature for the Maison, the 1931 Alphabet, Alex Trochut fused true creative audacity with horological heritage. In a sharp and contemporary take on Art Deco, each letter has a boldly sculptural quality and a strong sense of visual depth, while also conveying a sense of dynamism and movement. It is equally expressive in both two-dimensional form and as three-dimensional objects. Alex Trochut's work is redefining traditional ideas of what typography can be and his new Jaeger-LeCoultre typeface brings an elegantly sculptural, boldly contemporary quality to every letter. Each letter feels intricate, functional, and richly decorative, with a visual depth that naturally conveys the sense of harmony in every part of a moving machine" reads JLC's statement on the latest installment in its 'Made of Makers' program.
"I wanted these letters to feel physical and expose their intricate parts equally as functional and decorative, giving the sense of a moving machine" notes the artist.
Born in 1981 in Barcelona, Spain, Trochut studied at Elisava Escola Superior de Disseny before embarking on his own creative endeavor. Through his design, illustration and typographic practice Trochut has developed an "intuitive way of working that has resulted in his expressive visual style."
Mixing styles and genres and drawing equally from pop culture, street culture, fashion, and music, his unique design approach is evident in a series of projects for prominent clients (enter Nike, Adidas, The Rolling Stones, Katy Perry, BBC, Coca-Cola, Pepsi, The Guardian, The New York Times, Time Magazine and many others) and has been internationally recognized and honored by the Type Directors Club, D&AD, and more.
Based in Brooklyn, New York where he has worked independently since 2012, Trochut's work is defined by an intense, fiercely original creativity that pushes the limits of language to produce a truly expressive, emotive lettering style that is evident in his latest partnership with Jaeger-LeCoultre.
Visually pleasing and dynamic, Trochut's bespoke alphabet '1931 Alphabet' for JLC unifies many legacies via its shapes. Eventually, Trochut's type design pays tribute to typography and watchmaking, two disciplines that stand the test of time with harmonic beauty and utmost precision.
Explore more here.
Tags/ typography, typeface, custom, alphabet, art deco, typedesign, bespoke, alex trochut, jaeger-lecoultre, watchmaking