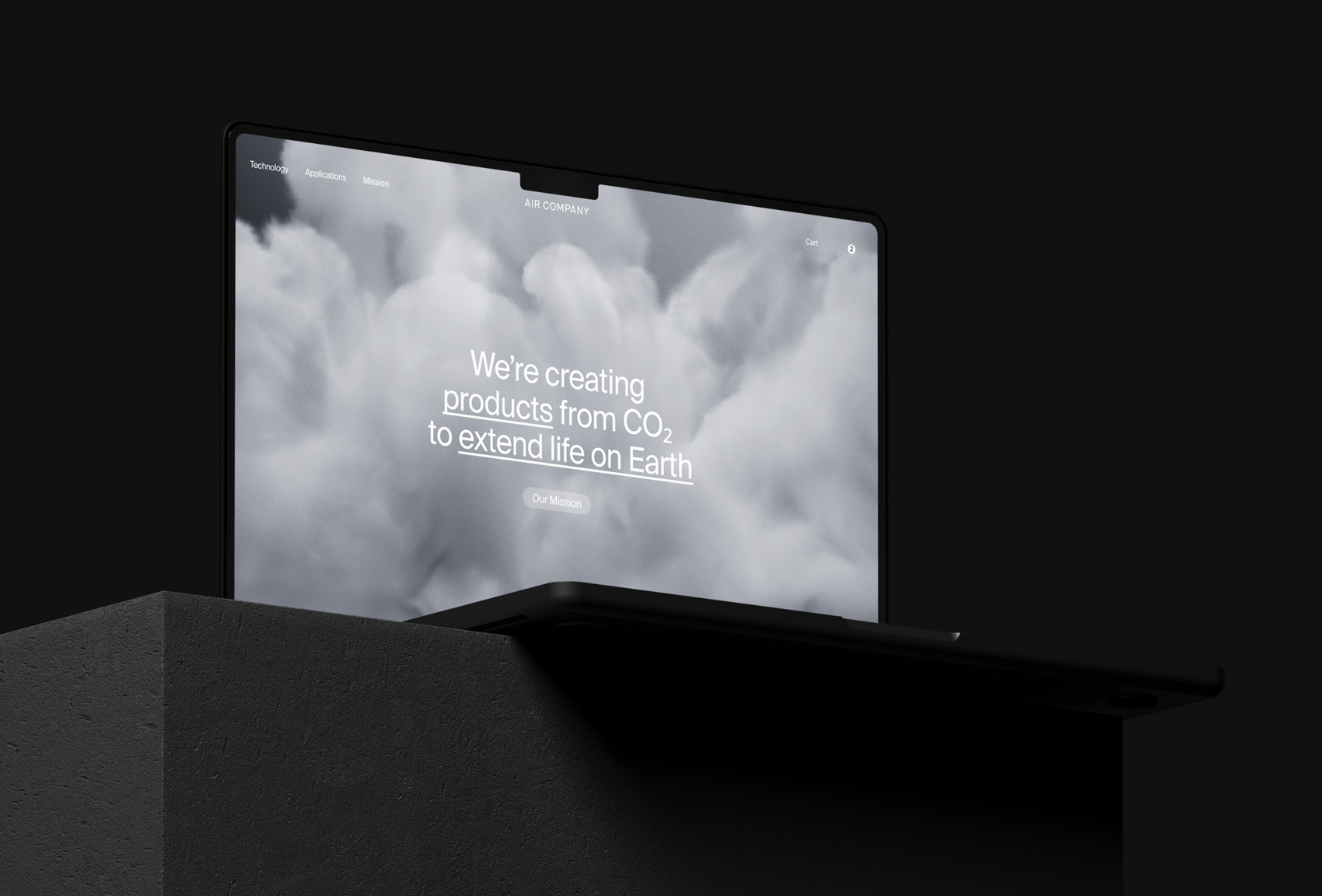 Mouthwash & Moniker X Air Company: a brand identity that breathes fresh, clean air  
A year-long project with impressive clarity, Mouthwash & Moniker worked closely with Air Company to communicate the carbon technology company's core idea, services, and products.
Via immersive storytelling and a visual language that excels in simplicity and precision, the outcome is a sight for sore eyes and one that perfectly sums up Air Company's innovative thinking and agenda.
"The Air Company symbol is our beacon of sustainable innovation. It's a modern take on the classical industrial design we experienced while growing up and watching our society advance and is inspired by Earth's most vital elements of Air, Sun, and Water" explains the San Francisco-based design studio Moniker. "Supporting the new logo and wordmarks is a refined color palette that features a cautionary accent color, typically found in laboratory and developmental environments."
The brand is typeset in Suisse aka the utilitarian font that forms the centerpiece of the Swiss Typefaces library whilst the wordmark is a bespoke design.
"We technically drew it from scratch to get a weight that worked better for some specific needs and made some adjustments for spacing and balance" Moniker says Typeroom.
"The elements of this branding venture have come together to live across digital spaces, printed matter, staff uniforms, luxury perfume bottles, and even jet engines — it's been a pleasure seeing them so quickly implemented and revealed to a global audience who is eager to see what the future of sustainable innovation looks like" notes the design practice.
"The main job of the Air Company website is to communicate and visualize. It's built on a modular content system that can shuffle different product releases and technological innovations" explains the Los Angeles-based creative company Mouthwash. "A certain season might highlight and prioritize consumer goods like their luxury fragrance and carbon-negative vodka, while another season might target industry leaders through sustainable aviation fuel and sustainability reports."
"Despite having products and technologies that span multiple industries, the visual execution of these applications remains centered around cross-platform campaigns, visualized and introduced through an immersive storytelling approach."
As the carbon technology company Air Company creates "a pathway towards global decarbonization" with products made from CO2 to extend life on Earth and innovative technology explore what the future holds if we aim to save a world ravaged by climate crisis, overconsumption and emissions before it's too little, too late here.
Tags/ technology, visual identity, logo, branding, wordmark, bespoke, sustainability, climate, moniker, mouthwash, air company