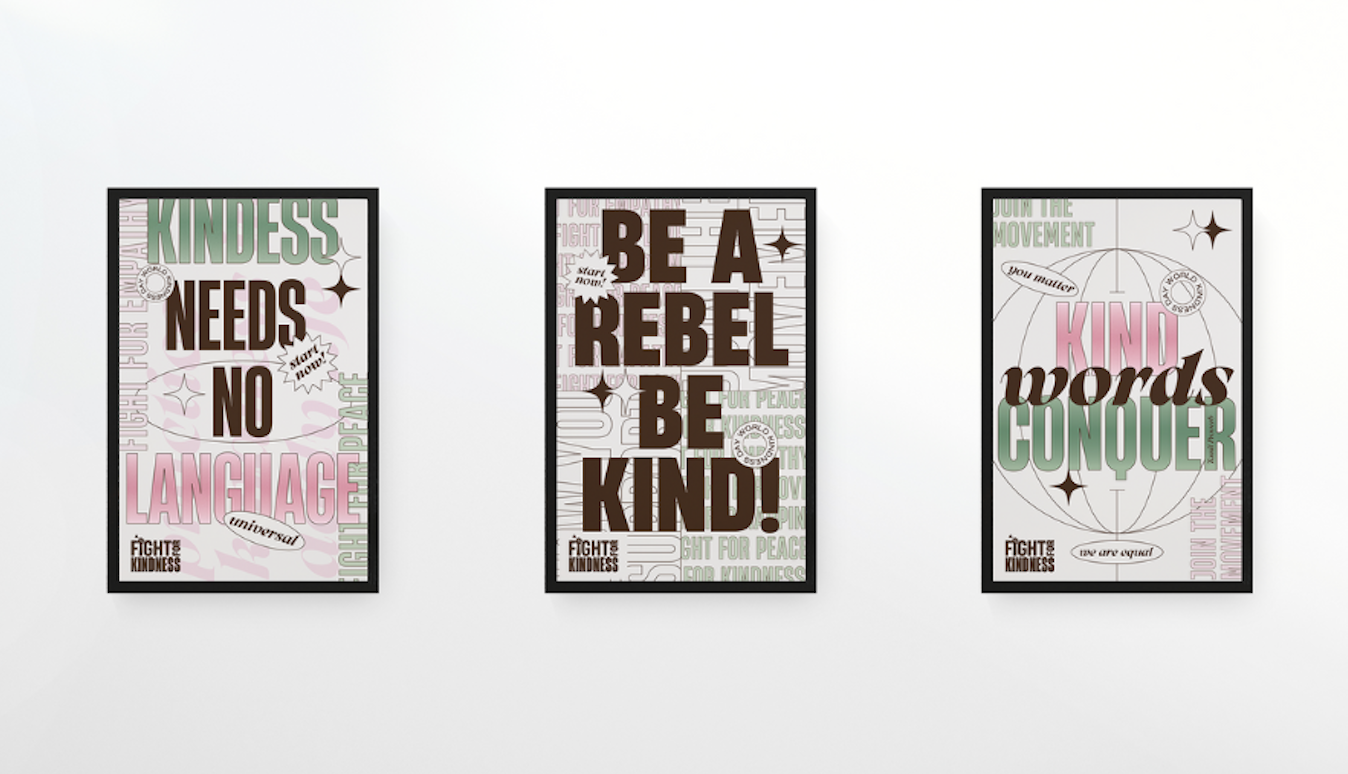 World Kindness Day: Typecampus Fight For Kindness goes global
Can typography generate a kinder world? asks Debora Manetti, the creative who spearheads Fight For Kindness aka Typecampus' typographic act of empathy via design.
"With more than 90 design schools over the world, TypeCampus is a program to talk about visual and typography culture. It is born to inspire young and affirmed designers, visual educators, and type lovers. Being in touch with so many people has proved to be the perfect opportunity to enhance typography in all its potential: to convey messages of positivity and change" writes the visual expert and cofounder of Zetafonts, TypeCampus and Studio Kmzero.
"In an increasingly self-oriented society, good practices of kindness have collapsed, risking becoming a legacy of times gone by. That's why Fight for Kindness is born: as a unique opportunity to bring awareness to the power of kind actions, celebrating the World Day of Kindness each year, on November 13th" she notes.
"I strongly believe that kindness is a form of intelligence: it has the power to revolutionize relationships between people, and often small changes can make a big difference. That's why, exactly one year ago, together with my team @typecampus & @zetafonts , a call for submissions was lanched, to collect the community voices around kindness.I'm so glad to have involved more than 150 authors, from all around the world. And is now time to let the world see these. Five exhibitions are simultaneusly available, to spread the power of kindness! Kindly join the fight: Fight for Kindness, peace, empathy, mutual trust and moreover…" reads one of her recent Instagram posts.
So, on occasion of the inaugural typographic celebration of National Kindness Day from November 5 to 13, TypeCampus launched a multi-location exhibition to celebrate World Kindness Day with more than 150 typographic messages from the design community.
The five locations and dates are
IF! Italians Festival at Base Milano, 11-12 November 2022, Milan, Italy
Organized by ADCI, UNA and the Italians Festival team
​Barreira A+D Hall - Barreira Arte y Diseño, 5-13 November 2022, Valencia, Spain
Organized by Patrizia Barbieri & Zara Jorques
Campus Condorcet - Centre des Colloques, 5-13 November 2022, Paris, France
Organized by Valentina La Marca and Jessica Romano
Museum of Yanaky Mansiev / University of Veliko Turnovo St Cyril and St. Methodius ​Veliko, 4-13 November 2022, Tarnovo, Bulgaria
Organized by Radimira Yordanova
​Fitchburg State University - Main Lobby of Conlon Hall, November-December 2022, Fitchburg, Massachusetts, US
Organized by Donald Tarallo
As noted all event are sponsored by Zetafonts Type Foundry that initiated the idea with forceful kindness.
Will join this fights any time, any place, may the good type always win ;)
Typeroom is more than proud to participate in this ongoing fight.
Tags/ exhibition, poster, typecampus, world kindness day, debora manetti, fight for kindness