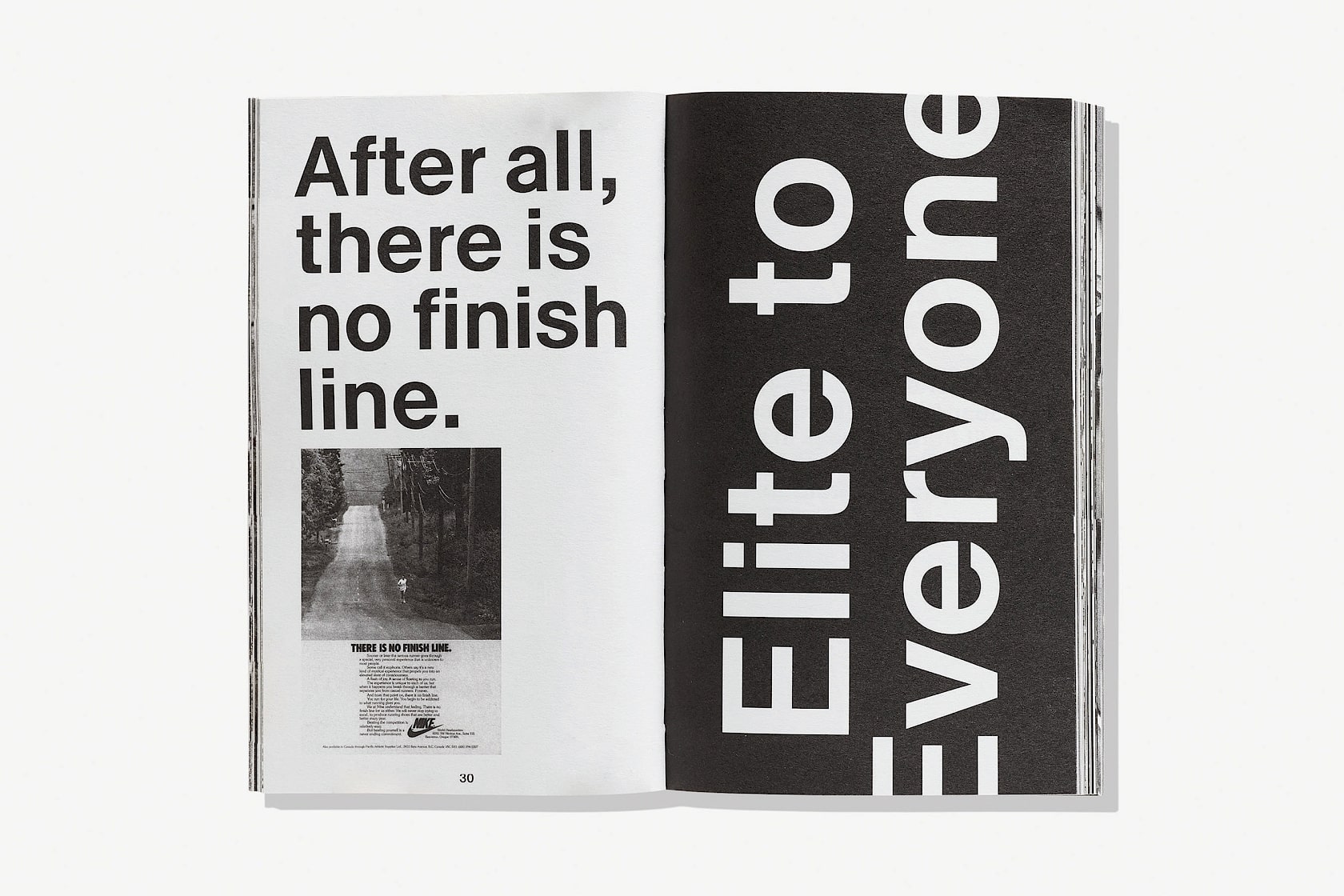 Zak Group X Nike: No Finish Line documents the past & envisions the future of sports & design  
Zak Group aka the London-based design practice which focuses on identity and creative direction for people, institutions and brands "guiding the trajectory of contemporary culture" continuous its collaboration with Nike with a brand-new publication on the numerous possibilities that lie ahead at the intersection of design & sport enter "No Finish Line."
The inspiring book celebrates Nike's 50 years of game-changing design and innovation in the service of athletes and sport whilst sets sets a vision for the next 50 years and beyond. The book that includes a foreword by Nike's Chief Design Officer, John Hoke, speculative fiction by journalist Geoff Manaugh, and essays by author Sam Grawe, the author of "Nike: Better Is Temporary," around sport research, technology and manufacturing at Nike, and describe the major design shifts — in service of athletes and sport — projected for the coming five decades.
Designed by Zak Group and published by Actual Source, the publication's pages fluidly "combine text and found-imagery to create graphics-rich layouts and visual-verbal collages" notes the studio about the pocket-sized paperback.
Featuring illustrations by Bráulio Amado and synthesised imagery by PWR, the project introduces a new generation of readers to this "rich tradition of experimental paperbacks of the 1960s and 70s."
"It's been said that the best way to predict the future is to create it. At Nike, we wholeheartedly agree. For over 50 years, we've endeavored to create a better future for athletes. This compels us forward, always. When we say, 'There is no finish line,' it's not a lazy reference to an unending grind or destination-less journey, but rather an expression of our belief in the limitless potential of sport — and design."
With this opening paragraph from a foreword by Hoke, the tone is set for a project that aims to "invite, inspire and provoke the next generation of athletes to create a better world through design and sport."
Through exploratory, multilevel conversations with more than a dozen of Nike's most inspiring designers, scientists, engineers, researchers and leaders, yielding unprecedented insights into the company's creative process, this is a printed case study of Nike's cutting-edge culture of innovation the book that "celebrates design not as an outcome, but as an endless journey; and suggests we can shape a better future by simply daring to create it."
Available through booksellers, including Actual Source Books and more, grab your own copy here.
Tags/ design, typography, graphic design, book, nike, zak group, sports, actual source