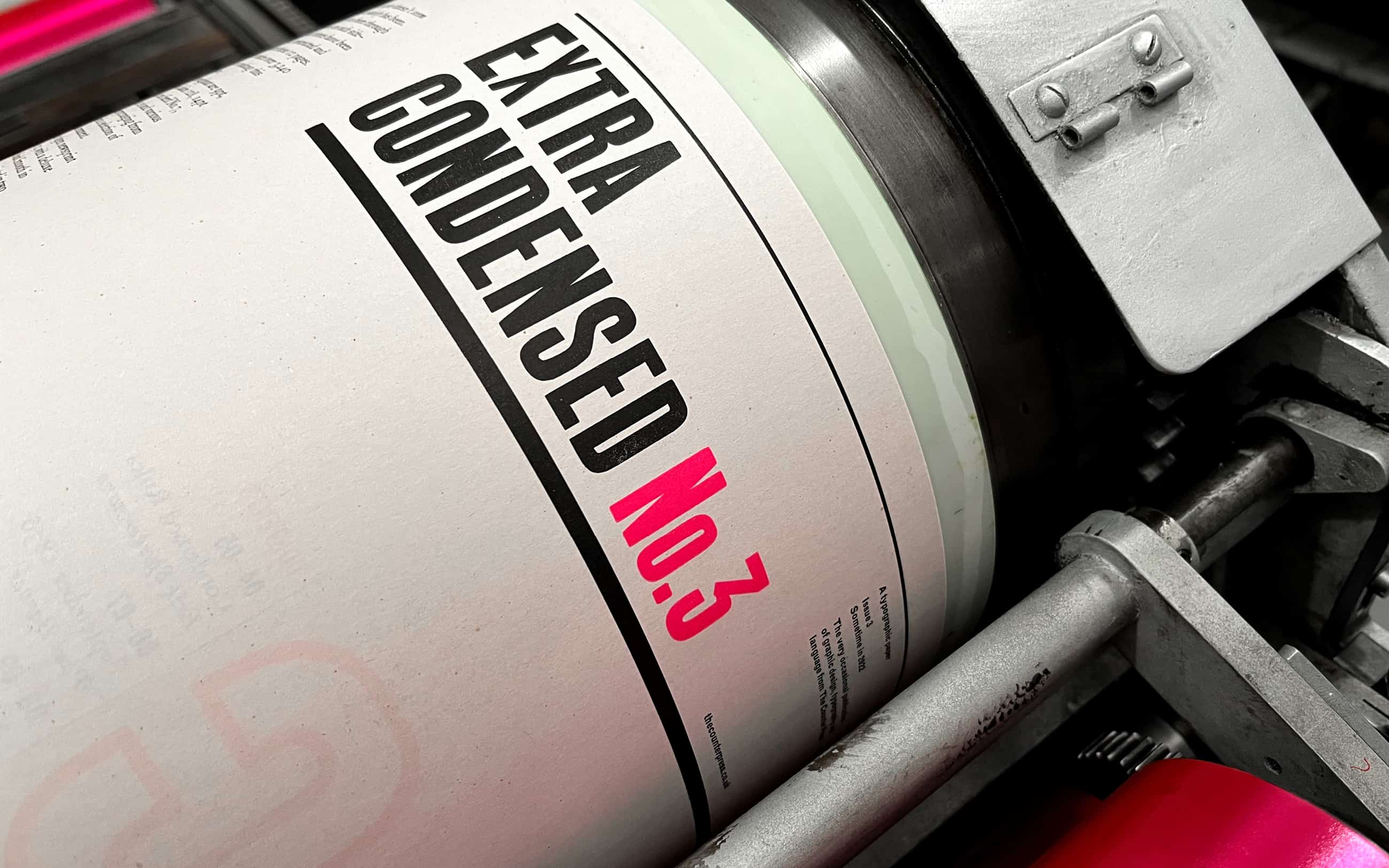 Extra Condensed 3: The Counter Press' latest letterpress printed typography newspaper is precious
"Finished and ready to go!" Extra Condensed 3 by The Counter Press is the world's only design and typography limited edition paper to be designed, set, and printed all by hand and that is in its own right a reason to celebrate this unique project that is deeply rooted in the beauty of type!
Several years and many, many months in the making and limited to an edition of just 150, Extra Condensed 3 features notable contributors from leading designers Erik Spiekermann, Astrid Stavro, Paul Barnes, and Simon Esterson coupled with striking typographic layouts.
Described as a 'very occasional' publication dedicated to typography and graphic design, Extra Condensed is the only magazine created, typeset and letterpress printed entirely by hand.
Printed in black and fluoro pink — a combination that "packs a lot of punch into its relatively short 12 pages" — EC3 features exclusive articles by leading designers with "condensed type" being its core theme.
"Issue No.3 has been a long time in the making, arriving some 6 years after the last, having been delayed several times by work, a relocation across country and the inevitable hold-ups of Covid. But it returns all the better for its elongated gestation period" explains the team.
"This time around, the issue takes condensed type as its theme, with each writer bringing their own view of what that means to them and their work. It's an unashamed celebration of these humble grotesque and sans serif letterforms, brought to life through a combination of traditional wood and metal type" adds the Counter Press.
"It is a truly unique publication: produced entirely without digital intervention and using almost no electricity – the presses being largely operated by just hand and foot. There's a warmth and idiosyncratic charm in the pages, and a delightful lack of digital perfection. But it also has a contemporary refinement that belies its antiquated and imperfect production methods."
"The result is perhaps a triumph of ambition over common sense. With each character, space and line being painstakingly composed and positioned by hand, and each sheet being manually printed at least six times, it is too slow and labour-intensive to be commercially viable. It's almost certainly the reason why nobody else does it" notes the team.
"The aim is simply to make something that is as relevant and accessible as it is beautiful and unique. It's something we want to exist in the world, so we have to do it ourselves", explains The Counter Press co-founder Elizabeth Ellis.
A passion project in the truest sense — "made for the sake of making something of value, regardless of the actual cost" — Extra Condensed is unique.
"As ephemeral and everyday as the choice of newsprint feels, it also manages to feel precious and special, a combination brought about by its utilitarian materials but meticulously handcrafted design. Extra Condensed is, after all, just a newspaper, but it's certainly not just any newspaper" adds the team.
Created by a design practice that uses only traditional wood and metal type — composed, arranged and letterpress printed by hand — the newspaper is a project by The Counter Press that continues to "explore a centuries-old craft through the design and production of fine press books, broadsides, and other limited edition printed matter."
Inspired by a love of words and strong ideas, The Counter Press aims "to preserve the skills and materials of traditional handset typography and fine printing, while developing and promoting its relevance in a contemporary context."
An honest and beautiful pursuit "not driven by nostalgia but by a belief that these historic materials can produce work that is as relevant as it is beautiful."
Support the project and buy your own copy of Extra Condensed 3, available here.
Tags/ typography, type, printing, newspaper, letterpress, erik spiekermann, print, astrid stavro, simon esterson