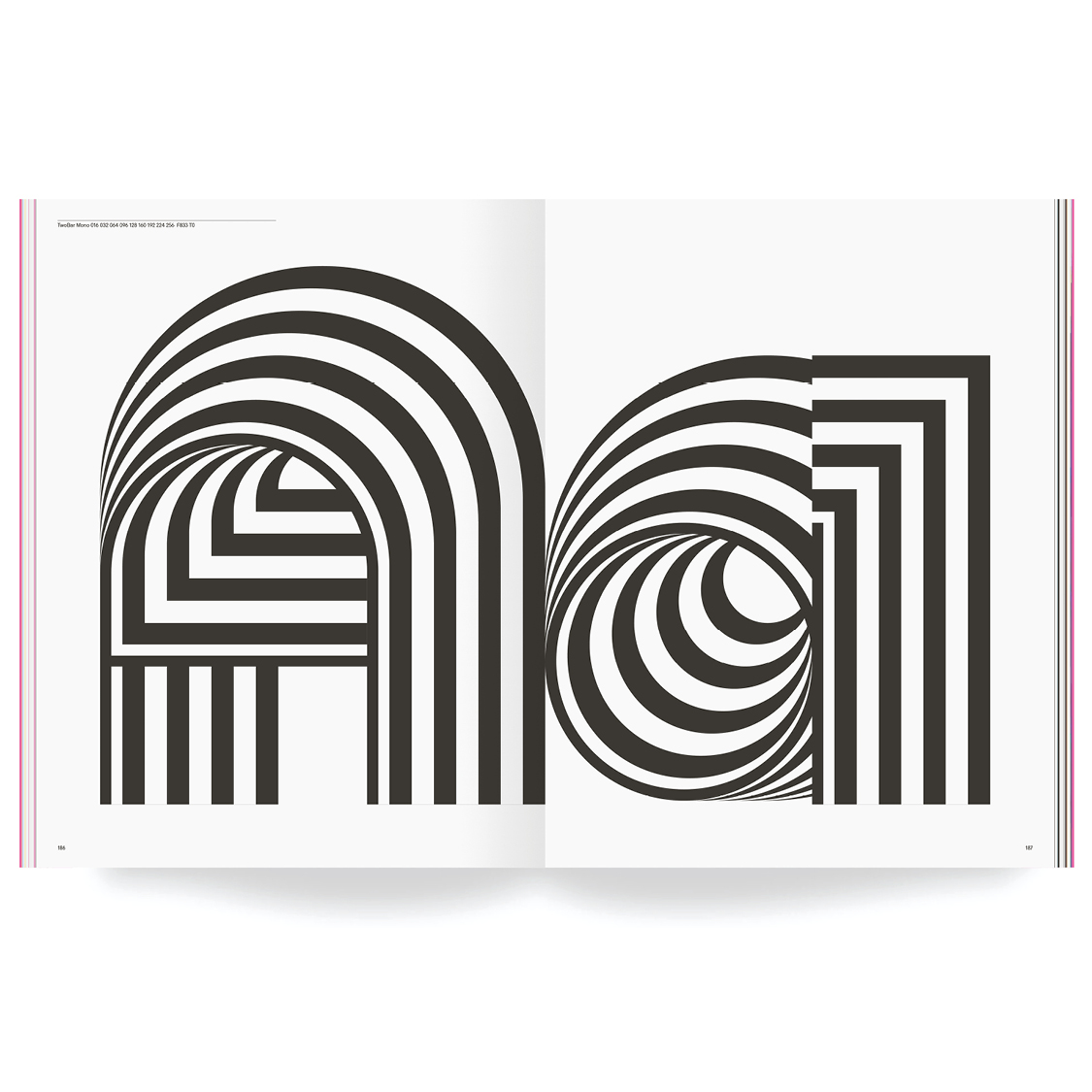 System Process Form! This 400-page typographic volume details MuirMcNeil's geometric alphabets in all their infinite glory
Now available exclusively via Thames & Hudson's Volume Editions, this is a call to support MuirMcNeil's new book, System Process Form published by Unit Editions.
Authored by the cofounders of the type design practice aka Paul McNeil and Hamish Muir, this is the first publication of MuirMcNeil who enjoy pushing type to its limits always working at the boundaries of language and alphabetic form.
"Notions of legibility are overemphasized. You can push type almost to destruction and it can still be read – it depends on the context" notes MuirMcNeil and System Process Form is most probably a must-own highly detailed testament in that.
A celebration of the studio's Two type system — an extensive collection of geometric alphabets in which every stroke, shape, letterform and word is designed to correspond and collaborate in close harmony — this publication is "a powerful demonstration of the beauty of analytical approaches to form-giving for visual communication, one that embraces both micro and macro views, and one whose end results can be as spectacular as they are unexpected."
Originally created in 2015 for use in brand communications projects, MuirMcNeil's Two type system is a "continuously expanding collection of monospaced typeface families constructed on a shared geometric framework. Eight compatible families from the system — 198 individual styles — have been used in the production of System Process Form."
"Driven by numbers, rules, conditions and permutations as well as design decisions and collisions, the Two type system is a continuously evolving body of work both analog and digital, algorithmic and fortuitous, predefined and wildly unpredictable. The system comprises eight family groups, designed not as independent alphabets but as features of an expansive design space in which individual glyphs interact as variable components" explains the studio.
"A standard grid determines positioning for both shapes and spaces with every element aligning precisely so that the superimposition of any pair of the system's 198 modular fonts will result in a single unique instance from 39,204 possible combinations. Selected examples of these combined forms are displayed in System Process Form, along with many even more exuberant outputs composed from the millions of options afforded by the combinations of three layers."
Far from a mere catalog of typefaces, this hefty 400-page publication reveals how "design can be liberated from the narrow confines of individual ideas, intentions or expressions, leaving the designer free to discover infinite new organisms rather than being obliged to invent them."
"Section 1 serves as the book's core database, cataloguing the eight type family groups – 23 typefaces and 198 individual fonts – that constitute the Two type system" they explain. "Revealing the logic and the potent visual opportunities of the system, Section 2 comprises a selection of two-layer combinations, where pairs of modular glyphs have been overprinted, either by choice or by chance, to generate a series of hybrid forms. Section 3 constitutes the main body of the book, with monochrome and multicoloured glyph combinations interacting in two, three or more calibrated layers.These integrated forms are structured within themed groups that are organized both algorithmically and by means of experimentation, play, observation, and judgment."
The published examples, chosen for their distinctively abstract and striking appearance, represent "only a tiny fraction of the total number of possible compositions generated in the making of System Process Form. To allow readers to develop their own designs, formulae are given for all glyph combinations shown throughout the book, specifying the fonts, sizes, tracking, line spacing, and offsets that have been employed."
To complete this offering, supporters of all reward levels will receive a pair of new, unpublished Two type system families, TwoStencil and TwoNet. TwoNet was developed specifically for use on the 288 unique cover designs for the System Process Form Collector's Edition. Based on MuirMcNeil's Two system core glyphs, it has been produced in five variants: Fine, Medium, Coarse, Fine Warp and Fine Weft. Also based on MuirMcNeil's Two system core glyphs, TwoStencil has been produced in hard and soft variants across four versions, each with nine weights. Bifurcated versions allow the generation of hard/hard, hard/soft, soft/soft hybrids where horizontal and vertical stroke weights can be varied independently.
"Aesthetics are usually considered a set of principles concerned with the nature of beauty, but for both of us, systems are aesthetically beautiful in themselves," say the two type aficionados who opt to not rebel against restrictions, but embrace them to "provide typographic work of startling beauty."
Printed in three sumptuous neon inks and metallic black hundreds of striking visual examples are displayed in the book throughout.
System Process Form by MuirMcNeil estimated delivery time is Autumn 2023 with the ongoing funding deadline on Friday, December 23, 2022. As noted all pledges will be refunded in full if the funding goal is not met within the allotted time.
Support their otherworldly type realm here.
Tags/ design, typography, type design, typefaces, letters, book, fonts, publication, hamish muir, paul mcneil, muirmcneil, crowdfund, volume editions