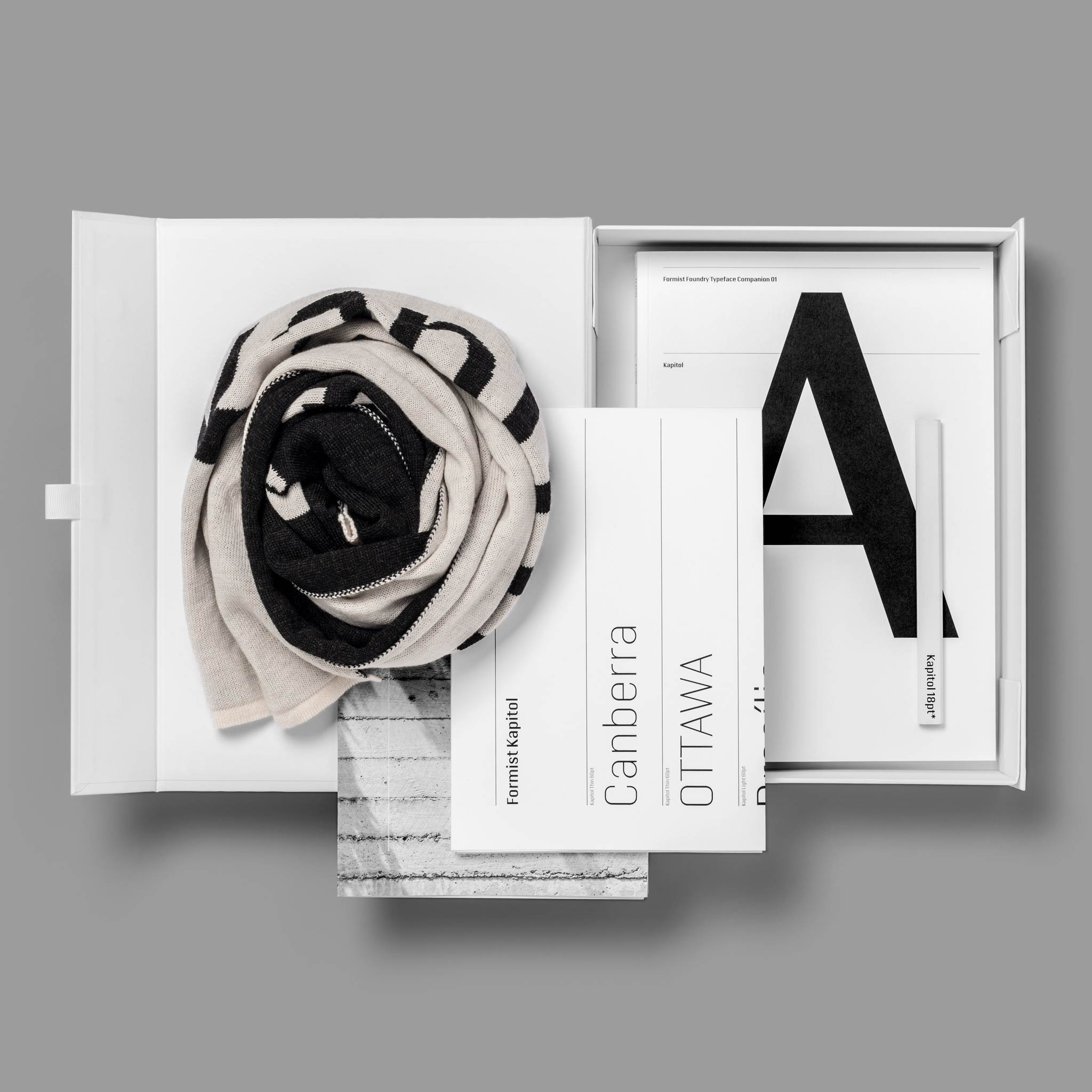 Collector's item! Formist Foundry celebrates its latest sans serif Kapitol with a limited edition box set 
Designed by Mark Gowing & Dave Foster and released by Formist Foundry, Kapitol is a sans serif type family "inspired by the unique materiality found in 1980s screen aesthetics."
For Formist director and Kapitol designer Gowing, the Kapitol type family is a product infused with the spirit of that digital design revolution that "gave birth to a vibrant, frantic era of groundbreaking creativity in the late 1980s. I am a product of those tumultuous times and my attitude towards communications is made up of both traditional and progressive values as a result" he adds.
"There was change in the air and luminaries such as Neville Brody, Gert Dumbar, Emigre, April Greiman and Wolfgang Weingart emerged as champions of progress. Frank and awkward characteristics became ever-present in new typefaces and a fresh approach to communication design questioned the status quo" Gowing continues.
Back to the Eighties: a visual throwback to the bold type of the seminal decade
"Kapitol expands on the memory of the single-weight Chicago, by capturing its tone and energy, while also completely re-inventing it. To create a sensitive and useful type family, with a formality based on familiar robustness and sense of geometry. Kapitol has been created with a concrete nature at its heart. During the design process I also looked at concrete architecture (both conceptual and literal) for the inspiration required to use geometry as the necessary central focus of Kapitol's visual language" he explains.
Opting for "robust practicality, clean utility, and concrete geometry" Kapitol "expands on the memory of the single weight Chicago, re-imagining the style with more traditionally legible forms, while retaining much of the original unique contrast and feel" notes Formist Foundry.
A family that "utilizes robust geometry to create a practical and diverse set of types that can be used equally well for text and display purposes", the first drawings for Kapitol "began in pure gridded geometry and were then evolved to also utilize more balanced and organic forms. Where necessary Kapitol discards the grid and utilizes letterforms that have strong connections to the history of grotesque typefaces, all the while maintaining a unique contrast and purely vertical stresses" reads the type foundry's press release.
To celebrate the release of Kapitol, FF created a limited edition box-set enter the Kapitol Typeface Companion, available exclusively via the Formist website.
Priced at $598.16 AUD (plus shipping costs), this collector's item for type lovers is limited to an edition of 50.
The Kapitol Typeface Companion is a special specimen box set, complete with a Kapitol family pack font license is designed by Gowing, to complement the type release.
A "visually expressive collector's item created to playfully link the conceptual elements that underpin the design and creation of the Kapitol type family."
The Kapitol Typeface Companion consists of a laminated magnetic-close Kapitol Typeface Companion box, printed with raised gloss black, signed and numbered by Mark Gowing, a download link to a Kapitol family font pack 1–3 user desktop license from Formist Foundry, 14 styles plus variable fonts, a Kapitol Typeface Companion specimen book — a limited edition 160 page book, featuring an essay about the creation of Kapitol; detailed specimen typesettings; expressive typographic experiments and tributes; large Kapitol glyphs; and a collection of black and white photographs by Gowing, featuring Brutalist concrete architecture in Australia's capital city, Canberra — a custom knitted black and off-white Kapitol scarf featuring the typeface name and the size it appears on the scarf: 430pt knitted in Melbourne from premium Australian extra fine Merino wool, a Kapitol carpenter's pencil, printed with the typeface name and the size it appears on the pencil (18pt.) and two posters, 50 × 70 cm each. One is a Kapitol specimen featuring city names of the world, and the other is a photographic poster featuring the Kapitol letter k.
Kapitol, the type family, and the limited edition box set are available exclusively via Formist.
Tags/ typography, type, typeface, type design, emigre, fonts, limited edition, type foundry, wolfgang weingart, neville brody, sans serif, eighties, variable, type specimen, apparel, formist foundry, mark gowing