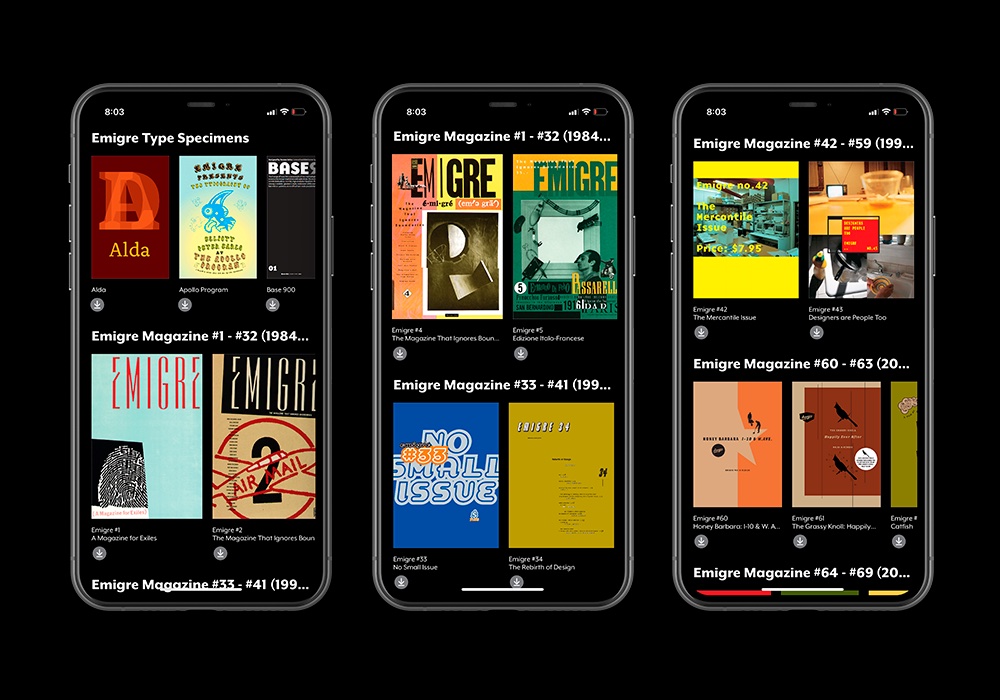 Emigre: a free app to rediscover the radical typography of the magazine that launched a legibility war
Made for graphic designers and type aficionados alike, Emigre Fonts app is a beauty to download and explore.
Navigating through one of the most fascinating projects of graphic design and typography in recent decades page after page, Emigre's innovative and ground breaking visual language now is easier to access than ever via the brand's dedicated app.
Emigre was first published in 1984, a year of great importance for Apple. Emigre premiered in the world the same year Apple's first personal computer, the Macintosh 128K, was released.
Now, almost four decades later, the pioneering magazine is brought back to life via its digitised version with an app that welcomes the user into the over the top blending of typography and graphic design destined for the digerati -the very magazine that launched the big "Legibility Wars" and Massimo Vignelli called it a "garbage."
The award-winning (mostly) quarterly magazine published from 1984 until 2005 in Berkeley, California, dedicated to visual communication, graphic design, typography, and design criticism. Produced by Rudy VanderLans (editor and art director) and Zuzana Licko (type designer and typesetter), Emigre was known for creating some of the very first digital layouts and typeface designs.
Founded by fellow Dutchmen Marc Susan, Menno Meyjes, and VanderLans who met in San Francisco, Emigre incorporated in its layouts the bitmap typefaces designed by Zuzana Licko before anyone else did. By 1986, Emigre began selling commercial licenses of its digital fonts under the name Emigre Fonts.
The magazine was always self-funded, initially through commercial design work performed by VanderLans and Licko under the name Emigre Graphics which became Emigre Fonts. Additional income came from sporadic advertisement sales and subscriptions. Later issues were funded primarily by licensing of digital typefaces.
When the magazine began in 1984, it featured work by and topics important to émigré artists. The first eight issues were concerned with boundaries, international culture, travel accounts, and alienation (as the issues' titles suggest). These eight issues also incorporated a dynamic aesthetic that caught the attention of other designers. As the publication grew in popularity (and sometimes notoriety) it gained collaborators.
VanderLans invited guests such as Gail Swanlund, Anne Burdick, Andrew Blauvelt, and Experimental Jetset to edit dedicated issues, and readers began to recognize Jeffery Keedy, Kenneth FitzGerald, Lorraine Wild, and Diane Gromala as recurring contributors.
A notable content shift started with issue 9, which featured the art of Vaughan Oliver at 4AD. About this time, Emigre's articles began to explore contemporary design practice more intentionally, catalyzing the magazine as a kind of analog discussion forum. Later issues would be devoted to Cranbrook, the Macintosh, type design, and occasionally individual graphic designers. Increasingly, Emigre's content centered around design writing and critical essays.
Design discourse became primary to Emigre's publications by 1994, and the magazine transitioned in 1995 from its oversized layout to a text-friendlier format that debuted with issue 33. The magazine remained this size until issue 60, released in 2001. Issues 60–63 were accompanied by additional media: three compact discs (featuring the music of Honey Barbara, The Grassy Knoll and Scenic) and one DVD (Catfish, an experimental documentary film on the work of designer and performance artist Elliott Earls). In its fourth and final incarnation, the last six issues of Emigre (64–69) were co-published by Princeton Architectural Press as small softcover books. The last issue, The End, was published in 2005.
Emigre was one of the first publications to be designed on Macintosh computers, and their work heavily influenced other graphic designers in the early digital era. Its variety of layouts, use of guest designers, and opinionated articles broke away from traditional design practices, making Emigre leaders in Postmodern design and landing them squarely in the middle of controversy. They were equally lauded and criticized for this work.
Licko's response that "You read best what you read most," to an interview question about the legibility of her experimental bitmap fonts published in issue 15 (1990) incited what would later be known as the "Legibility Wars."
Her statement indicated that fonts such as Helvetica and Times New Roman are not intrinsically legible but become so through repeated use, and it was not entirely well received.
Eventually, back in 1991, the prominent New York designer Massimo Vignelli criticized Emigre's work, calling it "garbage" and "an aberration of culture" in an interview published by Print magazine. Since then, Emigre's reputation as a radical in design Post Modernist project was cemented.
Six years later Licko and VanderLans were named AGIA medalists and the San Francisco Museum of Modern Art staged a solo exhibition of Emigre's work. In 2007, the Museum of Modern Art (New York) exhibited all 69 issues of Emigre as part of the exhibition "Digitally Mastered."
Via Emigre Fonts App (iOs only) you can "view and read all pages of the entire collection of Emigre Fonts type specimens, and all issues of Emigre magazine since 1984, see how Emigre ignited a digital revolution in type design, zoom in on every typographic detail, peruse every Emigre magazine essay and interview in their original layouts, read up on the dialogues that circulated around graphic design in the 1990s and view the layouts that made Emigre both revered and reviled."
Enter the debate here.
Tags/ magazine, emigre, massimo vignelli, apple, app, macintosh, type foundry, experimental jetset, legibility, zuzana licko, rudy vanderlans, digital fonts, bitmap, vaughan oliver