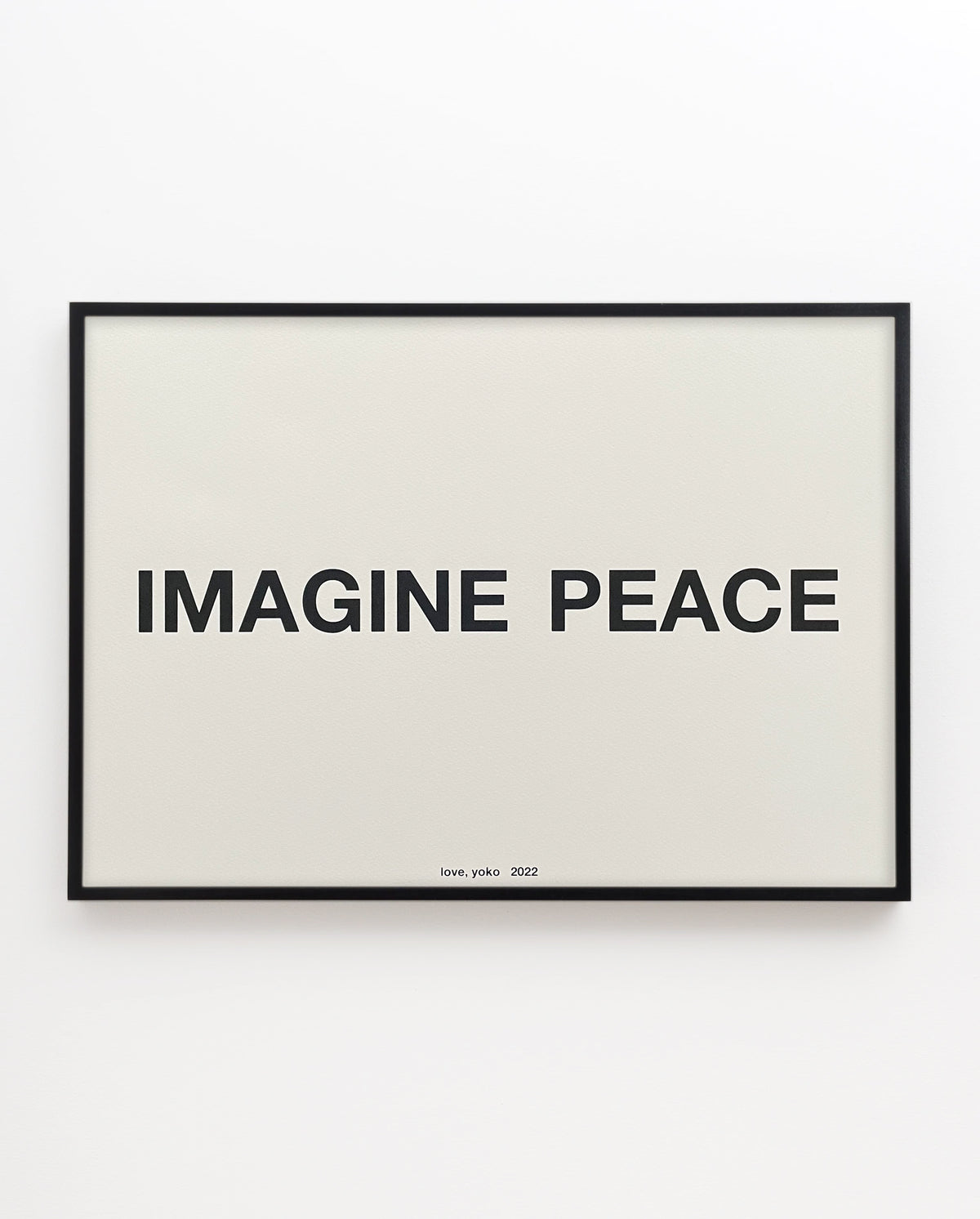 Type to the rescue: Yoko Ono, Matt Willey, type.today against the war
Type can -and will- save lives.
Fifty-three years after Bed-In, Yoko Ono stages a new global intervention by pausing commercial advertisements on the world's most prominent digital screens to share a message of peace with the global community. An invitation for the world to unite, Ono will broadcast her powerful, universal mantra IMAGINE PEACE every evening at 20:22.
GIVE PEACE A CHANCE #GivePeaceAChance pic.twitter.com/ncbQL4eD0q

— Yoko Ono (@yokoono) February 22, 2022
The public art installation presented by CIRCA in collaboration with Serpentine, will feature local translations of Yoko Ono's message to the world. Launching 3 March on London's Piccadilly Lights and screening across the CIRCA network in Los Angeles, Milan, Melbourne, New York, and Seoul every evening throughout March 2022.
IMAGINE PEACE is a concept born from Yoko Ono and John Lennon's tireless work as peace activists. In March 1969, the couple staged their first Bed-In – a weeklong peace protest from their honeymoon suite at the Amsterdam Hilton Hotel, boldly communicating their commitment to social justice. This new declaration for peace also marks Ono's return to London's Piccadilly Circus, twenty years since she installed a poster carrying the message "Imagine all the people living life in peace" taken from the Lennon-Ono anthem – "Imagine" in March 2002.
Yoko Ono's invitation to IMAGINE PEACE has been expressed since the early 2000s through billboards, advertisements, posters and tweets. "Imagining is something that we can all do, even when we have different opinions about how to get there" notes the artist who conceived the IMAGINE PEACE TOWER on Viðey Island off the coast of Reykjavík, Iceland -a tower of beaming light, which represents wisdom and love, and acts as a beacon for all those wishing to contribute to world peace- back in 2007, in memory of John Lennon.
To coincide with this public art installation Ono has created a new time-limited edition silkscreen print, available to purchase on CIRCA for one month only.
As noted, 100% of print proceeds will be donated to the United Nations Central Emergency Response Fund (CERF).
CERF is a fund for all and by all managed by the UN Office for the Coordination of Humanitarian Affairs (UNOCHA). It is one of the fastest ways to get urgent aid to the world's most vulnerable people whenever and wherever crises hit. From the global COVID-19 crisis, to ongoing crises in places like Ukraine and Yemen, to the earthquake in Haiti and cyclones in Mozambique, CERF was there - impartially, efficiently and immediately.
"CERF pools contributions from across the globe into a single fund and allocates money quickly and at the most critical phases of an emergency. Your contribution will help to save lives and reach the millions of people trapped in disasters and conflict by providing them with urgently needed food, water, health care and much more" explains this urgent call for peace.
Meanwhile Oko's iconic 'War Is Over! If You Want It' design is available on a white t-shirt with all proceeds to benefit efforts in Ukraine via Doctors Without Borders -available here.
Matt Willey continues his type-for-good agenda, urging us to show support for those in need in Ukraine via his LT2 Stencil, an all-caps typeface with multiple alternate characters.

"First drawn for a special issue of The New York Times Magazine in 2019 the typeface has been extensively reworked for release in 2022" notes the British creative.
Each license includes 4 weights (S, M, L and XL) for use at different sizes with both desktop (.otf) and web (.woff/.woff2) licenses available.
From the New York Times to Pentagram sky is the limit for multi-awarded Matt Willey
Willey's LT2 Stencil typeface is available throughout March with 100% of profits going to the UN High Commissioner for Refugees Ukraine Emergency.
Also Type.Today, the project founded and run by Ilya Ruderman and Yuri Ostromentsky, is sharing many of its typefaces with designers speaking out against the war for free.
You can contact TT here to obtain a promo code for 100% discount. As noted "the fonts can be used in anti-war and humanitarian design without limitation."
Sometimes the Russian law doesn't allow us to call things by simple names — if you interpret them freely, there's a risk of being punished, while we have to protect our collaborators. Yet we are willing to allow using our typefaces in helpful projects. Contact us: info@type.today pic.twitter.com/n78hZ6wUw5

— type.today (@TypeTodayNews) March 5, 2022
Tags/ typeface, stencil, matt willey, ukraine, war