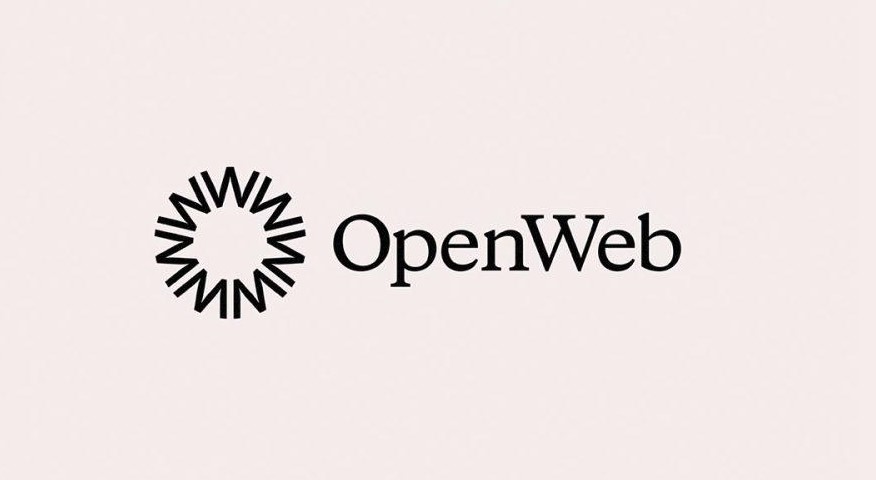 Think big! COLLINS reimagines a brand new system for OpenWeb to help publishers thrive
Founded in 2012, OpenWeb is a company that has evolved from a B2B technology company into a mission-driven enterprise that aims to improve online conversations. In the process, OpenWeb has developed a platform that empowers publishers to form direct relationships with their audiences at scale, rather than outsourcing audience engagement to external social platforms.
OpenWeb encourages healthy conversations and community engagement on publishers' own sites. In the process, these publishers — which include Hearst, Yahoo!, Penske Media Corporation, News Corp, and over 1,000 more domains — can create powerful and engaged communities through multiple channels.
To reflect both OpenWeb's evolution and its mission to fuel relationships between publishers, audiences, and advertisers through healthy online conversation, COLLINS was invited to drive not just a rebranding, but a full-on "reimagination."
"We worked with their leadership team to invent a new identity, both verbal and visual – based on a new strategic foundation we crafted with them to answer their largest ambition," says COLLINS Design Director Megan Bowker. "They think big."
The project is "one of the more unique creative and strategic undertakings the agency has been involved with" notes Bowker.
"This was not a straightforward brand assignment, whatsoever. Focusing the creative brief became the first step. The eventual brand came through our ongoing conversations – as well as research in the marketplace – to make sure we shared a common understanding of what the real problem was and what the biggest opportunity could be."
COLLINS turned to 19th century typography and newspaper headlines of decades past for inspiration to create a narrative that "not only represents OpenWeb's core belief in written communication, but one that would hopefully resonate with publishers as well."
"What OpenWeb needed was a clear voice that would not just represent their ideal future but also advance healthier conversations every day," says Bowker. "To this end, we developed an approach that is intentional and responsible. It's something that we hope serves as a breath of fresh air in a noisy, eye-popping digital landscape. OpenWeb had to signal that they're different. With a clear, confident voice, we think this good idea will travel far."
Anchored by a minimal, yet striking logo in the shape of seven W's that form an "O," which effectively symbolizes harmony and exchange, COLLINS's work for OpenWeb began in late 2019. Marrying centuries-old visual styles with modern digital technology and motion design, COLLINS invented a digital technique for intertwining libraries of open-source content to reflect diverse conversations while infusing a tight color system to create crisp interface design and product illustrations.
With a blend of classic imagery and innovative tech, COLLINS accelerated OpenWeb's vision "giving the company a distinct story and voice."
"We began with a new symbol that tells a story of exchange, enlightenment, and harmony that can exist within widely differing perspectives. This symbol stands for OpenWeb, as well as its larger mission of improving the quality of conversations online. As a company with written communication at its core (and the core of its publisher partners) we borrowed from bold, striking, typographic headline styles of early 20th-century newspapers, a vernacular familiar to publishers, that would speak to them in a provocative voice that also conveyed trust."
"We also found new tools to visualize OpenWeb's products and the conversations people are having on them. We introduced a unique design and visual system that mirrors the dichotomy of different POVs and the growth that can happen through their exchange. With their new story, identity and voice, OpenWeb is on its way to fulfilling the promise of its name – creating a more open web to exchange ideas, civilly – and restoring more power to publishers along the way."
COLLINS is an independent strategy, design and communications company in San Francisco and New York City.
Founded in 2012, OpenWeb has over 150 employees in New York City, Tel Aviv, and Kiev and is backed by world-class investors including Insight Venture Partners, Georgian, Entrée Capital, AltaIR Capital, New York Times, Samsung Next, Dentsu, Norma Investments, and ScaleUp. To date, the company has raised $223 million in funding and is currently valued at over $1 billion.
Explore more here.
Tags/ typography, branding, collins, openweb