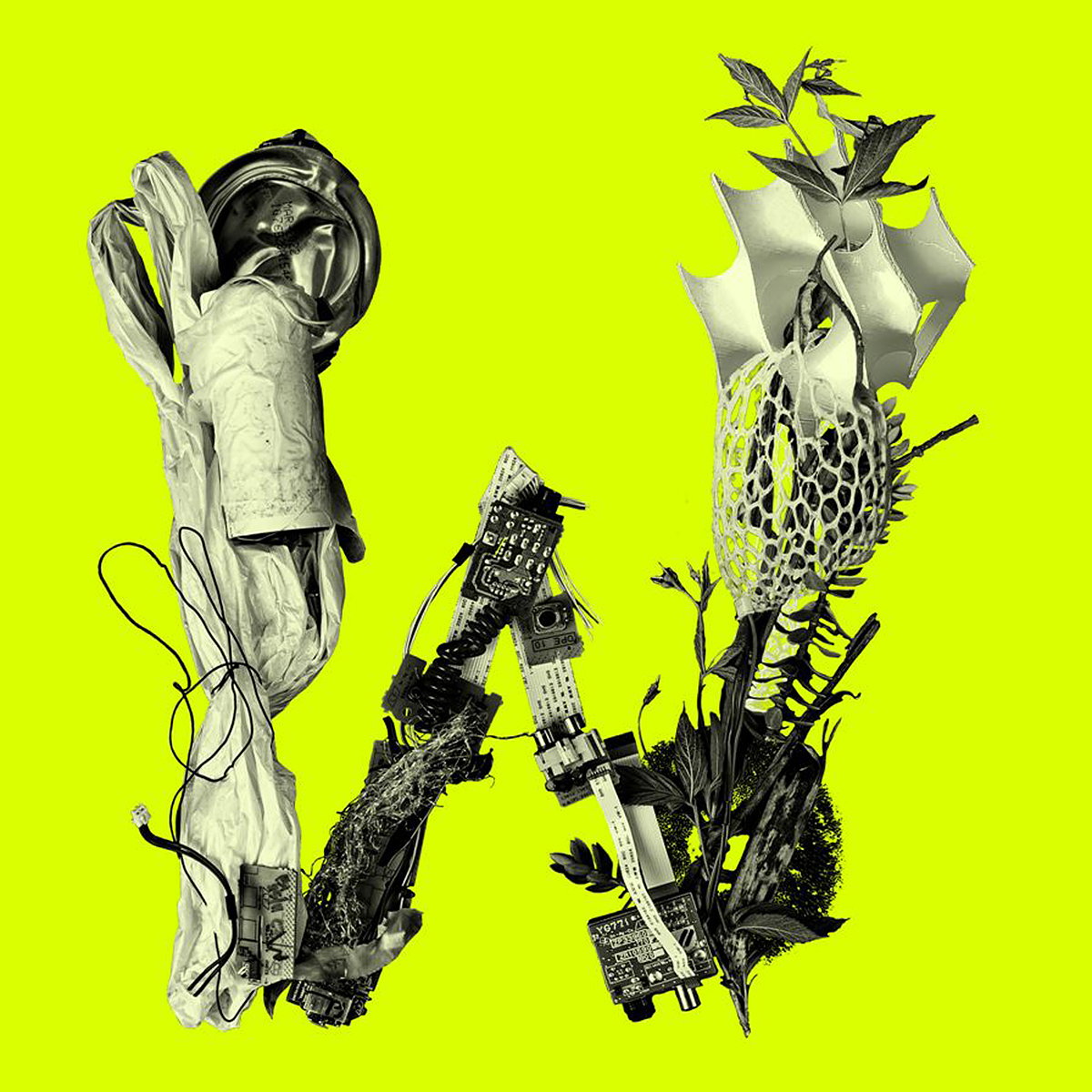 Reassembled type: End the waste age through design via Design Museum
Is design the answer to leaving our throwaway culture behind? London's Design Museum latest exhibition aims to search for answers.
"Of all the products of human hands, [waste] is the oeuvre that no one wants to own, discuss or preferably even see" said Justin McGuirk, chief curator of the Design Museum, of the museum's Waste Age: What Can Design Do? exhibition that coincides with the UN Climate Change Conference (COP26).
Co-curated by McGuirk alongside Gemma Curtin, the exhibition explores the ongoing environmental crisis as "a new generation of designers is rethinking our relationship to everyday things. From fashion to food, electronics to construction, even packaging - finding the lost value in our trash and imagining a future of clean materials and a circular economy could point the way out of the Waste Age."
"We must face the problem of waste – we can no longer ignore what happens to things when we get rid of them. Instead of thinking of objects as things that have an end life, they can have many lives" notes co-curator Curtin.
Waste Age: What can design do? showcases some of the visionary designers who are reinventing our relationship with waste, including Formafantasma, Stella McCartney, The Ellen MacArthur Foundation, Lacaton & Vassal, Fernando Laposse, Bethany Williams, Phoebe English and Natsai Audrey Chieza.
#DidYouKnow | Each year, at least 8 million tons of plastic leak into the ocean ???? – the equivalent of one garbage truck every minute! How can we turn trash into treasure and #EndtheWasteAge? Book your exhibiiton ticket today to find out. > https://t.co/mTMYM0n9R2 pic.twitter.com/fLznVuwXU8

— Design Museum (@DesignMuseum) October 12, 2021
The exhibition explores major new exhibits that capture the devastating impact of waste including a large-scale art installation by Ibrahim Mahama made from e-waste in Ghana.
"Design has helped create our wasteful society, and it will be crucial in building a cleaner future" McGuirk told Wallpaper Magazine.
"That means rethinking the lifestyles and materials that do so much damage. This optimistic exhibition demonstrates the energy and ingenuity being applied to the challenge – and we want it to mark a turning point. There is so much we can do, but it begins with understanding our waste."
Not an exhibition, rather a vital campaign and a call-to-action to designers across all disciplines, Waste Age: What can design do? is on till 22 February 2022.
To promote the exhibition, Design Museum's latest Font Sunday called for posts of reassembled type therefore yesterday's Twitter timeline featured art, experimental type design and more.
Enter the #EndTheWasteAge legion here.
Tidal word wave - Bridlington, by Rachel Welford. #typeassemblage #sustainabletype @designmuseum #FontSunday #EndTheWasteAge #Recycle #Recycletype #Ecotypes pic.twitter.com/wjPAC0BBun

— Justin Burns (@jburnsdesign) October 24, 2021
#FontSunday Cover design for issue 53 (June 1962) of Idea magazine, by Ivan Chermayeff, Chermayeff & Geismar Associates. #EndTheWasteAge @DesignMuseum pic.twitter.com/gLxpFbN6an

— Wayne Ford (@wayneford) October 24, 2021
#FontSunday 2021 43/52 @DesignMuseum #reassembledtype #EndtheWasteAge Digital mash up of Preston and London AtoZs. Remembering my six month placement at Peter Windett's in Kensington while studying for my graphic design degree at Lancs Poly. #prestongraphics #uclan #north #south pic.twitter.com/8SaVMwKktx

— Ben Atkins Design (@BenAtkinsDesign) October 24, 2021
Chris Ashworth – Recycling type assemblage @designmuseum #FontSunday #EndTheWasteAge #Recycle #Recycletype #Ecotype pic.twitter.com/QUrKVnIUoU

— Justin Burns (@jburnsdesign) October 24, 2021
#FontSunday Robert Rauschenberg. (Cardbird VI from Cardbird Series, 1971; Polar Glut, 1987; Surface Series from Currents. 1970; Stop Side Early Winter Glut, 1987). #EndTheWasteAge @DesignMuseum pic.twitter.com/N9mz57jfTt

— Wayne Ford (@wayneford) October 24, 2021
Cover by Alan Fletcher for Wallpaper magazine (2006) #FontSunday #EndTheWasteAge @DesignMuseum pic.twitter.com/Dk0mA8Ve9d

— Derek Stewart ???? (@scozzese) October 24, 2021
@DesignMuseum #FontSunday #EndTheWasteAge - Exhibition poster 1960's pic.twitter.com/S3xfwhYtvu

— Gardner Muirhead Art (@Gardmuir) October 24, 2021
Reassembled type: Sex Pistols by Jamie Reid. #EndTheWasteAge #FontSunday @DesignMuseum pic.twitter.com/mbLTJOeqZy

— Nigel Ball (@_nigelball) October 24, 2021
Tags/ typography, type, graphic design, typeface, exhibition, twitter, design museum, environment, font sunday, climate