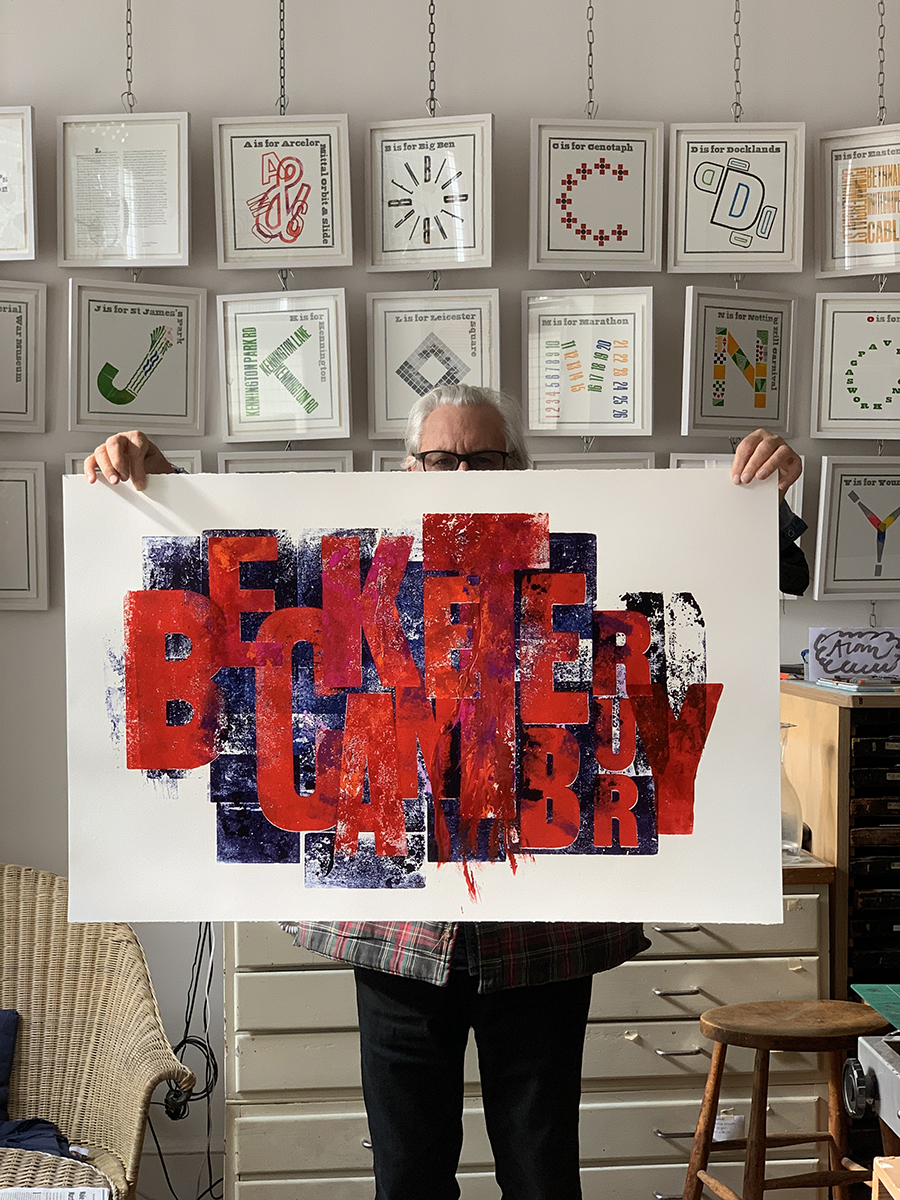 Hands-on Type: Alan Kitching, Dafi Kühne & Rick Griffith lead three workshops to love
Alan Kitching (United Kingdom), Dafi Kühne (Switzerland), and Rick Griffith (United States) will lead three workshops, taking place in the new ESAD Mobile Character Typography workshop during this year's Hands-on Type event.
The three creatives invite us to work in a workshop environment, through practice and experimentation.
From the composition to the execution of their own prints and printing patterns, participants will have the opportunity to explore techniques in proximity with these renowned designers.
One of the world's leading typography and handprint designers, Alan Kitching is recognized for his expressive use of wood and metal types in the creation of his graphic works.
Kitching has had solo shows in London and Barcelona and contributed to various group exhibitions including the Pompidou Centre Paris, the British Library, and the Barbican Art Gallery London. Previous residencies and exhibitions also include his time at the HMCT in Pasadena, California, and an exhibition at the opening of the Ditchling Museum of Art + Craft.
In 1994 Alan Kitching was appointed Royal Designer for Industry (RDI) and elected member of Alliance Graphique International (AGI). Alan is an Honorary Fellow of The Royal College of Art and Visiting Professor, University of the Arts London. Alan has conducted his workshops and given talks to industry, art schools, and design conventions in UK, Europe, Australia, and South Africa. Previous clients include English Heritage, Borough Market, The British Library, Creative Review, D&AD, Dazed & Confused, The Guardian, The National Theatre, Penguin Books, The Times, Royal Mail, Saatchi & Saatchi, Scheufelen Paper, Clark's Shoes, Random House, AOL, and the Tate Modern.
Designer, printer, and professor, Dafi Kühne is known for the wild mix of analog and digital tools to produce posters for music, art and architecture, theater, film, and also products.
His mostly typographic posters have won international awards and been in exhibitions all around the globe. His designer monograph True Print has been published by Lars Müller Publishers in 2016. Dafi Kühne runs his own Typographic Summer Program, an international two-week intense typography class for students and professionals who want to get in touch with physical type. Since 2018 he has also released a series of entertaining web videos called «The Dafi Kühne Printing Show™».
Kühne started his journey studying visual communications at Zürich University of the Arts and got more focused on letterpress through an internship with Hatch Show Print in Nashville. He first got noticed by the international letterpress scene in 2009 through his diploma project «Wood Type Now!», which he could present in Italy, England, and the USA in 2010 and 2011. Since 2009 he has been full-time running his design studio in the Swiss Alps. He produced his first complete sets of laser-cut wood type in 2008, then started cutting pantograph-type from pearwood and solid plastic in 2013 and started casting plastic-type in 2016. In 2019 he got his research MRes masters degree in Typeface Design at University of Reading, UK.
Designer, visual artist, printer, teacher, writer, and activist Rick Griffith's creative practice results in a collage of form, color and grammar, with an autoethnographic focus.
Griffith is a teacher, collagist, printer, and writer. His text-based works detail his philosophies, lived experience the histories he uncovers. His creative practice (and life) is a collage of shape, color, and grammar. He teaches letterpress printing and design with an autoethnographic focus and he is committed to improvisation with well-documented, self-imposed constraints. His works are collected around the world and can be viewed in exhibits and collections and Museums in the United States.
The three workshops will happen on the 14th, 15th and 16th of September.
Hands-on Type seeks to explore and reflect on graphic production, the use of moveable types today and the promotion of teaching methodologies based on know-how.
From a series of workshops and conferences, a publication will result that builds a parallel narrative between high and low technology in teaching and Design practice. Hands-on Type is promoted by esad–idea, Research in Design and Art and ESAD – College of Art and Design.
Tags/ typography, workshop, festival, alan kitching, dafi kühne, rick griffith