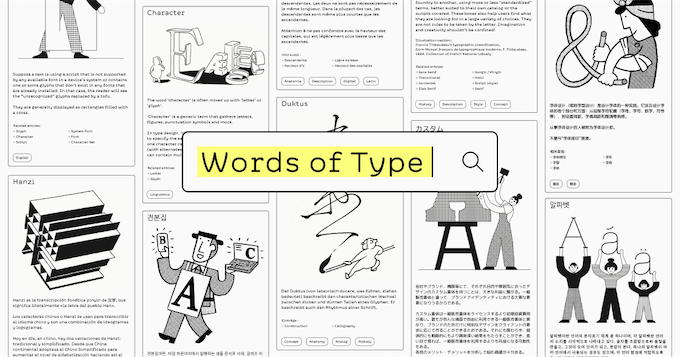 Words of Type: A digital, multilingual and fun encyclopedia of typography
French and Chinese independent typeface designer Lisa Huang (黄丽莎), is known for her design work, characterized by her effort to move away from "Eurocentric" approaches and connect multilingual systems. She is currently working on a really interesting venture that aims to redefine how we interact with typography, called "Words of Type".
"Words of Type" is basically an encyclopedia of typography, fusing art, design, and storytelling - but why do we need something like that? According to Lisa, "access to typographic knowledge is not as international and easy as it could be. Most of the resources are in English, books are either out of print or cost too much with or without shipping costs, and knowledge about writing systems other than Latin alphabet is way too scarce. That is why Words of Type has been created".
At its core, "Words of Type" is about sharing knowledge and making it accessible to as many people as possible. The first version will contain 200 terms of specific vocabulary of typography and typeface design. Their descriptions will be available in English, French, Spanish, German, Chinese, Japanese, and Korean. Several experts have translated from English and proofread the content in their own language. Each word is illustrated so the content is visually and clearly understood - for very technical terms - or is accompanied by a fun and imaginative interpretation of the word.
Also, for Words of Type a very special typeface called Scholar Round was designed too. This typeface, inspired by the rounded typefaces used often for educational purposes, is highly legible, playful and friendly. "It has the warmth and welcoming impression given by its rounded tips and wide proportions. And has the sincerity of typewriter fonts with 'pseudo-mono' letterforms and proportions".
In order to make the project come to life Lisa started a Kickstarter campaign, asking typography enthusiasts, art aficionados, and anyone who values creativity for their support. By supporting this campaign, you will be part of a huge effort that will impact typography and how we access it.
If you want to learn more about the project and support it, click here.
Tags/ typography, type design, digital, glossary, multilingual, multilingual dialogue, vocabulary