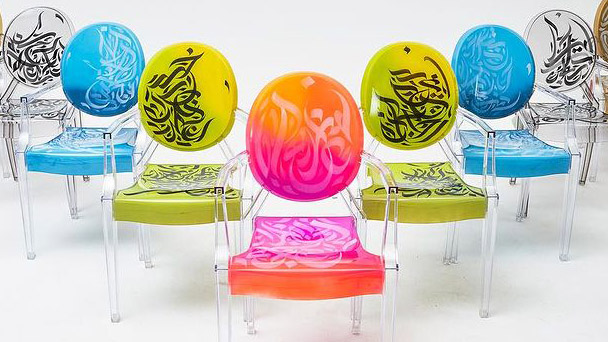 INKMAN x Kartell x Philippe Starck: Exquisite design meets contemporary calligraphy
Milan-based Kartell has been one of the leading design companies that produce original, timeless and high-end objects. Inspired and guided by Italy's cultural heritage, the company strives to create items as an homage to beauty and sustainability. Kartell is always paying attention to quality, production control and after-sales assistance, because as they say these are the "elements that distinguish the original from the copy".
Culture is also a very important part of Kartell's modus operandi. They try to create an experience, a connection between past and future, memories and aspirations, always curating catalogs that include past objects that shaped the brand and new innovative and provocative designs.
For the opening of their new Flagship store in Tunis, Kartell presented a special edition of the Louis Ghost chair. The Louis Ghost chair is an iconic piece of furniture, designed by Philippe Starck, modeled after a baroque archetype, the Louis XV chair. Louis Ghost is sturdy and strong, collision-proof, weather-resistant, and can be built in heaps of up to six despite its evanescent and crystalline appearance.
The special edition presented in Tunis was a collaboration between Kartell and prestigious, internationally known Tunisian artist specializing in contemporary calligraphy, INKMAN. The famous artist used the chair as a "canvas" and through a live performance that combines the distinctive design ingenuity of Louis Ghost with the creative language of INKMAN, he produced a unique and remarkable artefact. These special Louis Ghost chairs by INKMAN are indeed unique pieces of art, combining product design with calligraphy in a progressive and colourful way.
See more about the project here.
Tags/ product design, calligraphy, furniture